Last month, the 620 WTMJ radio team took the stage at the Turner Hall Ballroom for its annual live Christmas show.
But don't feel despondent if you missed it, because starting this weekend, you'll be able to hear their goofy holiday good times on air.
"The Night Before Christmas" will hit airwaves for the first time on Saturday, Dec. 15 at 4 p.m., telling the story of "Wisconsin Morning News" radio host Gene Mueller hosting the company Christmas party only for things to go wrong with a snowstorm, a whole lot of testiness between coworkers and nowhere near enough drink to get them all through it.
Along the way, all sorts of special guests and friends of TMJ make appearances – from YouTube sensations to beloved local businesses to even the culture editor for a certain Milwaukee arts and entertainment website.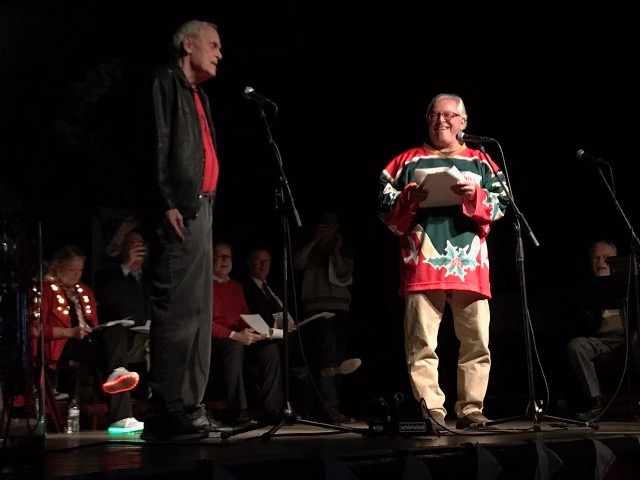 Best of all, the show benefited Kids2Kids Christmas, an annual charity drive from WTMJ and Kapco Metal Stamping which aims to not only provide toys to children who may not otherwise receive any this season but also teaches the gift of giving to children on the other end. So not only is "The Night Before Christmas" a good time, it's all for a good cause.
If you miss today's on-air debut, the radio show will play again on Christmas Eve and Christmas Day.
As much as it is a gigantic cliché to say that one has always had a passion for film, Matt Mueller has always had a passion for film. Whether it was bringing in the latest movie reviews for his first grade show-and-tell or writing film reviews for the St. Norbert College Times as a high school student, Matt is way too obsessed with movies for his own good.
When he's not writing about the latest blockbuster or talking much too glowingly about "Piranha 3D," Matt can probably be found watching literally any sport (minus cricket) or working at - get this - a local movie theater. Or watching a movie. Yeah, he's probably watching a movie.