The fresh Milwaukee air has turned vaguely crisp. The kids are trudging back to school, and pumpkin spice lattes (PSL) are coursing through our veins. Fall is upon us – and that means Halloween is just around the corner. This year, Fiserv Forum has the perfect costume.
Deer District has undergone a stunning transformation into "Fear District," a Downtown destination showcasing scary movie screenings, haunted houses, Halloween-themed food, creepy cocktails and more.
Even better, there's something for everyone. By day, Fear District features Halloween-themed family-friendly activities; but after 6 p.m., as the moon begins to rise, the ghouls are loosed and the District becomes a bone-chilling destination that caters to the adult set.
Highlights include three 3,600-square foot haunted houses: Vampire Village, Dead Man's Wharf and Scare Acres. Each haunted area features games and free photo stations, roaming scary performers and a resident psychic, who will be present during all haunting hours with the exception of Oct. 26.
So set aside some time to take a ghastly trek through the city's newest attraction. After all, the spine-tingling fun will disappear as quickly as it came after Nov. 3.
Here are all the spook-tacular details!
Vampire Village
During the day
Curtain maze
Vampire ring toss
Near-so-fearful photo op
Additional children's programming
Awakening at night
Haunted graveyard
Roaming bloodsuckers and undead crypt dwellers
Coffin photo ops
Dead Man's Wharf
During the day
Walk the plank
Friendly pirate pals
Skeleball toss
Additional children's programming
Awakening at night
Jail brig maze
Skeleball toss
Jack Daniel's fire bar
Scare Acres
During the day
Scarecrow photo ops
Friendly corn maze
Scarecrow toss game
Additional children's programming
Awakening at night
Creepy corn maze
Scarecrow toss game
Sinister scarecrow selfies
For the little ghouls and goblins
During daytime hours (before 6 p.m.), you can treat your grizzly little gremlins to a host of autumn-themed activities including face-painting, games and trick-or-treating. Be sure to bring your costumes and candy bags! There are sweet treats throughout Fear District. Trick-or-treating hours are 1-3 p.m. on Saturdays and 2-4 p.m. on Sundays.
Dread after dark
After the sun sets at 6 p.m., the real frights will rise at Fear District, featuring more adult scaring activities, Halloween-themed bars and big screams on the big screen in the Beer Fear Garden with haunting horror movie classics starting at 7 p.m. The lineup includes:
Oct. 17: "A Nightmare on Elm Street"

Oct. 24: "Scream"

Oct. 31: "Friday the 13th"
Frightful foods and

boos

booze
Fear District isn't just serving up scares. Multiple food stands will showcase terrifyingly tasty treats including mummy dogs, candy apples, eyeball cake pops, bloody fingers (which are actually sausages ... or at least we hope so) and more.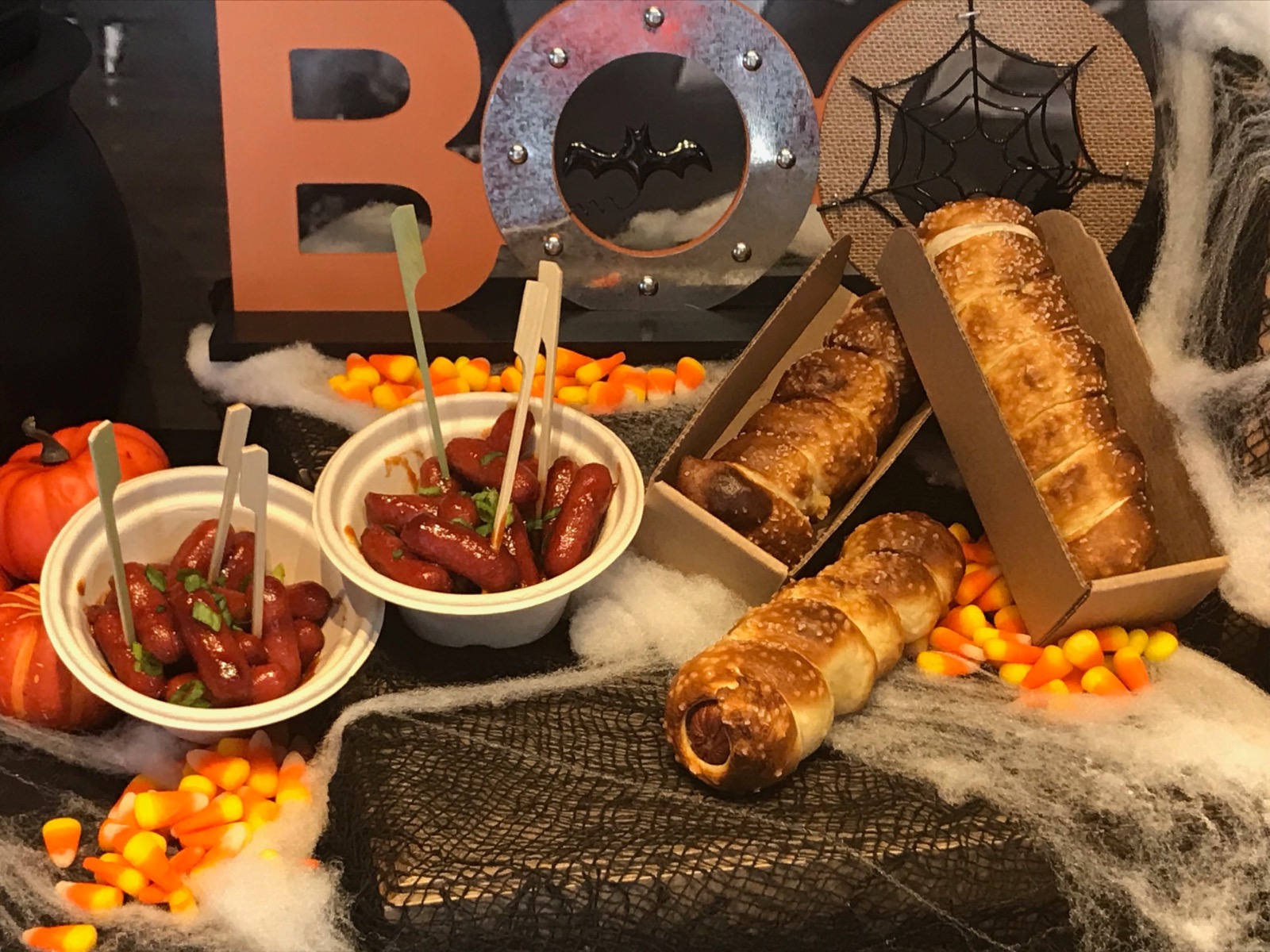 As far as the boo-ze goes, Fear District will also feature plenty of spots to wet your whistle and keep your screamer sated, including the Crow's Nest pop-up bar and Jack Daniel's Fire Bars throughout the grounds. The Beer Garden will also showcase an extensive list of craft fears beers and Halloween wines such as Witch Brew Grape, Mummy Moscato, Halloween Mulled Apple Wine and more spooky specialty sips. No word if the menu will also include the creepy tea from "Get Out."
Enter ... if you dare
Entry to Fear District is free; but tickets (and bravery) are required for the haunted houses. Food, games and beverages are sold separately as well. Tickets are $20 for adults as well as $15 for children (12 years and under) and those 65 years and older.
Tickets can be found on Fiserv Forum's website or Ticketmaster, as well as sold at the event ticket booths. Costumes are encouraged as long as you don't cover your boo-tiful face in accordance with Fiserv Forum block rules.
The haunting hours for Fear District are:
Thursdays: 6-10 p.m.

Fridays: 6-11 p.m.

Saturdays: 11 a.m.-11 p.m.

Sundays: 2-8 p.m.
And again, for your own little terrors, Fear District is kid-friendly until 6 p.m.
For more information on Fear District, visit the event's website. And get ready for a grave great time!