Imagine an evening where witches and wizards gather in a magical ballroom dressed in their finest gowns and dress robes – some wearing their house colors – where they learn to waltz, sip on potions, chat excitedly or show off their recent purchases from Vendor Alley. But this is not a dream or a fantasy, it's a reality called Yule Ball, a Milwaukee-based event where like-minded adults find their collective groove and party the night away.
"Yule Ball celebrates adult Harry Potter fans," says Lisa Romella, event co-coordinator. "It's for the people who love Harry Potter, who grew up on Harry Potter, and want to relive it. Our goal is to bring people back to the excitement they felt the first time they read the books or saw the movies."
Romella and business partner Lynn Richter adapted Yule Ball – which takes place in the fourth Harry Potter novel "Goblet of Fire" – into a live, magical affair that takes place on two nights at Turner Hall Ballroom, Jan. 17 and 18 for guests 18 years and older. Yule Ball sells out annually, with people traveling from as far away as Texas to attend.
Yule Ball is a fancy dress party – no jeans or sneakers allowed – so after guests don their fanciest Harry Potter / cosplay-inspired attire they'll enjoy enchanting, extraordinary decorations, magically-themed cocktails, Vendor Alley, VIW (Very Important Wizard) balcony, photo booth and live music ranging from a string quartet to three EDM DJs.
"The 'Champion's Waltz' takes place earlier in the evening and then you're gonna get down and shake your wizard booty on the dance floor for the rest of the night," says Richter.
This year, Yule Ball also includes a Dark Wizard Night (on Friday evening), a fortune teller inspired by Hogwarts divination teacher Sybill Trelawney, a scavenger hunt, a costume contest with prizes that include a gift card to City Lounge and a brand new drink menu.
"Last year's 'Unicorn's Blood' cocktail was beautiful and delicious. The team here can't wait to whip up an incredible new drink to top it this year," says Romella.
Romella and Richter, who operate a business together called AwkwardNerd Events, work tirelessly to incorporate their guests' feedback into a fresh and inspired version of Yule Ball year after year. Based on attendee recommendations after previous balls, they've streamlined the bars, added attractions and even scaled back the number of tickets sold so it wasn't too packed and to better accommodate a safe space for all personality types.
"We know what it feels like to have anxiety around parties and social situations. It's important to us that everyone feels comfortable here," says Romella. "Come in cosplay, come geek out or nerd out about the thing you're into – just come get awkward with us."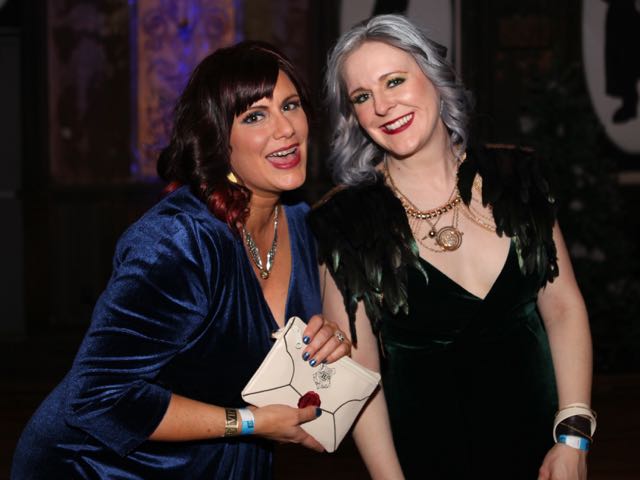 Both Richter and Romella identify as nerds, hence their business name. However, Richter also identifies as a geek – and yes there is a difference.
Traditionally, nerds were "booksmart" and geeks were more into comics and video games, but over the years, the lines have blurred and the culture has become more mainstream through the popularity of Star Wars, Marvel / DC movies and video games.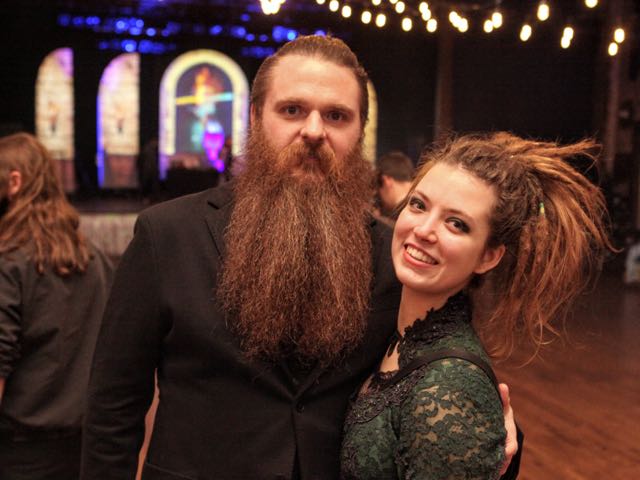 "I love the ability to dabble into a million different fandoms and interests without having to latch onto any one of them," says Richter. "I think that makes me more of a geek than a nerd."
For some, being a geek or a nerd was a socially painful aspect of childhood or adolescence, and Romella and Richter get this, too. "I was the treasurer of the AV Club in my high school. Say no more, right?" says Richter.
But as adults, these labels aren't limiting anymore. Instead, they are empowering and intended to be inclusive to anyone who lives in the culture or just wants to dip in for a spell.
"We're nerds who have a love for the community regardless of how you nerd out," says Romella. "We like to provide experiences that are nerdy by nature and just a heck of a lot of fun."
For more information on Yule Ball and to purchase tickets click here.

Molly Snyder started writing and publishing her work at the age 10, when her community newspaper printed her poem, "The Unicorn." Since then, she's expanded beyond the subject of mythical creatures and written in many different mediums but, nearest and dearest to her heart, thousands of articles for OnMilwaukee.

Molly is a regular contributor to FOX6 News and numerous radio stations as well as the co-host of "Dandelions: A Podcast For Women." She's received five Milwaukee Press Club Awards, served as the Pfister Narrator and is the Wisconsin State Fair's Celebrity Cream Puff Eating Champion of 2019.