Festival City is hopping this summer! OnMilwaukee's Festival Guide is brought to you by Potawatomi Hotel & Casino. Escape the heat and step inside!
I grew up in Milwaukee listening to country music, and for many years, Zac Brown Band has always been one of my favorites. Their songs will either transport you to an island paradise or leave you rocking out to their country-rock songs. Whether you completely hate country music or are on the fence about it, Zac Brown Band will make you fall in love with country music.
When I walked into the American Family Insurance Amphitheater on Friday night, I had high hopes and no doubts that this concert would be great. I've been listening to Zac Brown Band for years – but this was the first time I ever got to see them in concert. Naturally, I went in excited and prepared for the show, not realizing how they would perform.
As soon as the lights went dark, the crowd started cheering and whistling; in the distance, you could see the multi-platinum and Grammy-winning group walk on stage and take their positions. Stepping up to the center microphone, Zac Brown addressed everyone in the crowd by saying, "What a beautiful bunch of people." As people cheered, the first couple of notes of "Homegrown" started to play, and the Zac Brown Band fell into the song.
Zac Brown Band clearly came to Milwaukee bringing more than their best, here to give the crowd a concert that couldn't compare with others. The mood was set right with their first song, and the crowd was singing, cheering and clapping all the way through, eventually roaring when it ended.
I was very impressed by their stage setup, and how they went for simple decor but went all out with the lights and graphics on the screen behind them. For every song that played, the stage would be dressed in the theme and an awesome graphic would show up behind the band. During the song "Day For The Dead," for instance, the screen changed into an infinite ring tunnel of skulls and gears – a simple yet eye-catching visual that followed suit with the song.
It was very apparent that the Zac Brown Band made it their mission to give Friday night their all, playing passionately through each song. You could see in every facial expression, in the way they played their instruments and in how they heartfelt sang, it was an incredible experience that left the crowd begging for more each time. Crowd favorites – such as the beachy "Toes", the love song "Keep Me In Mind," the tropical island paradise "Knee Deep," the relatably laid back "Same Boat" and, of course, the final encore "Chicken Fried" – made the crowd roar louder and louder, singing enthusiastically throughout each song. There were a couple of times when Brown gave up the mic and let the audience sing part of the chorus to those songs.
Throughout the night, Zac would talk to the crowd and thank everyone, humbly happy to be in Milwaukee and performing at Summerfest while saying, "I missed you guys" with cheers. Zac also made band member introductions throughout the night, making sure the crowd knew who was who and giving them each their moment.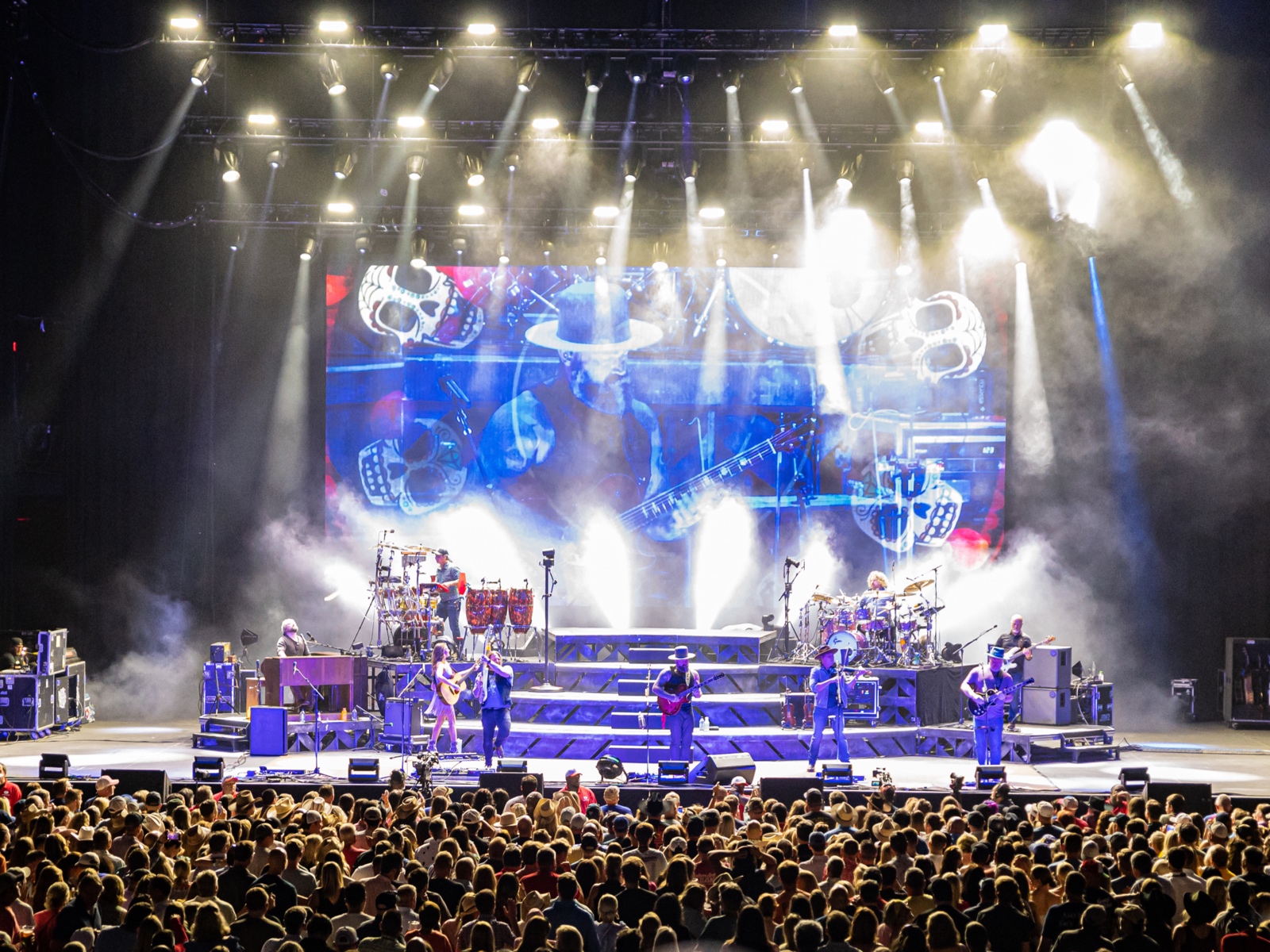 While it may have seemed like just a country show, the concert eventually took a signature Zac Brown Band turn. Right away, the Amp went pitch black then red lights covered the stage and smoldering fire showed up on the screen. With the first couple of notes from Jimmy De Martini's violin, the crowd went wild for the 1973 Charlie Daniels Band hit "The Devil Went Down To Georgia." Right away, the mood shifted and people rocked out to the song with Zac Brown Band, the iconic song winning over the audience if they somehow weren't already. De Martini went all out on the violin and played the song to pure perfection, a jaw-dropping performance that left the crowd in awe.
But that was only the beginning, as the band then covered another classic: "Bohemian Rhapsody." Right away, people sang along to the first half of the song, and the crowd turned on phone flashlights or lighters to wave in the air. The Amp went from night to day in a matter of minutes as the crowd sang and swayed together as the song went on. De Martini would go on to skillfully sing the Beastie Boys hit "Sabotage" before the band moved on to cover the Rolling Stones' classic "Paint It Black."
The crowd got a bonus surprise when R&B country artist Breland – playing earlier in the night at the Generac Power Stage – performed with Zac Brown Band during the song "Keep Me In Mind." They then beautifully transitioned to Stevie Wonder's "Superstition," leaving fans raving. The crossover between both pieces was impeccable as fans got a mix of country, funk, pop and soul.
Later, Brown would bring out another guest: opener Marcus King, who joined to play a cover of Allman Brothers Band's "Whipping Post." King played his heart and soul out for the crowd, and his voice served as a perfect match for the rock song. Everyone was blown away by his phenomenal voice and how he rocked the song's guitar riff. A visual masterpiece and an audible one as well, fans were swooning over this cover with Marcus King.
For my first Zac Brown Band concert experience, I'm overall impressed with how the band welcomes other artists on stage to sing, diversifies their music genre and completely gives the audience a show to remember.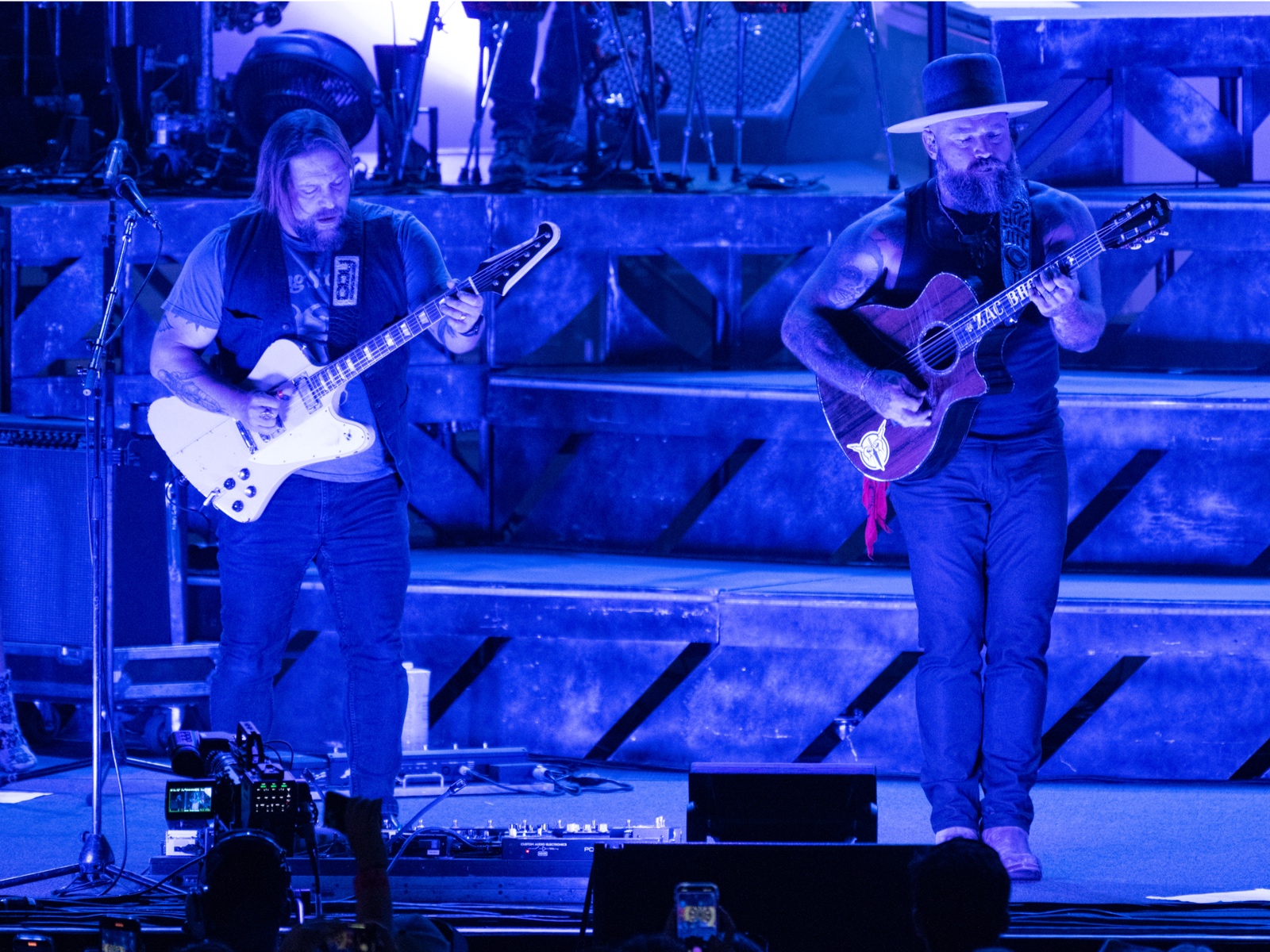 As the concert was nearing its end after "Beautiful Drug," fans immediately requested an encore. Zac Brown Band followed up with three encore songs: "Colder Weather/Take it to the Limit," "America The Beautiful" and the raging crowd pleaser "Chicken Fried." Everyone was singing at the top of their lungs during the finale, leaving the audience fully satisfied as that was the last song.
The two-hour concert came and went just as fast - this was the first time I ever had this much fun at a concert this long, with no lulls, dead spots or glances at the watch. I was completely blown away by each song and their entire performance was a masterpiece. I encourage everyone to see Zac Brown Band in concert; they're a great live show that lives up to its reputation.
Setlist
"Homegrown"
"Day for the Dead"
"As She's Walking Away"
"Toes"
"The Devil Went Down To Georgia" (The Charlie Daniels Band cover)
"Keep Me In Mind"/"Superstition" (Stevie Wonder cover)
"No Hurry"
"It's Not OK"
"Jump Right In"
"Bohemian Rhapsody" (Queen cover)
"Whiskey's Gone"
"Sweet Annie"
"Same Boat"
"Day That I Die"
"Sabotage" (Beastie Boys cover)
"Loving You Easy"
"Tomorrow Never Comes"
"Whipping Post" (Allman Brother Band cover)
"Goodbye in Her Eyes"
"Paint It Black" (The Rolling Stones cover)
"Knee Deep"
"Beautiful Drug"
Encore
"Colder Weather/Take it to the Limit"
"America The Beautiful" (Samuel A. Ward and Katharine Lee Bates cover)"Chicken Fried"
Courtney Bondar is an adventurous Multimedia Journalist at OnMilwaukee, covering all things Milwaukee. Born and raised in Greendale, WI, Courtney has a deep-rooted connection to her hometown and a strong desire to explore and showcase the vibrant city of Milwaukee.
You can often find Courtney all over Milwaukee, attending exciting events - documenting her experiences on her Instagram stories. Her genuine enthusiasm for her work shines through in her posts - as she strives to capture the beauty of the city and shares it with her followers.
Courtney's passion for writing is evident in her engaging and heartfelt articles. While she covers a wide range of topics, she particularly enjoys delving into the intricacies of dating culture and the art of mixology. Her insightful and thought-provoking pieces offer a unique perspective on these subjects, captivating readers with her authenticity and wit.
After dedicating herself as an intern at OnMilwaukee, Courtney's hard work and dedication paid off when she earned her well-deserved diploma. Now, as OnMilwaukee's first full-time multimedia journalist, she is fully committed to continuing her journey - bringing her distinctive voice and storytelling skills to the forefront.