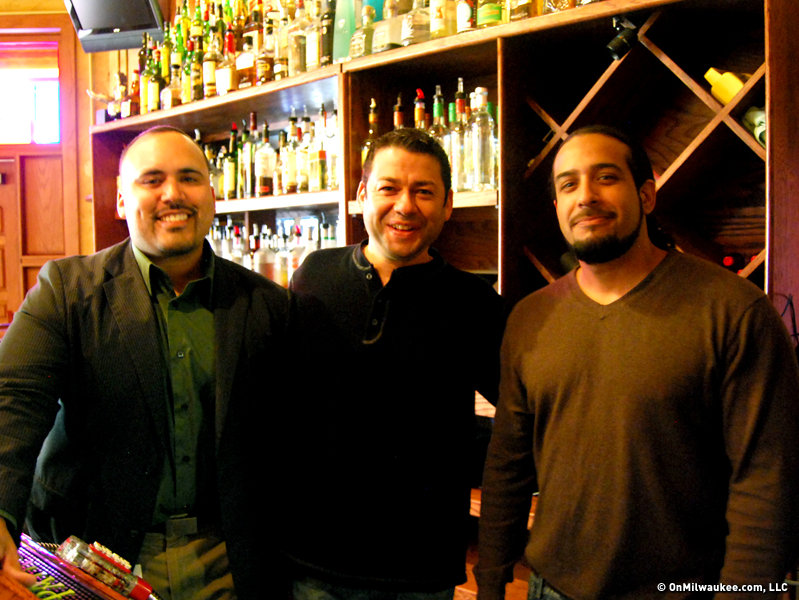 Kaņa is Milwaukee's first mojito lounge
Look out martini, mojito is giving you a run for your money.
The new Kaña (a Spanish word for "sugar cane") is Milwaukee's first mojito lounge, located at 201 W. Mitchell St. Like martini bars before it, Kaña offers a lengthy menu of mojitos mixed every way imaginable.
That's not to say you can't order a different drink there -- they've got a full bar liquor stash and Guinness on tap with more beers to come -- but one look at general manager and bartender Juan Solano's freshly made Cuban cocktails and it seems downright silly to order anything else.
Arriving in pint glasses and adorned with locally-purchased fresh fruit and real sugar cane, Solano's mojitos as are nice to look at as they are to consume. The menu offers 15 standard varieties at $8 each, but every weekend there are new creations on special. You never really know what they'll come up with next.
El mangito mojito (served with real slices of fresh mango), for example is a hot seller, but if you're really looking for a flavor adventure, try the mojito en fuego, if you can handle it. This drink muddles mint and lime juice and mixes it with Patron tequila, jalapeño juice and slices of jalapeño. It's got a real bite, but is amazingly drinkable.
"I don't like sweet stuff as much," says Solano, creator of the bold blend. "I thought we needed drinks with cucumber, cilantro and jalapeno too."
The verde mojito is as green as it gets, with the cilantro creating an aromatic experience as you bring the drink to your mouth. But really, no matter what your palate prefers -- sweet, sour, spicy -- there is a mojito to please it, and they all come artfully crafted and refreshingly good.
Kaña's co-owners Julio Cesar Maldonado and Angel Velasquez used to manage the bar's former incarnation, Alibi Lounge. When it closed in early 2009, they were ready to bring something new to the neighborhood.
They gutted the place, made it smoke-free and updated the décor to create a clean, contemporary lounge with large booths, high tables and low lighting. DJs spin records on the weekends.
Still, the colorful stained glass windows facing Mitchell Street and the original gold-painted tin ceiling retain bits of the building's historic charm.
For now, Kaña is open Friday (featuring $5 mango mojitos), Saturday (featuring $5 raspberry mojitos) Sunday (service industry night), but will open Thursdays in the coming weeks. Maldonado and Velasquez plan to have outdoor seating soon, and open their kitchen to serve Latin appetizers and ceviche in the future.
So next time you're waiting for a table at nearby Transfer Pizzeria Café, 101 W. Mitchell St., allow Kaña to whet your appetite with a cool drink.
Facebook Comments
Disclaimer: Please note that Facebook comments are posted through Facebook and cannot be approved, edited or declined by OnMilwaukee.com. The opinions expressed in Facebook comments do not necessarily reflect those of OnMilwaukee.com or its staff.