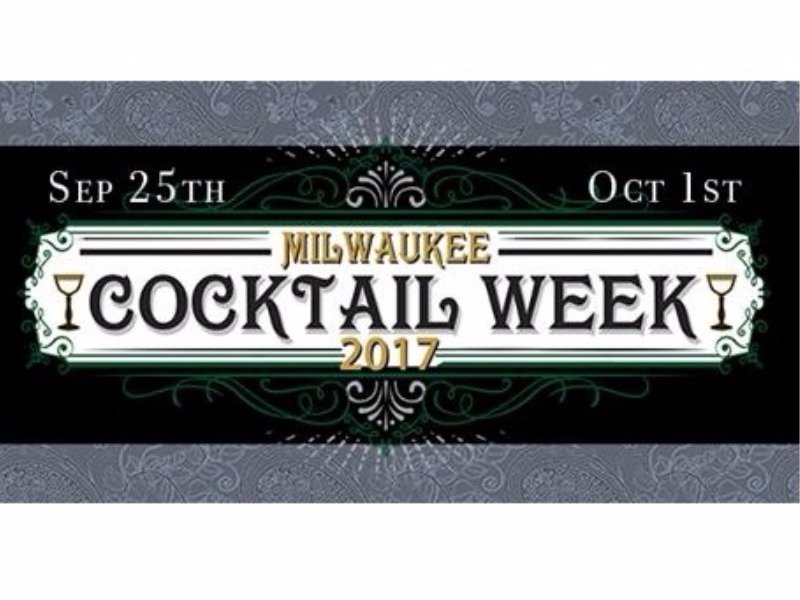 Mark your calendars for Milwaukee Cocktail Week 2017
Milwaukee is known as "Brew City" for a reason. The city is home to countless breweries, buildings named after beers and a baseball team with a beer-related name. Milwaukee's population really, really loves beer.
Even though beer is our signature beverage, pale ales, stouts and IPAs take a rare backseat during Milwaukee's annual Cocktail Week. The week-long celebration highlights the city's finest craft cocktails and most skilled bartenders with events every night dedicated to mixed drinks of every persuasion.
From Sept. 25 to Oct. 1, you're invited to sip cocktails all around Milwaukee. Events include dinner pairings, movie screenings and even a scavenger hunt for the most adventurous mixologists.
The entire schedule isn't finalized yet, but we have your guide to the confirmed festivities.
Monday, September 25th
The Tin Window will be hosting Milwaukee Cocktail Week's kick-off party at 7 p.m. The Tin Window has been a service industry favorite since its inception, famed for its gin selection and, of course, specialty cocktails. Sponsored by Aviation Gin, Sombra Mezcal and Astral Tequila, the party is also charitable event. The booze brands will be donating a combined $1,000 to create a relief fund for service industry employees called the Barman's Fund. Additional donations during the event will be accepted and greatly appreciated.
Tuesday, September 26th
Bartenders and bar-hoppers alike are invited to Cocktail Lab at Plum Lounge from 5 to 8 p.m. Sponsored by Great Northern Distilling, the event gives cocktail aficionados a chance to flex their creative muscles and create their own alcohol-infused masterpieces. The best drinks will be featured at the Distillery and kept in Great Northern's pocket to possibly be served in the future.
Tuesday's main event is Imagination Exploration at Turner Hall Ballroom. The gathering is a celebration of Milwaukee's thriving art community, featuring live art, dancing and Milwaukee's most renowned bartenders serving up delicious and original cocktails.
Wednesday, September 27th
Wednesday's happy hour is at The Rumpus Room from 4 to 6 p.m. Hosted by former bartender Daniel Dufek, the night's theme is "A Celebration of Whiskey." Receive a rye whiskey education and tasting session presented by Woodford Reserve Rye and Jack Daniels Single Barrel Rye.
The Goodkind family will be pairing with J. Henry & Sons to serve a five-course meal featuring scrumptious seasonal dishes paired with matching bourbon cocktails. Tickets are $100 each and space is limited.
Get your sausage on at Vanguard with "Bruising the Spirit." Sponsored by Maison Ferrand, the event features "bad" cocktail recipes done better. Is there any combination better than cocktails and cheese curds? Probably not.
Dinner will also be served Hotel Madrid featuring Pisco Porton cocktails. More details TBD.
Thursday, September 28th
TBD
Friday, September 29th
Rally up your cocktail-loving troops for Brew City Imbibe, a scavenger hunt exploring Milwaukee's historic culture and beverage industry. Teams consist of four people, and yes, prizes will be awarded to the top finisher(s). Start time is 5 p.m. with location TBD.
Saturday, September 30th
Get ready for the weekend with yoga, mocktails and coffee from Stone Creek Coffee. More details TBD.
Milwaukee Film Festival will be hosting a Cocktail Week event with a screening of "Schumann's Bar Talks" at the Oriental Theater. Carefully crafted cocktails from Bryant's, Goodkind, Boone & Crockett and many more beloved bars will be available. The $10 movie ticket includes drink samples and appetizers to nibble on before the film.
Sunday, October 1st
Enjoy a delicious brunch with bartenders. More details TBD.
OnMilwaukee will continue to update this schedule with more events as details become available. Stay tuned!
Facebook Comments
Disclaimer: Please note that Facebook comments are posted through Facebook and cannot be approved, edited or declined by OnMilwaukee.com. The opinions expressed in Facebook comments do not necessarily reflect those of OnMilwaukee.com or its staff.