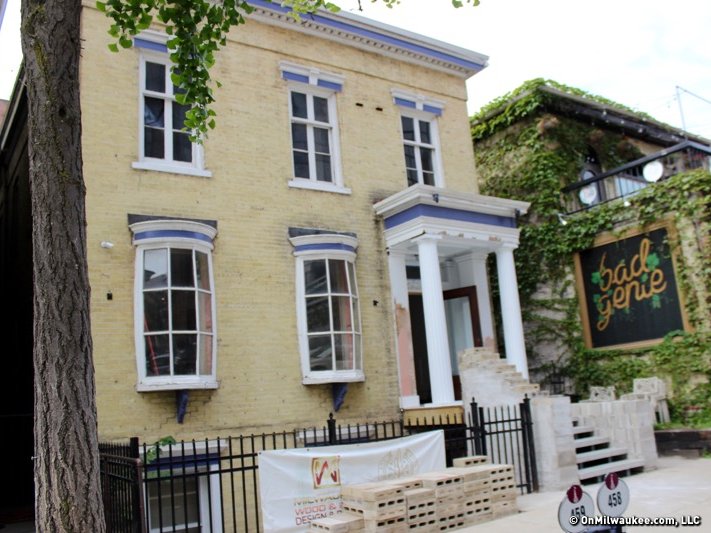 Phoenix Cocktail Club to offer swank craft cocktails in historic digs
An innovative downtown cocktail bar (and eventually restaurant) concept is taking shape and should be ready to host its first guests within the next few weeks.
The Phoenix Cocktail Club is slated to open in early to mid-October at 785 N. Jefferson St. in the former home of The Duplex.
The new venue – which will open first as a cocktail lounge and eventually add small plate offerings to the mix – is owned by Ryan Bonen and Bob King, who also manage Bad Genie.
Construction on the space began last September, with anticipated completion this past spring. But King says the project was waylaid when they found out they'd need to gut and reconstruct a large portion of the space.
"The original project was set to take three to six months," he notes. "But when we went to take out the bar, we opened up an entire can of worms. And because the building is a federal historic site, we were bound to the regulations regarding the original specs for the building."
Swank digs
The building is a Greek Revival style townhouse which was built in 1858. Known as the William A. Webber House, it was initially used as a residence before being transformed into a bar and restaurant. In recent years, it housed venues including Serum and Brio Trattoria.
And that's significant since the history of the space, as well as the neighborhood, will be woven into the Phoenix Cocktail Club concept, says King.
"The name was actually inspired by the Phoenix Club, a private Jewish fraternal organization on Jefferson Street which lasted from 1885 to 1910," he notes. "It's part of the history of this neighborhood, and we thought that was pretty cool. So we're excited to incorporate it into the venue itself."
King says the goal is to create an eclectic, charming space that's consistent with the building's history: a classic look that's a bit mysterious and yet somehow familiar.
"We took some inspiration from the Gold Room in the movie, 'The Shining,'" he notes. "It will have a really refined look about it, but it will be far from pretentious."
Features
The space is still being renovated. However, we got a glimpse at some of the key elements that hearken back to the days of yore. Cream paneling, which mimics the look of classic English pubs, showcases exposed Cream City brick wall.
Richly colored wooden floors are laid with the herringbone pattern that soared in popularity during the 18th and 19th centuries.
Similarly, the Phoenix Club's back bar, which was acquired at an estate sale, was built in mid-1800's.
Benches were gleaned from a church in Michigan that was built in 1910.
Cocktail tables will sport live-edge wooden tops with vintage bases.
Cocktails
The Phoenix Cocktail Club's ambitious collection of cocktail offerings will be overseen by beverage director Adam Sarkis, who most recently steered the beverage program at Braise Restaurant in Walker's Point along with longtime time bartender and national cocktail consultant Joey Houghtaling.
The two just came back from the annual Juniper Harvest event at Death's Door Spirits. This year's harvest festival was a celebration highlighting the connection between hospitality and agriculture. The event, organized by Lush Life, included bartenders from throughout the world including hotspots like the UK, Canada and New Orleans.
"It really offered perspective on sustainability in terms of the bar industry," notes Houghtaling, "Techniques like using local products and dehydrated fruit and finding alternatives for ice disposal, they're all things we can put into play at Phoenix Cocktail Club."
The menu, which will be broken up into categories including Colors, Slushies and Mood Inspired cocktails, a concept galvanized by the Futurist Cocktail Movement, which gained traction in the 1930s.
"Futurist artists were working in bars," notes Sarkis. "And they started taking their ideas in art and applying them to cocktails. They were all about the element of surprise. For instance, they had a tendency to garnish their drinks with unusual ingredients. Most of the moods incited were libido-based."
Mood drinks like War in Bed will sit alongside classic cocktails and modern riffs influenced by places like New Orleans and Cuba.
"The goal is to make this a great cocktail bar that's innovative, exciting and classy," says Sarkis. "But we also want it to be a spot where people can relax and have a great time."
Talkbacks
littletinyfish | Oct. 5, 2016 at 12:43 p.m. (report)
It'll be exciting to drink among such historic attributes.
Facebook Comments
Disclaimer: Please note that Facebook comments are posted through Facebook and cannot be approved, edited or declined by OnMilwaukee.com. The opinions expressed in Facebook comments do not necessarily reflect those of OnMilwaukee.com or its staff.