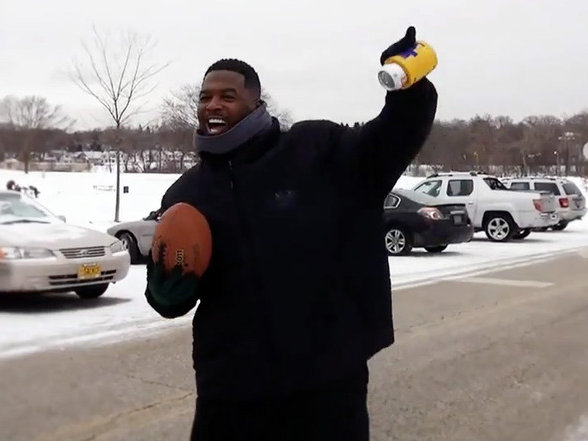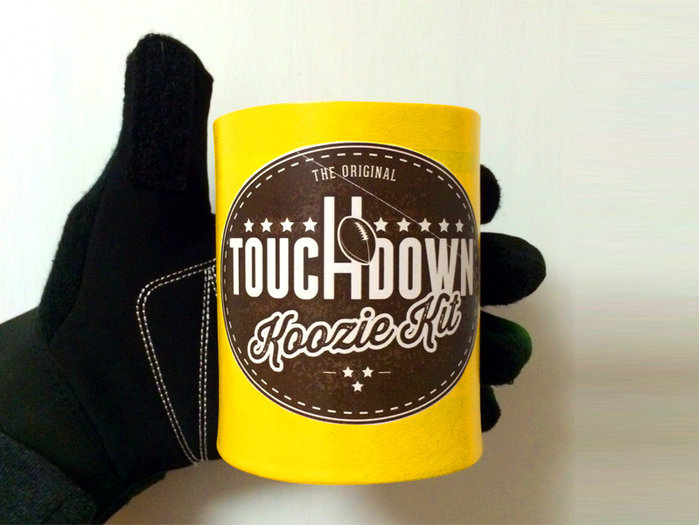 LeRoy Butler leaps on Kickstarter bandwagon with tailgating invention
"Bar Month" at OnMilwaukee.com – brought to you by Absolut, Avion, Fireball, Pama, Red Stag and 2 Gingers – is back for another round! The whole month of February, we're serving up intoxicatingly fun articles on bars and clubs – including guides, the latest trends, bar reviews, the results of our Best of Bars poll and more. Grab a designated driver and dive in!
The last time OnMilwaukee.com told you about Roy Henning was back in 2011, when the inventor and business owner was rolling out the prototype of the Home Run Koozie Kit, which is a pair of Velcro gloves and a koozie to keep your hands warm and your drink off the ground while you tailgate.
Henning, making his way through the parking lots of Miller Park and Lambeau Field, gave away and sold about 350 sets through his grassroots campaign. "We learned that without funding, a marketing plan or effective method of sale and distribution, this great idea was going nowhere," says Henning, who owns Mofoco when he's not running the koozie racket. "This led to a short hiatus from our project, until the opportunity of a lifetime presented itself."
But on a chance meeting at a charity golf outing, Henning met Packers Hall of Fame safety LeRoy Butler. "This was the man we wanted as the face of our product," says Henning. He decided to give it one more go and rebranded his product as the Touchdown Koozie Kit with Leroy Butler, launching it on Kickstarter Jan. 31.
It has a $25,000 goal, and will be funded if it hits its mark by March 8.
Butler, who is approached by friends all the time to put his name on their products, says this one is different.
"With Roy, he's kind of a entrepreneur, he had this great idea and I liked it, so the more we talked about it and the more we kicked it around some of our other friends, I said, 'Oh yeah, this is awesome.'"
Butler says he has learned how to protect his brand at this point in his career, and is more choosy. In other words, no more car dealerships. "First of all it's gotta be something that's fun, something profitable and something that I feel like the public can use," he says. "And when I say public, I mean in the sports arena."
For Butler, who was an approachable player during his time with the Packers from 1990 to 2001, Kickstarter made sense, because it's just another way for him to connect with the fans.
"I think that some of my friends tell me I'm too approachable, too accessible, because I want to know what it feels like to be a Green Bay Packers fan," says Butler. "If I was a shareholder, if I was tailgating three hours before a game with 80,000 people waiting for a ticket, how would that be? These kind of projects kind of put me in that mind frame and it's a lot of fun because I got a chance to actually be one of the fans when we were shooting the tricks on the video. We were tailgating outside, and the windchill was below zero."
Butler is talking about the promotional video, filmed in part at the OnMilwaukee.com office – Henning is the husband of OnMilwaukee.com manager of sales development Caroline McDonald – and it's pretty hilarious. Check it out below and see if you can spot the author!
Backing for the Touchdown Koozie Kit with Leroy Butler starts at $14, or $49 for an autographed version by Butler. For $125, supporters can attend a VIP release party with Butler in the spring. The koozie will ship in March, Henning says.
In other words, just in time for Brewers' opening day.
"Then you don't have to worry about playing catch or eating with one hand," says Butler. "You can always keep a hold of your beer or your soda."
Facebook Comments
Disclaimer: Please note that Facebook comments are posted through Facebook and cannot be approved, edited or declined by OnMilwaukee.com. The opinions expressed in Facebook comments do not necessarily reflect those of OnMilwaukee.com or its staff.