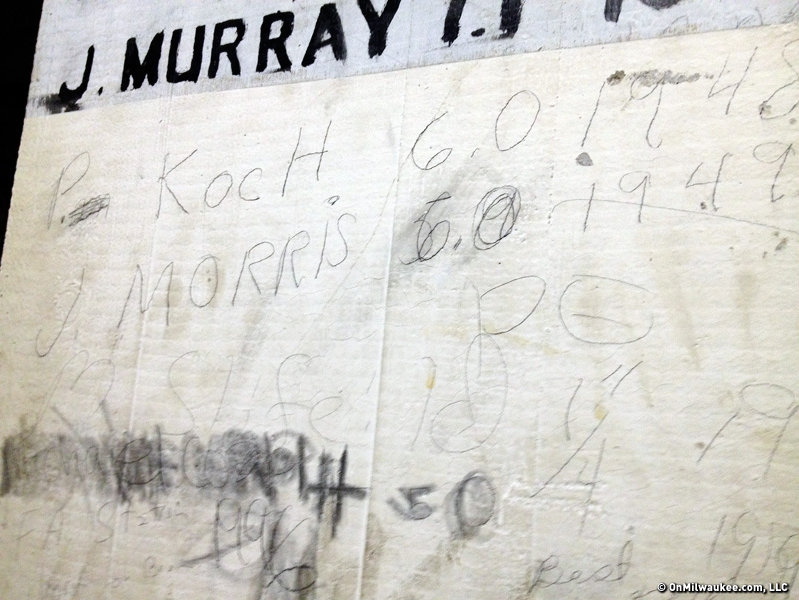 Urban spelunking: The secret indoor track at Juneau/MacDowell
When my friend Gerry Belsha saw I had visited his alma mater – Milwaukee Juneau High School, now home to the MacDowell Montessori School program – to get a tour of the beautiful moderne building erected in 1932 to the plans of Van Ryn and DeGelleke, he asked if I had seen the indoor track.
I assumed he meant some painted lanes in the gym, but, no, he said, there is an indoor track in the basement accessed through a closet door.
When I asked MacDowell principal Andrea Corona about it, she confirmed its existence, noting that it is unused today, as it has apparently been for decades.
Yesterday, I stopped over to drop off some donated books for the classrooms and students at MacDowell and one of Corona's kind staffers agreed to show me the space.
In the basement of the three-story steel frame building – which got a large addition to the south in 1976 – is a double-wide doorway that leads into a sprawling storage area with a pretty low ceiling. Off to the right, through a wire mesh gate is the track, which runs north-south just inside the east wall of the building, located on 64th Street and Mount Vernon Avenue.
The track is perhaps 15-18 feet wide and, I don't know, maybe 80 yards long – I didn't bring a tape measure on this impromptu visit – and the surface is some sort of soft black material that feels a bit like loamy dirt.
Though long jump clearly took place in there, the headroom isn't generous. Those cross beams you see in the photos about can't be more than 8 feet off the ground, if that.
Along one side there are a couple four-tier bleachers that have reached an advanced state of deterioration. On the wall opposite are painted notes showing, for example, where to start a relay race. On some of the posts between the bleachers, record holders' names, times/distances and dates were painted. Later records were added in pencil below on some columns.
Near the north end of the track are two swinging wooden gates that you can see in the first photo above. I have no idea what those were for.
I asked John Linn, MPS' Manager of Design and Construction if there are other subterranean tracks in district schools.
"That's the only one that I am aware of and I found it by accident years ago when the high school was still open," he told me via email. "It is amazing to think of kids running in there with the columns and walls so close!"
It appears that the track was not an original feature of the building.
"The indoor track area was not identified as a part of the original building construction as the space was simply identified as unassigned and I don't find any specific documents identifying the track construction," Linn said.
"I did find a couple of drawings indicating the installation of surfacing for the long jump and high jump in 1968, which was done at the same time as new paving work on the exterior track south of the school so my guess is that the work was either provided by Facilities (and Maintenance department) or the school without a set of actual (architectural) drawings."
The Juneau campus these days has a sprawling field across Mount Vernon Avenue and perhaps had space to the south before the addition was constructed, so it seems unusual to have an indoor track, too. Linn didn't know why it was built, so, I tried to get more info from Gerry, who was at Juneau the last three years of the 1970s.
"I don't think it was open for actual use when I was there, but not sure," he says. "When I was on the tennis team and we would run laps inside on bad weather days we just ran laps around the school halls and not the track. I assume if the track was open for use we would have used that. I know people would go in there, so access was not cut off, but I don't think it was authorized.
"My stepdad was on the track team from '56 to '59 and they used it then. I think back then they had indoor track season in addition to outdoor."
His stepdad told him the space was used for practice during the indoor season before weather was good enough to go outside. It was used primarily for sprints, though they did have a high jump pit. He also said it was used for archery competition but couldn't remember if the program was run by the school or a private archery club.
While this space is not exactly uncharted territory – some folks know about it and some school staff, especially the engineers – go in there regularly, the existence of the space was news to a just-retired MacDowell teacher I talked to and some current teachers didn't know about it, either.
Talkbacks
Pioneer76 | Jan. 18, 2014 at 10:57 a.m. (report)
Andrea Corona is not aware of the history of the old Juneau High School which closed in the Spring of 2006. There was an indoor track season down there & we had gym classes down there. Andrea Corona acts like it was a dungeon. It was a very useful area of the school & if she had any foresight she would use it too. Baseball Coaches John Polczynski 1954 - 1982 & John "Schmitty" Schmitz, 1983 - 2000 at Juneau used the track for their baseball players for wind sprints, working on arms, bunting & pitchers - catchers up to the 2000 season & maybe after with coach Geil into the 2006 season. When Juneau did run the Indoor track season, they had the advantage running the turns. Juneau guys knew how to take a turn without slowing down while a guy from another school would almost come to a stop working the "hairpin" turn. There is a Juneau Website that was made to preserve it's history after finding out of it's demise. > http://www.donovankoeberl.com/1976Juneau.html It has every Yearbooks graduation class from 1932 - 2006.
Facebook Comments
Disclaimer: Please note that Facebook comments are posted through Facebook and cannot be approved, edited or declined by OnMilwaukee.com. The opinions expressed in Facebook comments do not necessarily reflect those of OnMilwaukee.com or its staff.