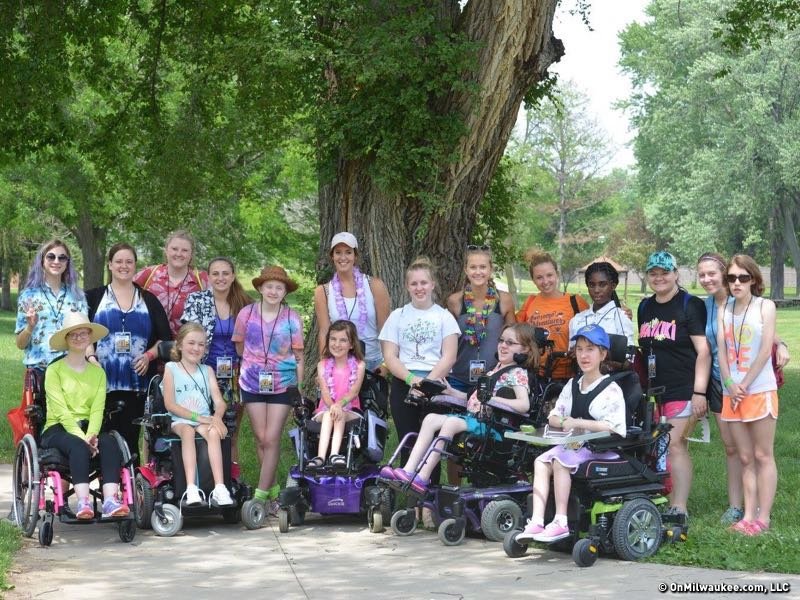 Muscular Dystrophy Association funds cures, provides care and sends kids to camp
Since 1950, the Muscular Dystrophy Association (MDA) has provided support to individuals – and their families – living with muscular dystrophy, ALS and approximately 40 other muscle-debilitating diseases.
"Every day we work toward funding cures, finding care and championing the cause," says Jenna Renno, the Muscular Dystrophy Association of southern Wisconsin's director of business devlopment. "So much has happened in the past 60 years, so much is coming to fruition with treatments slowing the disease progression and giving people a better quality of life."
This year, OnMilwaukee chose the MDA of southern Wisconsin as its signature charity for Potawatomi Hotel & Casino's Heart of Canal Street program. The Heart of Canal Street program has helped enhance and improve the lives of children and their families in southeastern Wisconsin for more than 20 years. Since 1994, the program has provided nearly $17 million to over 580 area charities.
The majority of funds are raised through the Canal Street bingo games that take place during every bingo session at the casino through Dec. 15.
MDA is a national organization, with a chapter in southern Wisconsin that serves a 1,300-person client base. Many of these clients are children and, as part of their mission, MDA provides a free, week-long summer camp for kids ages 6 to 17 years old.
The camp – one of 70+ MDA camps in the country – is held at the Salvation Army's Wonderland Camp in Camp Lake, Wis. It is scheduled from Sunday, June 10 to Friday, June 15, 2018. Almost 100 children will attend the camp this year from Wisconsin and Michigan.
"That might not sound like a lot of kids for a summer camp, but all of the kids have special needs and are paired up one-on-one with a volunteer who helps them with everything they need around the clock," says Sarah Arndt, associate director of Family Support & Clinical Care.
The camp is run almost entirely by volunteers, including Tom Grosser who is known as "Nurse Tom." Arndt estimates that Grosser has contributed more than 4,000 hours of volunteerism between working at the camp and as a part of the camp's planning committee.
"Planning is a very important and very time consuming aspect of the camp," says Arndt. "Tom works very, very hard."
Grosser, who served as a firefighter and paramedic for the city of Greenfield for 30 years, became an R.N. later in life.
"There are other organizations I help, but probably not as much involvement as with MDA. Helping raise money to both support the families and work towards a cure just seems like a good place to 'pay it back,'" says Grosser.
Kids who attend the camp experience classic camp activities, including campfires, crafts and adapted sports like fishing, tennis, baseball, hockey and swimming. They also have a dance and a talent show as well as a "Harley Night" when Harley-Davidson brings 100 bikes to camp and the kids get to ride in the side cars.
Arguably the most the important aspect of the camp experience is that the kids learn how to self-direct their personal care and bolster their confidence and self-esteem.
The camp also provides a respite for parents and caregivers who spend much of their time caring for the kids.
The MDA is a non-profit organization and does all of its own fundraising through programs and events. It does not receive any federal or United Way funding.
"We raise all our own funds and awareness," says Renno. "MDA plays a very big role in enhancing the quality of life of so many people. We're really proud of that."
arqcdfcy
Facebook Comments
Disclaimer: Please note that Facebook comments are posted through Facebook and cannot be approved, edited or declined by OnMilwaukee.com. The opinions expressed in Facebook comments do not necessarily reflect those of OnMilwaukee.com or its staff.