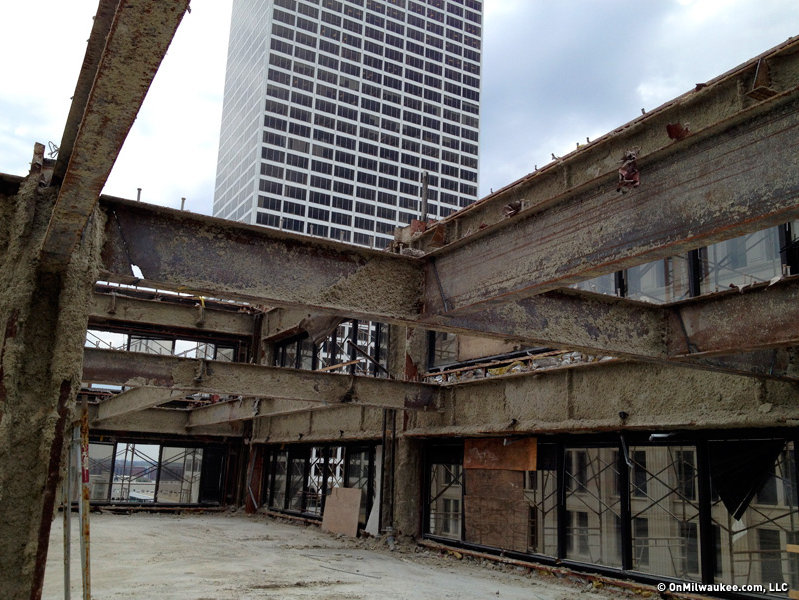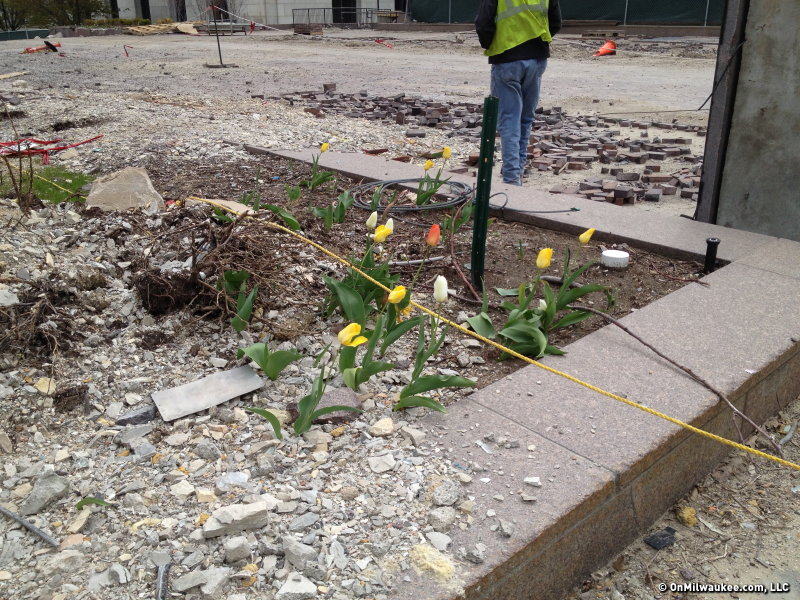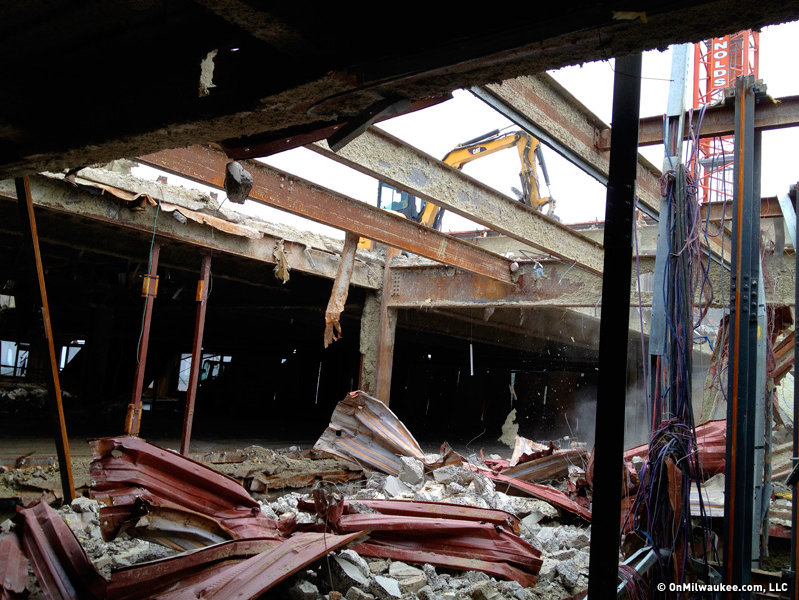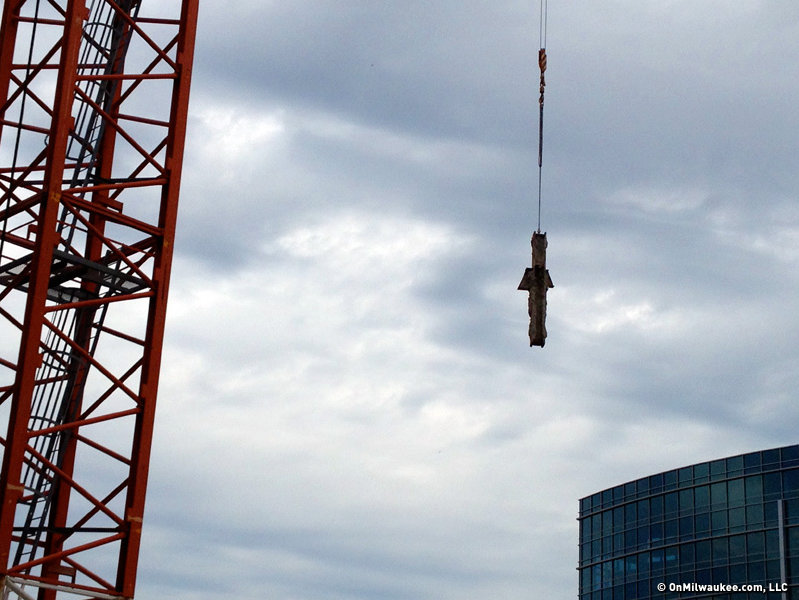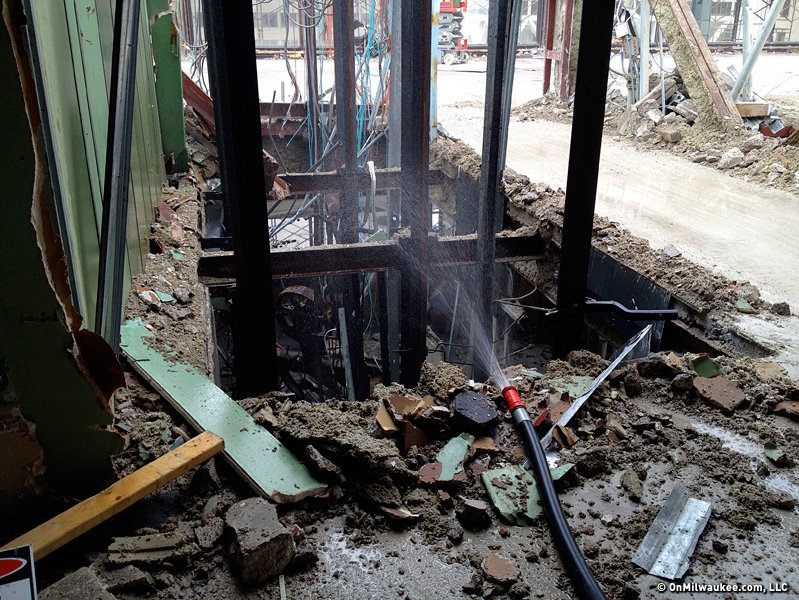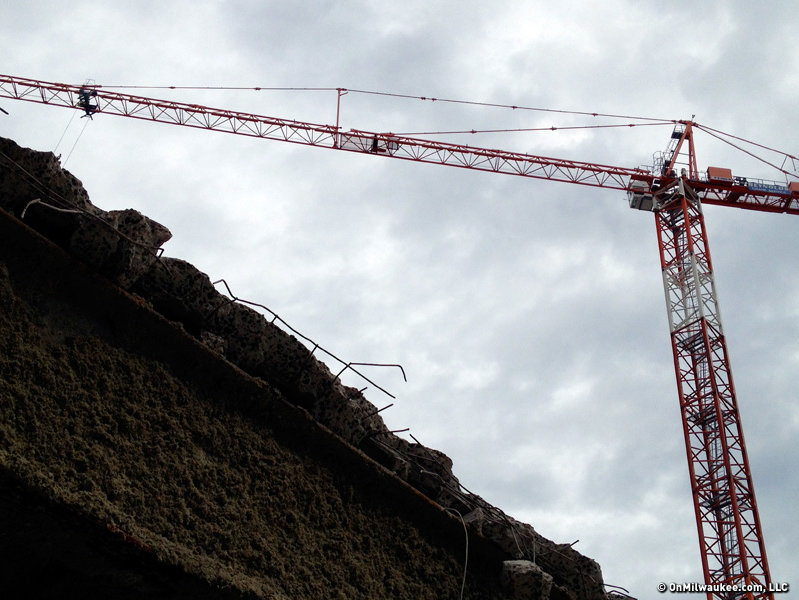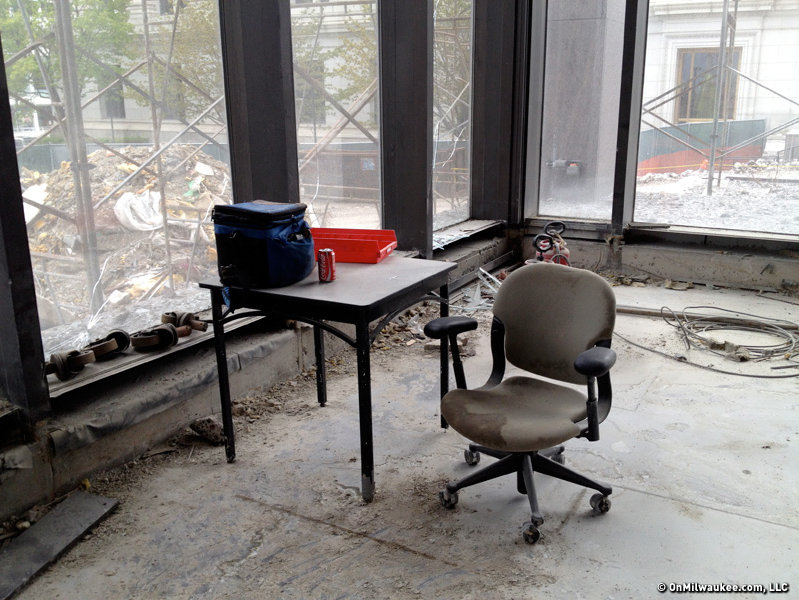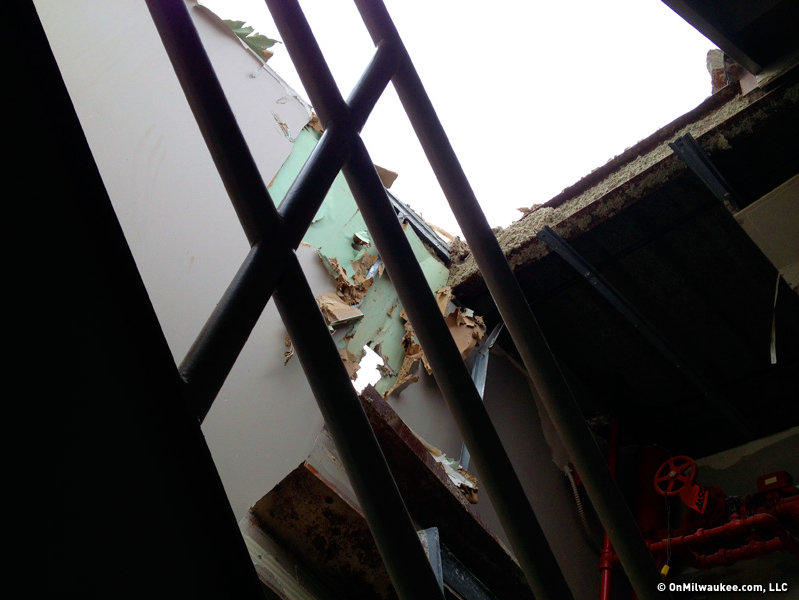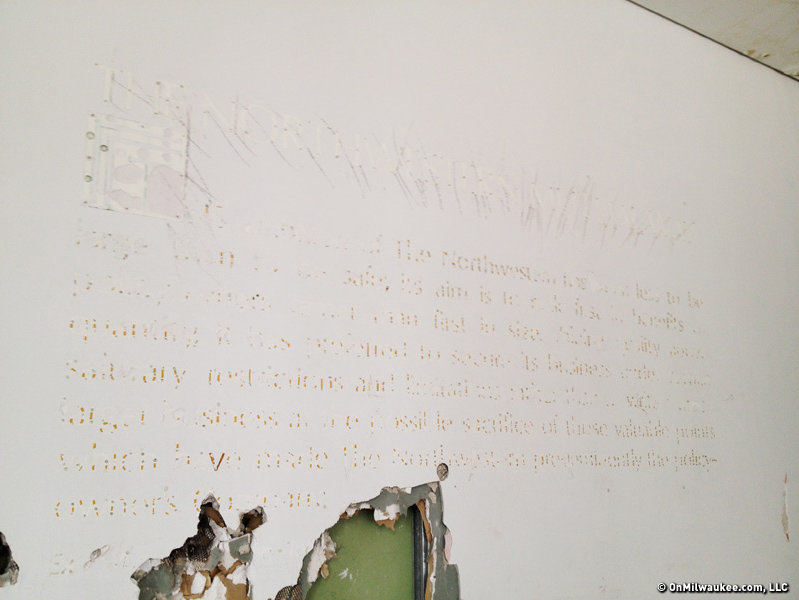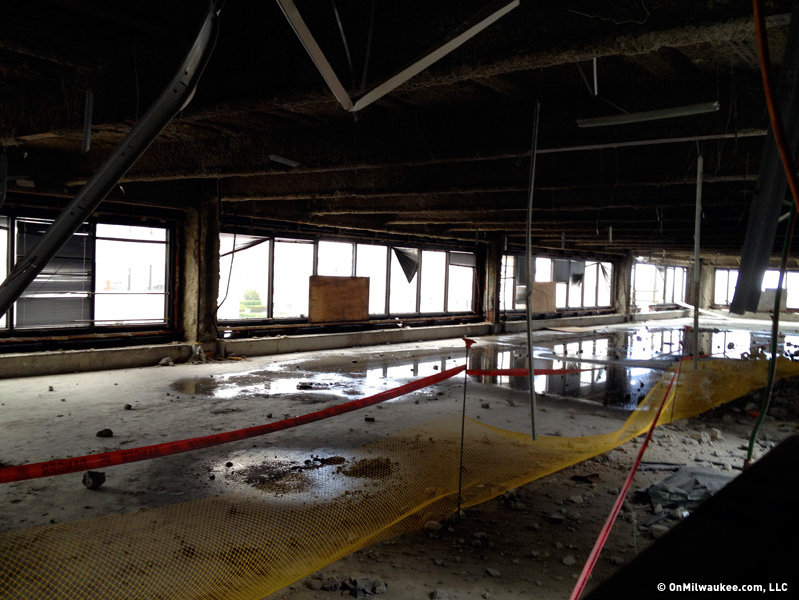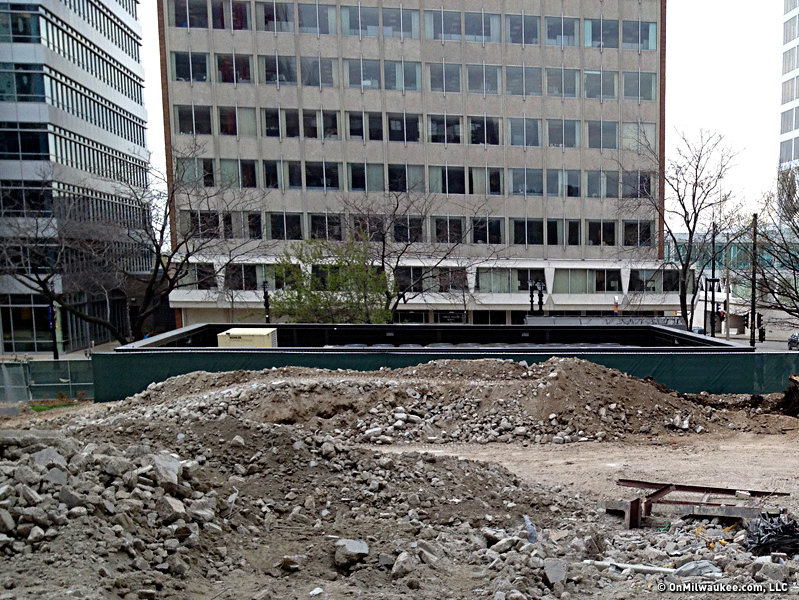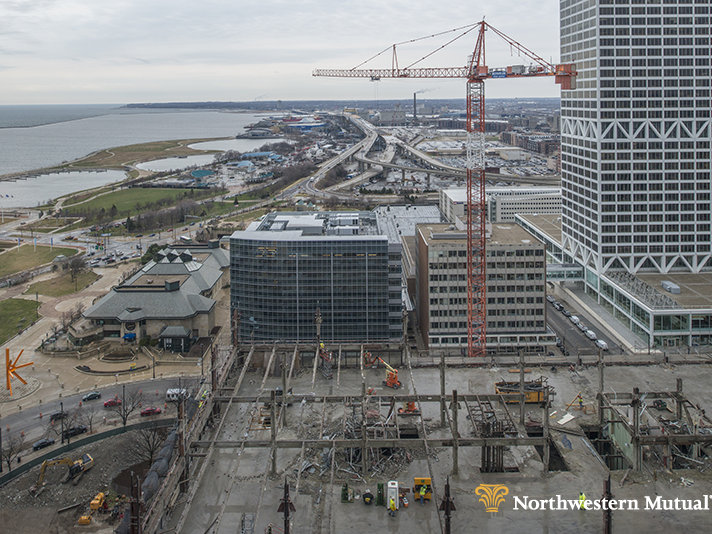 Deconstructing the NML building project from the inside
Many of us who work Downtown have been watching Northwestern Mutual as they have been dismantling its 16-story "east building," erected in 1978, to make room for a new tower that will reach nearly as high as the U.S. Bank tower across the street.
For some folks, the careful pulling apart of the structure is a palpable win. For example, the 5,011 pieces of granite that formed the outer skin of the building -- like most of the materials in the structure -- are being removed and recycled.
"We're donating large granite panels," says NML's Scott Wollenzein, who as facility operations manager, is overseeing the work. The actual deconstruction is being carried out by Veit, a specialty contractor headquartered in Minnesota, but with an office in New Berlin, too.
"We've had different memorials from various communities that have asked for pieces that they're going to being using in memorials and different projects they have going on around the city."
The company has received other requests, too. Like one asking for reclaimed glass window panels to be used in art projects.
Most everything that can be recycled has been recycled.
"Our goal is (to salvage and recycle) a minimum of 75 percent," says Wollenzein. "We're on track to be able to do that and more.
"Some of the carpeting that had come out of the building, actually a lot of it, got sent down to a third party and they cleaned it up and are reusing it in other projects," he says, as we stand outside the now four-story shell of a building, preparing to take a look inside.
"All the furniture that came out of the building has been taken away by a third party and is being resold. So has a lot of the equipment that was in the building, that is all being used and purposed."
As of when I visited last week, 67,000 tons of granite, masonry and brick was recycled. So was 6,400 tons of steel, aluminum and other metals; 10,000 tons of wood; and 53 tons of carpet.
"There's 19 million pounds of steel," says Wollenzein. "All of that material is going to come down and get melted down and made into something else. The copper, the aluminum, the iron piping, you name it, all of that stuff basically comes out, gets recycled in some form."
Though he can't put a specific dollar amount on the value of the recycled material, the salvage is part of the contract negotiated with Veit and therefore helps improve NML's bottom line of the project.
And there's no denying the value of preventing these tons and tons and materials ending up in landfills and waste sites.
The building has been coming down at a rate of about a floor every four and a half days, though there are fewer workers on site right now. There were more than two dozen at the height of the project, which began during a frigid Milwaukee winter and is expected to be complete in August.
Now, there are perhaps 16, including the operator of the giant crane (who heads up there early in the morning and stays until the evening), workers cutting metal beams, an excavator operator who works on the uppermost level bashing out bit that are then sent down the old elevator shafts.
At the bottom, another group of workers sorts the materials by type and loads them into bins to be carted off the site.
As you walk toward the west facade of the building, through scaffolding and shattered glass, you can spy the old escalators. There is rubble everywhere and an eerie silence except for the hum of construction equipment and the occasional thud from the work above and crash of material landing at the base of the elevator shafts to the right.
It looks like a bomb site. Post-apocalyptic.
Inside there are interesting details. A staircase looks pretty normal -- except for the layer of dust -- until you reach the fourth floor and see the sky. Up there, as workers slice through beams with torches you can't help but notice that many of the windows still have their venetian blinds.
When Veit's work is complete, there will be a giant hole in the ground ready -- "a clean slate," says Wollenzein -- for construction to begin on the new Northwestern Mutual Tower and Commons, which will have 1.1 million square feet of space on 32 stories on a three-acre site. Construction is expected to begin in September with an expected completion date sometime in 2017.
In the meantime, the employees who had been housed in the east building have been absorbed into the company's other buildings Downtown and in Franklin. Many are working in a recently rehabbed office building on the corner of Van Buren and Mason Streets.
I asked Wollenzein to explain why -- in addition to the ability to reclaim so much material -- NML opted to dismantle rather than implode the building.
"On the face of it, although it would have been very dramatic and very spectacular," he says, "there's a lot of risk that would be associated with that: breaking windows, maybe the building doesn't topple the way it's supposed to, a lot of other impacts, and of course being an insurance company, we're very risk averse.
"The other thing that's a reason is because of all the coordination of logistics. So if you can picture the east office building and you can picture a thousand feet around the entire thing, that's the effect of an implosion. So any building or any structure that's within 1,000 feet would need to be scaffolded and blanketed in case of any flying debris. So you can imagine all the residential areas, the businesses around here ... 36 hours prior to pushing the button, we'd have to evacuate anybody within that thousand feet. That would be just a logistical nightmare."
And so, the east building is coming apart at the seams, girder by girder, bit by bit. While it seems like a slow process, Wollenzein says implosion takes nearly as long, in terms of prep time and clean-up. The difference, he says, is about a month and a half.
"So, weighing all those types of things, we just made the decision, and rightfully so, to take the building apart piece by piece," he says without a hint of regret.
"It's worked out really well for us and I'm happy to say that everything's on schedule."
Facebook Comments
Disclaimer: Please note that Facebook comments are posted through Facebook and cannot be approved, edited or declined by OnMilwaukee.com. The opinions expressed in Facebook comments do not necessarily reflect those of OnMilwaukee.com or its staff.