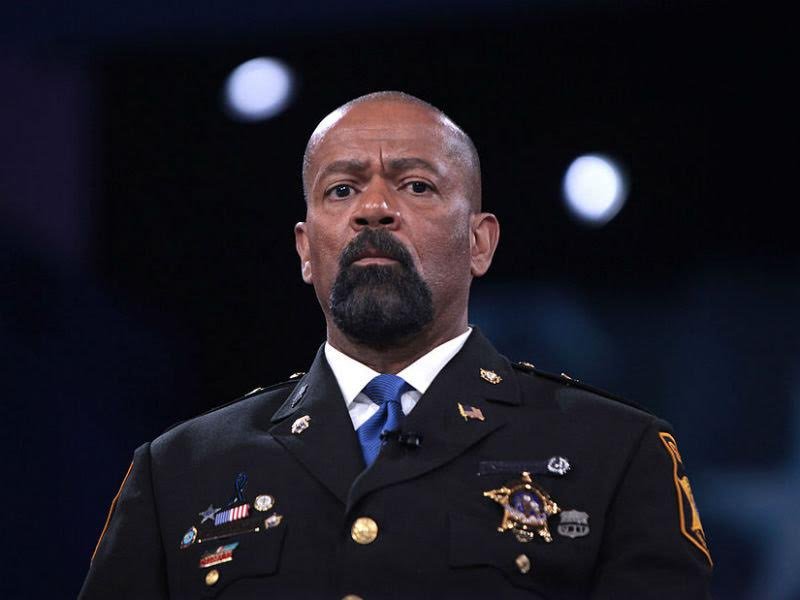 Sheriff David Clarke leaving Milwaukee for Department of Homeland Security job
Milwaukee County Sheriff David Clarke is riding out of town, resigning local office to accept a federal position in Donald Trump's administration.
Clarke will become the acting assistant secretary of the Department of Homeland Security, he announced during a radio interview Wednesday. The controversial conservative firebrand's position is reportedly not a presidential appointment, according to the White House, but rather a secretarial one. It does not require Senate confirmation.
Clarke, who was appointed by DHS Secretary John Kelly, will leave his job as Milwaukee County Sheriff in June to replace John Barsa, the current acting assistant secretary.
"I'm both honored and humbled to be appointed to this position by [Kelly], working for the Trump administration in this position," Clarke told 1130 WISN. "I have to retire from law enforcement. But I won't have to abandon it totally."
Clarke, a tough-talking Trump loyalist with a taste for cowboy hats and provocative positions, has become a polarizing but high-profile national figure. Although registered and elected as a Democrat, Clarke was a vocal supporter during Trump's presidential campaign and one of only three black speakers to endorse him at the Republican National Convention. He appears often on Fox News, has close ties to the National Rifle Association and is an outspoken advocate of gun rights. Clarke has frequently criticized groups like Black Lives Matter and other social activism protesters.
Though his name had been mentioned as a potential replacement for fired former FBI Director James Comey, Wednesday's announcement kills those rumors. Clarke's bluntness and severe law-and-order approach fit Trump's domestic views, though he's recently faced scrutiny for four deaths that occurred at his Milwaukee County Jail last year. In April of 2016, inmate Terrill Thomas died of dehydration after the water was turned off to his cell, and he was allegedly refused water for seven days. The case is currently under review by the Milwaukee County District Attorney's Office.
In his new DHS position, a partnership and engagement role, Clarke will work with state and local law enforcement and governments. "They feel like they're being ignored," he said Wednesday. "I'm looking forward to joining that team."
In an interview after the news broke Wednesday, County Executive Chris Abele reportedly said, "Milwaukee deserves better than Sheriff Clarke. America does too." Abele also took to Twitter.
The last thing America needs is another loud voice angrily and unproductively telling you who to blame and who not to trust.

— Chris Abele (@ChrisAbeleMKE) May 17, 2017
Clarke, who would have been up for re-election in 2018, has served as sheriff since 2002. According to Madison-based Associated Press Statehouse correspondent Scott Bauer, Earnell Lucas, who had announced last year that he'd challenge Clarke, said he will ask Gov. Scott Walker to appoint him to be sheriff.
Talkbacks
fetlarpo | May 19, 2017 at 8:45 p.m. (report)
Well written and with professionalism.
TheyThink | May 17, 2017 at 5:35 p.m. (report)
What's funny is that it was precisely Chris Abele himself who elevated Clarke to his level of national prominence thanks to the hundreds of thousands of dollars of his own money that he wasted trying to oust Clarke in the 2014 election. Had he and Bloomberg kept their wallets closed, Clarke would never be in this position.
Facebook Comments
Disclaimer: Please note that Facebook comments are posted through Facebook and cannot be approved, edited or declined by OnMilwaukee.com. The opinions expressed in Facebook comments do not necessarily reflect those of OnMilwaukee.com or its staff.