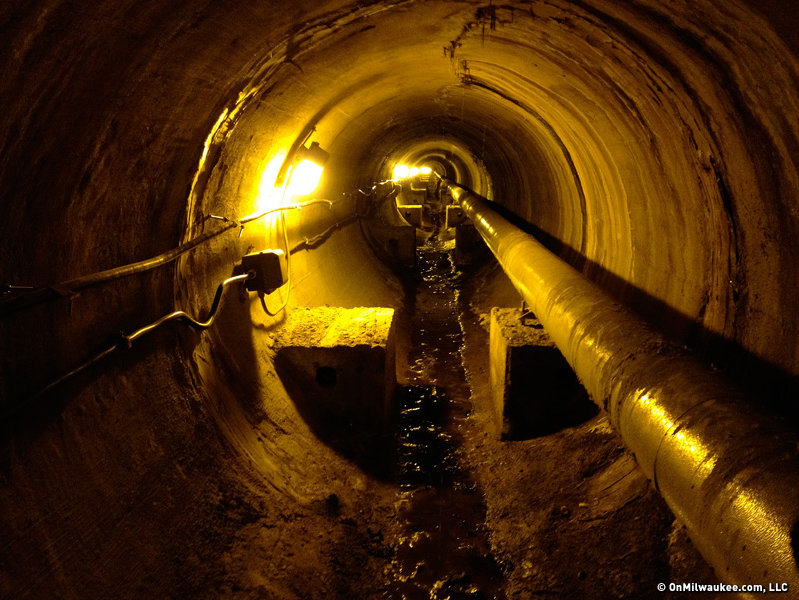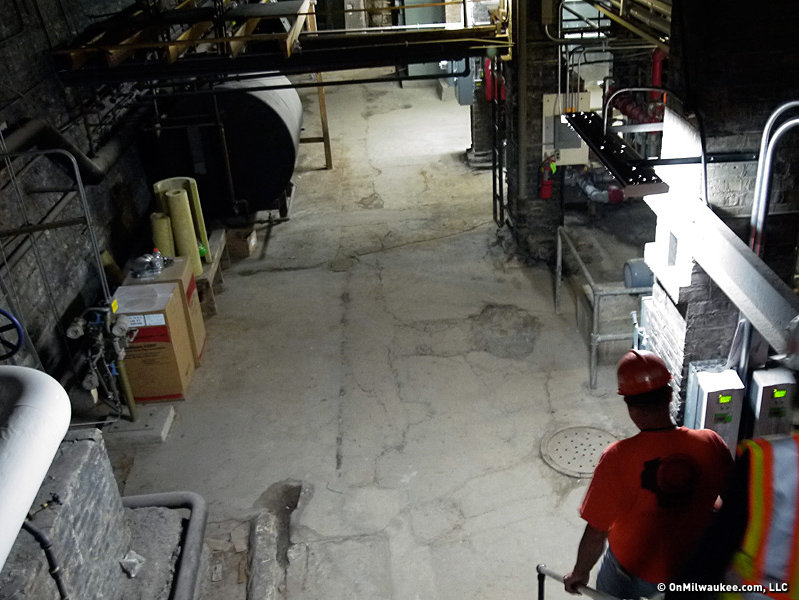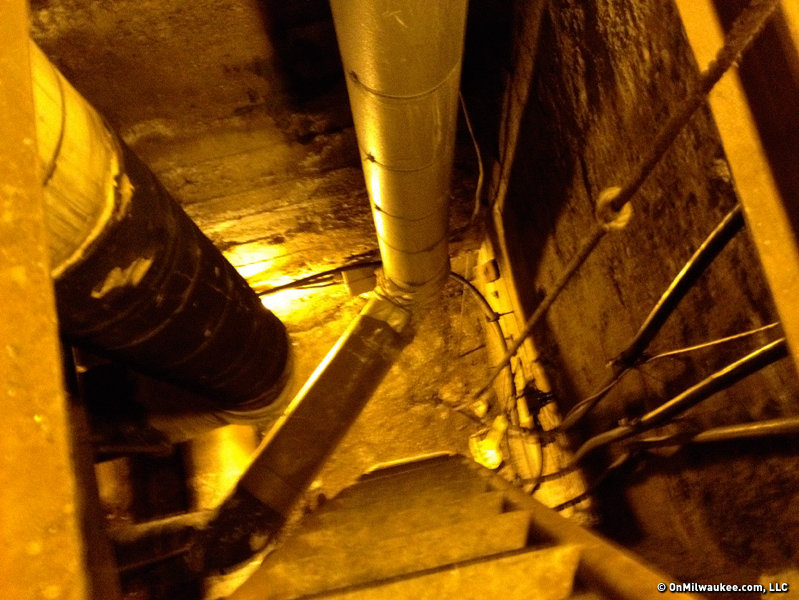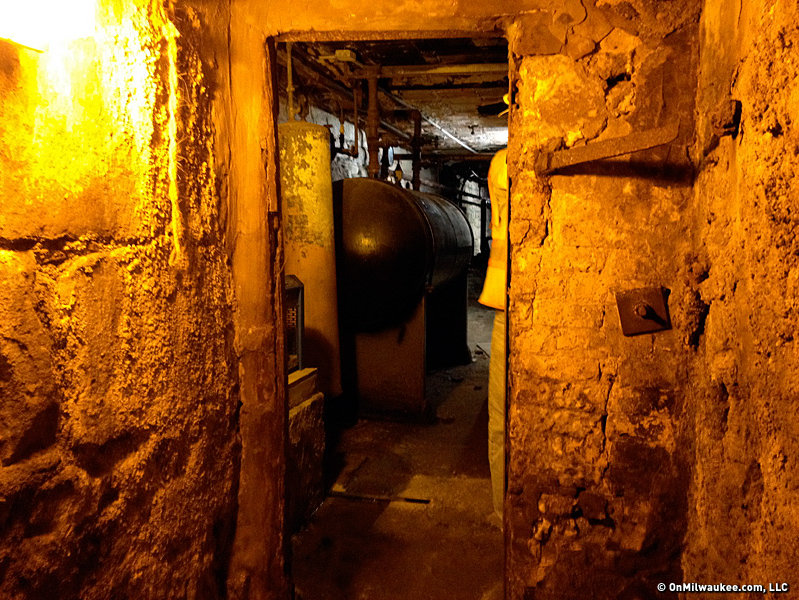 Urban spelunking: Downtown steam tunnels
Milwaukee's got a knack for putting waste to good use. Consider Milorganite or, less obviously to those of us up here on the surface, the city's steam system.
What was once a byproduct of energy production has been parlayed into a money-making venture that more than a century after its introduction is still a major service offered to Downtown Milwaukee by We Energies.
Currently, the system -- fueled by the Valley Power Plant on Canal Street in the Menomonee Valley -- serves more than 400 customers via about 215,000 linear feet -- nearly 39 miles -- of high-pressure and low-pressure steam piping that runs through 18,379 linear feet of walkable tunnels that criss cross the city, from 19th Street to the lake, from Vliet Street to the north to Mitchell Street to the south.
Recently, I got to go down into those tunnels to see how the system works. But first, a little background, on a system that is similar to many around the country.
According to John Gurda's history of We Energies, "Path of a Pioneer," Milwaukee's steam system has its roots in the 1897 Milwaukee Electric Rail and Light Co. purchase of the Milwaukee and Wauwatosa Motor Railway Co. That deal brought an old Pabst powerhouse on Broadway into the system.
"Waste steam from the Broadway plant's boilers was piped underground to provide heat as well as light to The Pabst Theater, the Pabst-owned St. Charles Hotel and other buildings on the east side of the river," Gurda wrote.
By the 1910s, steam was a valuable part of the business, wrote Gurda.
"(The company) did not overlook the commercial market for steam heat. Once a waste product of the system's power plants, steam became a small but important business line, particularly on Downtown Milwaukee. In 1917, the company installed a steam tunnel connecting the Commerce and East Wells (Oneida Street, pictured below) Power Plants. The tunnel extended the steam system's reach and ensured its continuity of supply."
Before these plants went online, there was a more scattered scattershot network fed by small boilers around the system, says Steam Services Manager Bob Jones.
A lot of times a lot of the customers back then had their own heating systems in their buildings and they were tying them together. And once we put in Oneida and Commerce Street that's when, at the time, Wisconsin Electric began to grow its own system.
The system was further expanded with additions to the Commerce and Wells Street plants in 1939 and 1941 and in 1968 and '69 the two units of the Valley Power Plant came online, "just in time," wrote Gurda, "to serve the steam system's newest and largest customer: Marquette University."
Among the other steam customers are Northwestern Mutual, Milwaukee School of Engineering, Rockwell Automation, Milwaukee Art Museum and the City of Milwaukee.
The steam is currently created by coal-burning boilers, but soon that will change as one unit of the Valley Power Plant is currently being converted to natural gas and the second unit will be converted by early next year.
The 480-degree steam has many uses, from heating buildings in the winter to heating water and myriad industrial purposes. It's food grade so it's used to wash dishes, process laundry and for sterilization.
"The system that we have now is not a return system," says Jones in the steam services headquarters, located in an unassuming building in Merrill Park, "so, it's up to the customer to drain every bit of heat out of the steam that they can. To make it as efficient as possible.
"We have some customers who put a radiator on the back end to suck out more heat or a heat exchanger to heat water coming in and it sucks all the heat out and the water goes to the drain."
Steam is pumped through two systems. One is low pressure, in larger pipes, operating at around 12 pounds per square inch, and the other, in smaller pipes, but moving a larger mass, is high pressure, which typically runs at 150 psi.
"Low pressure, even though it sounds like you don't get as much out of it, a lot of the customers can get a lot of heat out of that low pressure steam," says Jones. "Both quantities of steam still have basically the same amount of BTUs. But the thing is with the high pressure you can use smaller pipes and send more mass through.
"We use more of the high pressure system so that we don't have such big pipes going all throughout the system. So we send high pressure steam to a pressure reducing station and that changes the steam from high pressure to low pressure."
Steam leaves the Valley Power Plant in two large pipes that cross Canal Street via a steel archway, then travels up over the Menomonee River on its way toward Downtown.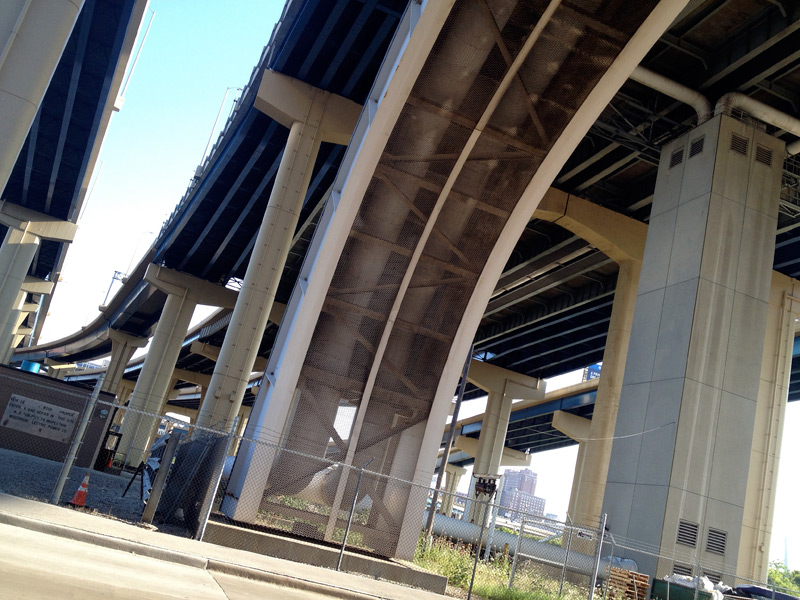 These days, thanks to a new pipe, the system -- which is still growing, a building on Greenfield Avenue recently connected to it -- also goes to the south side.
"We had to excavate and put in what we call direct bury piping," says Jones of the south leg, which was installed in the late 1990s. "That's the carrier pipe with the steam, insulation and an exterior pipe for protection. It's coated chemically so it doesn't rust."
The oldest part of the system is to the northeast, up near Knapp and Prospect. The western and northwestern portions were added in the late 1960s when the Valley Power Plant opened.
Accessing the tunnel that runs below the river requires a long descent on a series of ladders that reach beneath the river bed. Then, you can either crouch and walk through, bent over, or you can lay flat on your back on a tram system and make your way under the river that way.
Alas, I didn't get to experience that. Instead, a We Energies crew took me in an old tunnel and a new one.
Page 1 of 2 (view all on one page)
Next >>
Facebook Comments
Disclaimer: Please note that Facebook comments are posted through Facebook and cannot be approved, edited or declined by OnMilwaukee.com. The opinions expressed in Facebook comments do not necessarily reflect those of OnMilwaukee.com or its staff.