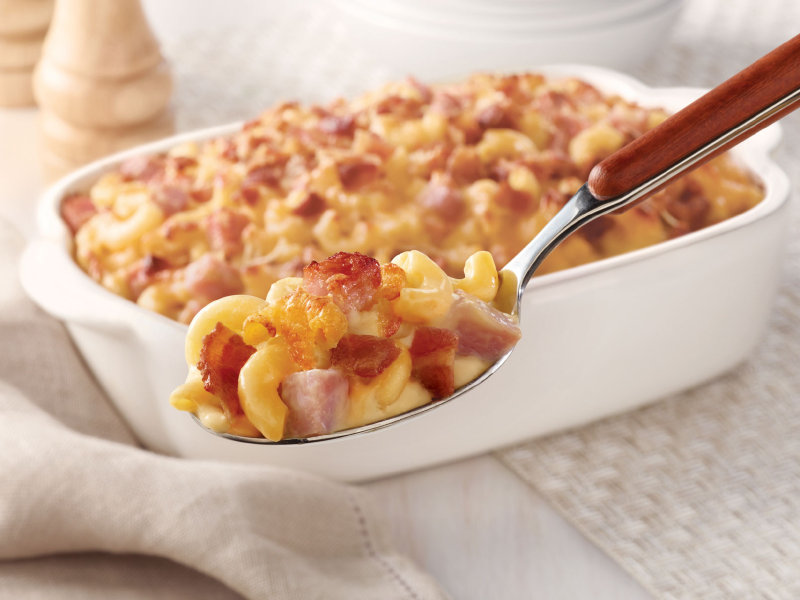 Don't go bacon my heart: Wisconsin State Fair is a bacon-lover's dream
Bacon is everywhere. Do a quick search on Google, and, in addition to recipes, you'll come up with any number of fascinating bacon-inspired products – bacon-flavored lip balm, bacon-scented cat litter and, for the truly devoted, a bacon coffin.
Thanks to the fine art of fat-washing, bartenders across the nation are making bacon-infused bourbon. Brewers are creating bacon-flavored beer. And restaurants everywhere are sneaking bacon into dishes left and right.
What once was a food trend has morphed into a cultural phenomenon. I think it's safe to say that the whole bacon craze is going to stick around whether you like it or not – so why not embrace it?
The folks at the Wisconsin State Fair certainly are. Friday, Aug. 10 has been declared Patrick Cudahy Bacon Lover's Day. And, for the fourth year in a row, local chef and MATC Culinary Arts Instructor Brian Moran will perform cooking demonstrations of unique recipes he's created using Patrick Cudahy Sweet Apple-Wood Smoked Bacon.
Moran, who's been working in kitchens for over 20 years, knows a little about bacon.
"Great bacon should have a sweet apple flavor and a great crunch that makes it easy to cut as a garnish or add to recipes," he explains. "Bacon should be versatile enough to add to any recipe, and distinct enough to make that addition a positive one."
Any recipe? Moran seems to think so.
"It tastes good and goes with almost anything," he claims. "Bacon has always been a popular and classic American food. In the past it was just seen as a breakfast food but now people are working it into everything and anything. It's something people crave as a garnish and as a finishing, unexpected flavor."
And he has a point. Bacon is an almost magical ingredient, in that even the smallest amount adds texture and flavor wherever it's used – from a burger topping, to an enhancement for salad, to a surprising flavor and textural element in ice cream.
"I'm inspired by the way people's palettes are changing," Moran remarks. "Today, people crave new flavor combinations. For example, this year I took the typical idea of bacon and eggs and altered it fo rour Patrick Cudahy Sweet Apple-Wood Smoked Bacon-Filled Deviled Eggs, which are perfect for the summertime."
Moran appreciates the balance of sweet and salty that bacon offers to even the simplest dishes, and he sees limitless potential in using bacon in not only savory, but sweet applications. While some chefs are adding sea salt to their desserts, Moran is upping the flavor quotient by adding smoky, salty, fried bacon. Last year he added bacon to cookies for a State Fair treat. This year he's sprinkling it over cinnamon rolls, and adding it to brownies.
"People gravitate towards it because it's a dessert with the Patrick Cudahy bacon taste they crave," he explains.
Moran also doesn't think he'll run out of inventive ways to use bacon in recipes anytime soon.
"If Patrick Cudahy can make bacon that people love for over 125 years," he remarks, "I think I can come up with new fresh ways for people to enjoy it for many years to come."
Drop by the Patrick Cudahy's State Fair booth in Central Park on Friday, Aug. 10, and you'll get a taste of what Moran has been dreaming up for 2012. Better yet, try your own hand at some of Moran's recipes – like the smoked bacon-filled deviled eggs, bacon and ham mac 'n' cheese or bacon Asiago-filled potatoes.
And just in case you want more ways to get your bacon fix at the Wisconsin State Fair, you can look forward to the following bacon-o-licious dishes: deep-fried bacon, bacon-wrapped tater tots, deep-fried bacon-wrapped cheddar hot dogs on a stick and the Fat Elvis on a stick – a peanut butter cup in banana batter with bacon.
You're welcome.
SWEET APPLE-WOOD SMOKED BACON-FILLED DEVILED EGGS
Ingredients:
1 dozen fresh eggs
1 cup mayonnaise
1 tbsp. Dijon mustard
Dash of salt and pepper
½ cup Patrick Cudahy Sweet Apple-Wood Smoked Bacon, cooked, finely chopped in a foodprocessor (may substitute Patrick Cudahy Bacon pieces)
Optional toppings:
Chopped scallions
Paprika
Instructions:
Cook eggs in a 4-quart saucepan with a little salt for 12-14 minutes and then chill in ice water for 20 minutes. Peel eggs in water for easier peeling, and hold eggs in refrigerator until eggs are completely cooled. Prepare deviled egg mixture by cutting eggs in half the long way, lay out cooked egg whites for filling and add yolks to a bowl. Add mayo, mustard, salt and pepper and mix with a fork or in a food processor until smooth. Stir in almost all of the finely chopped bacon into the filling and fill egg whites with a spoon or a pastry bag. Garnish your deviled eggs with a sprinkle of bacon, paprika and chopped chives.
SWEET APPLE-WOOD BACON AND HAM MAC AND CHEESE
Ingredients:
4 oz. butter (melted)
5 oz. all-purpose flour
2 cups milk salt and pepper
1 box of macaroni pasta
2 cups grated sharp Wisconsin cheddar cheese
1 cup grated Parmesan cheese (reserve ½ cup parmesan for topping the mac and cheese)
1 cup grated smoked mozzarella
2 cups of chopped, cooked Patrick Cudahy Sweet Apple-Wood Smoked Bacon
8 oz. of cubed Patrick Cudahy Sweet Apple-Wood Smoked Ham
Instructions:
Begin by making a bechamel sauce. In a heavy bottom saucepan, heat butter and add flour to make a roux, cook over low heat for 2-3 minutes. Add milk and cook over low heat until sauce thickens to a medium thickness. Add pinch of salt and pepper. Turn off heat and whisk in all cheeses until melted and cover sauce until ready for the pasta. Cook macaroni noodles in salted water until tender (DO NOT over-cook, pasta will be baked in oven and finish with sauce and meat. Drain pasta but do not rinse, pour into a large bowl, pour in cheese sauce, bacon and ham and stir together. In a large baking dish big enough to hold the mac and cheese, spray the bottom and sides with cooking spray. Pour in the mac and cheese mixture, top with crumbled bacon bits and parmesan cheese and bake in 350-degree oven for 25 minutes until golden on top.
SWEET APPLE-WOOD BACON ASIAGO CHEESE-FILLED POTATOES
Ingredients:
6 medium-size red potatoes
1 cup grated Wisconsin Asiago cheese
1 cup mayo
1 cup finely chopped, cooked Patrick Cudahy Sweet Apple-Wood Smoked Bacon
Optional:
Chopped chives
½ cup sour cream (on side)
Instructions:
Place red potatoes on a cutting board and slice a thin part of two sides of the potato so they sit flat on a cutting board. Scoop out a hole about ½ to ¾ inch deep depending on the size of your potato preferably with a melon baller. Cook potatoes and the scooped out pieces of potato in a pot big enough to hold all of these ingredients for 20 minutes until potatoes are just cooked through. Chill potatoes in ice water, but remove the warm, cooked, scooped-out pieces for your filling. In a medium-size bowl, add warm potato pieces, mayo, Asiago cheese and bacon bits and mix together until mixture is smooth. Fill scooped-out potatoes with filling and sprinkle any remaining bacon bits on top of the potatoes. Bake the potatoes on a baking sheet sprayed with non-stick cooking spray for 25 minutes at 350 degrees and serve warm. Top with chopped chives. Serve with sour cream alongside your favorite meats, seafood or as a great appetizer.
cttqyzdzrbyc
Facebook Comments
Disclaimer: Please note that Facebook comments are posted through Facebook and cannot be approved, edited or declined by OnMilwaukee.com. The opinions expressed in Facebook comments do not necessarily reflect those of OnMilwaukee.com or its staff.