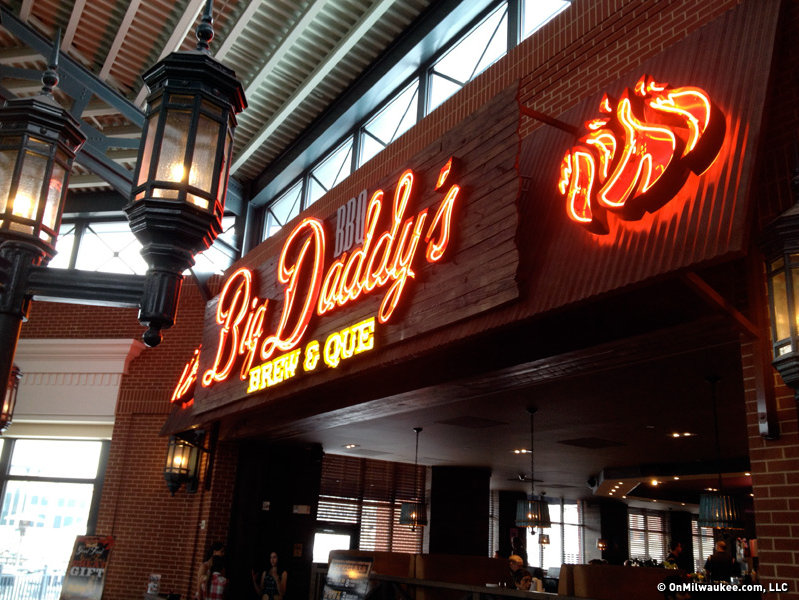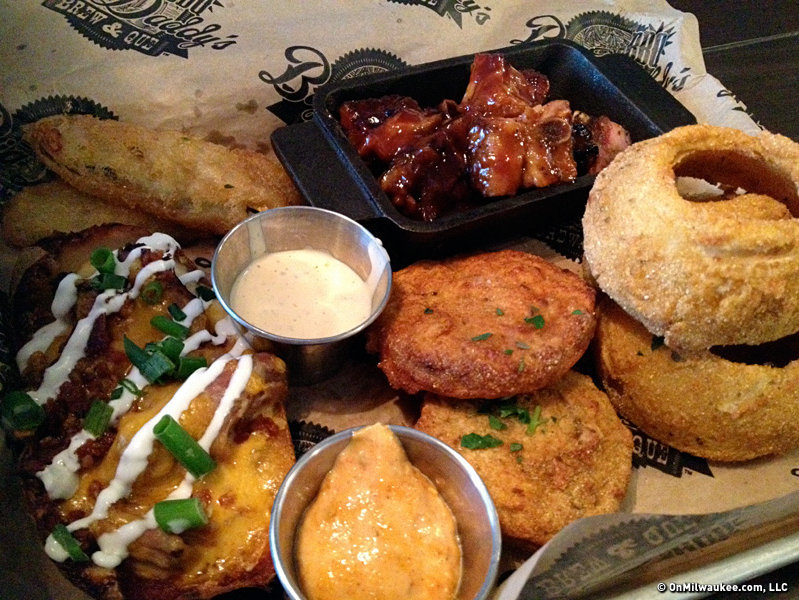 First look: Big Daddy's Brew & Que
Big Daddy's Brew and Que opened at the iPic at Bayshore Town Center about a month ago, and you don't even have to go inside to realize that the iPic folks clearly learned lessons from the predecessor in the space, Ovation.
Though Ovation's American grill food would seem like a recipe for success in the venue, the restaurant was accessible only through the iPic, served a menu much like the one at neighboring Bar Louie and looked more upscale than it really was.
These combined to keep customers at bay.
On the other hand, Big Daddy's main entrance splashes out onto the mall, shouting its bright welcome and letting all comers know that the cuisine here isn't the same as its neighbor's.
In addition to a sumptuous barbecue menu written by Chef Zach Rosen, the casual eatery, which serves lunch and dinner, also boasts a list of creative cocktails created by Chicago mixologist Adam Seger, who New City dubbed the "Charlie Trotter of cocktails."
On a visit to take a first look, I sampled an array of appetizers, a brisket sandwich and, as a side, "damn good mac 'n' cheese," which lived up to its name.
Unsurprisingly, most of the apps are fried and rich and hearty, but clear some space in your diet, because the frickles (fried pickles), fried green tomatoes and "big ass onion rings" are all worth it.
The onion rings are of the super thick cut variety and Rosen has perfected a method to keep the onions inside the batter.
The smoked beef brisket arrived dry on a delicious brioche bun. Rosen says he prefers to serve the brisket dry so diners can select their favorite sauce – Big Daddy's offers up three. One is a mustard base with a bit of spice, a KC tomato-based sauce is the tangiest and the house sauce – also tomato based – is thick and sweet.
The menu also includes, among other things, shrimp and catfish po' boys, a carolina dirt chicken sandwich and a couple salads and stews.
But Rosen's favorites are clearly the barbecue specialties.
"Barbecue was nothing like anything we ate at home," says Rosen, a Detroit area native who now loves his new hometown. He arrived here to open Mitchell's Fish Market at Brookfield in 2007 and says he plans to stay.
I'm going to circle back later to try the Sloppy Texan, which, according to the menu, combines smoked brisket, pork, chicken and hot links served on that same brioche bun.
There are daily specials early in the week, including a full slab of ribs for $9.95 on Mondays, $1 sloppy Texan sliders on Tuesdays and $5 pulled pork sandwiches on Wednesdays.
The restaurant appeared to be doing a good lunch business during my visit. My server was cheery, friendly and helpful and I noticed her colleagues wore the same bright smiles.
Though I hear the butterscotch root beer float – one of four house-made desserts on offer – is to die for, I decided to save that for another visit.
Facebook Comments
Disclaimer: Please note that Facebook comments are posted through Facebook and cannot be approved, edited or declined by OnMilwaukee.com. The opinions expressed in Facebook comments do not necessarily reflect those of OnMilwaukee.com or its staff.