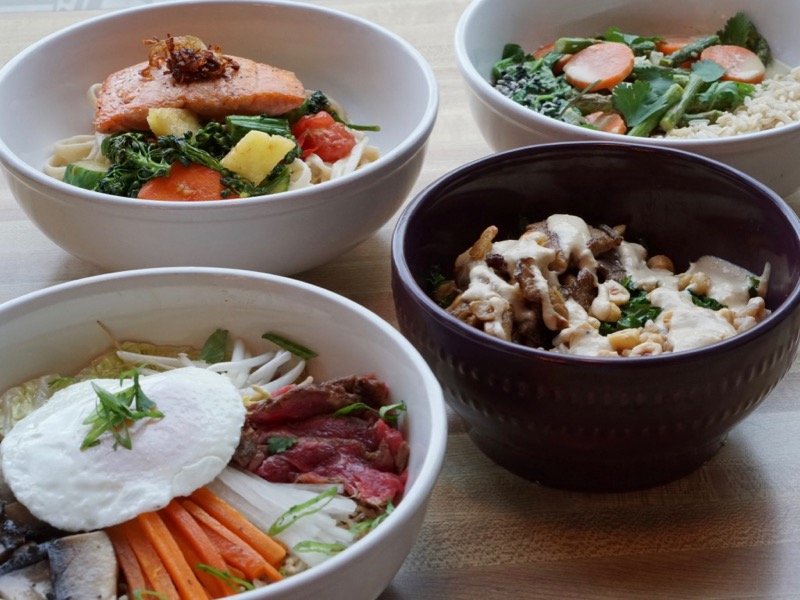 What to expect from Bowls, opening soon in Walker's Point
Bowls, the new Walker's Point restaurant specializing in healthful fast casual fare, is slated to open later this month at 207 W. Freshwater Way, just around the corner from Purple Door Ice Cream.
Owned by Chef Nell Benton of The National and Andy Larson of Float Milwaukee, the restaurant aims to offer an alternative for area diners who want quick meals that are also filled with nourishing ingredients.
"I've always lamented the fact that we don't have much healthy fast casual food in Milwaukee," notes Benton, executive chef and co-owner of Bowls. "And for busy people, that's just hard."
Benton says the idea for the restaurant was prompted by Larson, who had taken note of the bowl trend which was sweeping the nation. The bowls, featuring colorful, flavorful ingredients served together in healthful bowl-style meals, made trend reports for 2017 including the annual report from New York-based Baum + Whiteman, who pointed to poke bowls as a prime example of the healthy trend.
"If you hold a bowl Buddha-like while eating," they report, "you are psychologically more prone to mindfulness about your meal. You'll also stand a better chance of catching all the flavors and textures with every bite ... and think you're full a lot faster, even if you chuck the white carbs."
Benton and Larson set off this fall on research and development trips to both New York and Toronto this past fall, where they took note of the set-up for "bowl" restaurants in both cities.
"We found really fresh, healthy food that was simple and delicious," says Benton. "But, there were no places that were exclusively bowls, or that served both smoothie and savory lunch or dinner bowls."
However, the Milwaukee location for Bowls will do both, she notes. It will also cater to vegan, vegetarian and gluten-free diners with a variety of vegetable and grain-free options. Bowls will be priced between $8-14.
Menu
Among the bowls slated for the menu are breakfast smoothie bowls, featuring frozen fruit combined with a liquid like coconut milk, almond milk or Greek yogurt.
Examples include a berry acai bowl with blended acai, blueberries, raspberries, strawberries, almond milk and honey topped with toasted coconut, fresh fruit and granola (pictured below); a chocolate peanut butter smoothie bowl with blended almond milk, chia seeds, cocoa, dates, peanut butter and bananas topped with banana, toasted coconut, peanuts, and granola; and a super green bowl with blended spinach, kale, matcha powder, banana, cucumber, almond milk dates and lime topped with raspberries, blueberries, almonds and coconut.
Savory lunch and dinner bowls will include a soba salmon bowl with soba noodles, salmon, broccolini, carrots, tomatoes, cabbage, pineapple, crispy shallots and ginger miso dressing (pictured); a steak and rice bowl with brown rice, marinated rare beef, carrot, daikon, mushroom, bean sprouts, bibimbap sauce and an over-easy egg; and a fungi bowl with farro, kale, oyster mushrooms, pistachios and ginger-miso dressing.
There will also be salads including a roasted beet salad with arugula, kale, feta, almonds, and pickled peppers, and bean sprouts, lightly tossed with olive oil; and a Southeast Asian salad with greens, hardboiled egg, cucumber, tomatoes, crispy shallots, and peanuts, in a light vinaigrette.
Meanwhile, beverages will include freshly pressed juices from Juiced!, a variety of teas, Anodyne coffee and cold brew, along with two Nessalla kombucha taps.
Atmosphere
The Bowls space, which is currently in its final stages of renovation, will be a counter-service restaurant featuring a small number of tables where diners can enjoy breakfast, lunch or dinner.
The color scheme for the restaurant pulls in a number of modern, bright elements including lime green and aubergine tile, along with modern lighting and an open prep space where diners will be able to see their bowls being constructed.
The eastern wall will feature a living wall planted with herbs, succelents and a variety of other plantings, notes Benton. Meanwhile, the western wall will be hung with bowls from local ceramics artists, all of which will be for sale.
The restaurant, which will be run by Chef Manager Kate Southcott, will also see involvement from Larson, who plays an active role in business operations for Bowls and will also be a regular presence in the restaurant itself.
Once open, Bowls will maintain regular hours Monday through Saturday from 7 a.m. to 7 p.m.
Facebook Comments
Disclaimer: Please note that Facebook comments are posted through Facebook and cannot be approved, edited or declined by OnMilwaukee.com. The opinions expressed in Facebook comments do not necessarily reflect those of OnMilwaukee.com or its staff.