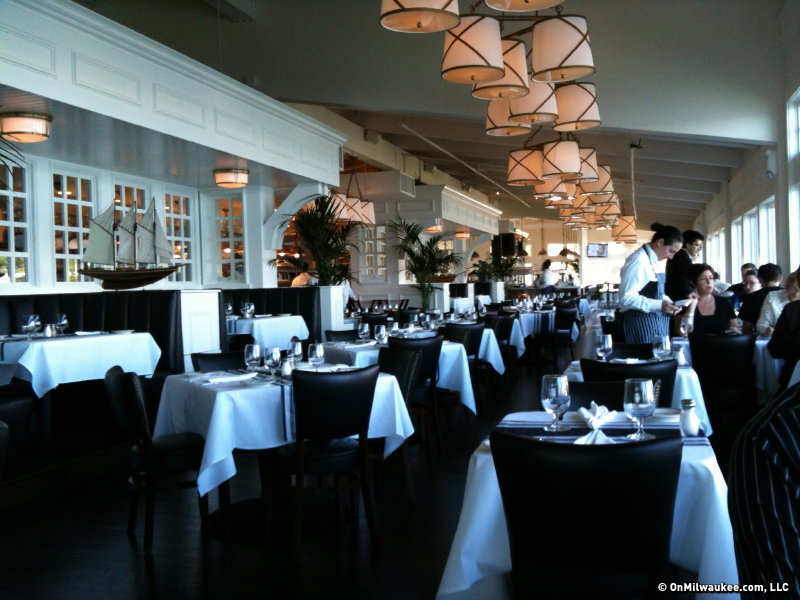 Downtown dining guide
For the 10th straight year, October is Dining Month on OnMilwaukee, presented by the restaurants of Potawatomi Hotel & Casino. All month, we're stuffed with restaurant reviews, dining guides, delectable features, chef profiles and unique articles on everything food, as well as voting for your "Best of Dining 2016."
If you're heading into Downtown Milwaukee for a Bucks game, a day of work and a night out with friends, you can find almost anything and everything to eat. You could enjoy some a plate of history – and tasty German food – from Karl Ratzch's, eat a juicy burger at AJ Bombers, devour some unique slices at Ian's Pizza and much more.
So the next time you grab your squad and head into the city, here's a full list of places to check out for a meal on the town.
AJ Bombers
1247 N. Water St., (414) 221-9999
hospitalitydemocracy.com/aj-bombers
Come here to enjoy some of the most beloved burgers in the city – including one featured on an episode of Travel Channel's "Food Wars" – along with some shelled peanuts and beer. You can even write your name on the wall to leave your mark.
Ale Asylum Riverhouse
1110 N. Old World 3rd St., (414) 269-8700
riverhousemke.com
Stop by Ale Asylum along the river to enjoy some in-house brewed beer along with upscale tavern food.
Avenue Bar and Grill
611 W. Wisconsin Ave., (414) 271-7327
avenuemilwaukee.com
Located inside the Hilton Double Tree, Avenue Bar and Grill offers some American eats along with several TVs for some mealtime entertainment.
Bacchus
925 E. Wells St., (414) 765-1166
bacchusmke.com
Bacchus delivers an upscale restaurant experience, complete with an amazing view of Lake Michigan and an impressively long wine list to wash down one's tasty meal.
Bar Louie
1114 N. Water St., (414) 847-1492
barlouie.com
Bar Louie serves an assortment of foods including their signature sandwiches, appetizers, burgers and more on its menu. But you should really go there during its happy hour for cocktails, brews, martinis and more.
Benihana
850 N. Plankinton Ave., (414) 270-0890
benihana.com
Enjoy some entertainment with your entrees at Benihana, as your talented chefs cook your Japanese food right in front of you.
Bistro 333
333 W Kilbourn Ave., (414) 270-6130
milwaukee.regency.hyatt.com/en/hotel/dining/Bistro333.html
Enjoy some Midwestern cuisine and thirst-quenching cocktails in the Hyatt Regency Hotel lounge area.
Bollywood Grill
1038 N. Jackson St., (414) 271-8200
bollywoodgrill.us
Get your Indian food fix by heading to Bollywood Grill, where the Jackson Street restaurant serves an extensive menu of Halal, curries, Tarkarian and more.
The Brass Alley
1023 N. Old World 3rd St., (414) 800-6240
thebrassalley.com
Take a trip to New Orleans without the fuss of having to book a flight or rent a car. At The Brass Alley, patrons can get their hit of Southern, Creole and Cajun food, along with some speciality cocktails.
Brick 3 Pizza
1107 N. Old World 3rd St., (414) 224-6040
brick3pizza.com
Serving authentic New York style pizza, Brick 3 has slices upon slices for Milwaukeeans to enjoy. You can get a classic pepperoni, cheese or one of their speciality slices.
Buca di Beppo
1233 N. Van Buren St., (414) 224-8672
bucadibeppo.com
Grab the family and enjoy some good Italian eating with Buca Di Beppo's large portions of pasta, chicken and more.
Buck Bradley's
1019 N. Old World 3rd St., (414) 224-8500
buckbradleys.com
This saloon – just a couple hundred feet from the BMO Harris Bradley Center for those heading to a game or concert – features classic American food, draft beers and cocktails, so stop in and enjoy.
Buckley's
801 N. Cass St., (414) 277-1111
buckleysmilwaukee.com
Family owned and operated, Buckley's serves breakfast, lunch and dinner. No matter what time of day it is, you can expect to get some refined comfort food.
BB's (Build-a-Breakfast and Build-a-Burger)
633 W. Wisconsin Ave., (414) 270-1070
bbmilwaukee.com
For those picky eaters out there, BB's might be your best option. After all, the dishes at BB's are all of your making, as you get to create your own breakfast plates or build your own delicious, juicy burgers – so really, the menu is up to you!
Cafe at the Plaza
1007 N. Cass St., (414) 272-2494
plazahotelmilwaukee.com/eat
Cozy diners don't get much classier than Cafe at the Plaza, a vintage 1920s cafe – complete with a lovely outdoors courtyard space – serving breakfast and lunch from 7 a.m. until 2 p.m.
Calderone Club
842 N. Old World 3rd St., (414) 273-3236
calderoneclub.net
Serving authentic cuisine, including made-from-scratch pasta and award-winning Neapolitan thin-crust pizza, since 1983, Calderone Club is staple of Italian cooking in Milwaukee.
The Capital Grille
310 W. Wisconsin Ave., (414) 223-0600
thecapitalgrille.com/home
This upscale Downtown restaurant, serving expertly cooked steak and seafood, is an ideal place to have an elegant meal with world-class wine.
Carnevor
718 N. Milwaukee St., (414) 223-2200
carnevor.com
After their impressive remodeling, you must come to Carnevor to enjoy the restaurant's impeccably grilled steaks, succulent wine selection and more. And who knows; maybe you'll even see a Packer!
Carson's Milwaukee
301 W. Juneau Ave., (414) 223-3311
ribs.com
Calling all barbecue connoisseurs: Come to Carson's Downtown to get baby back ribs, prime rib, steaks and whatever else your meat-eating heart could possibly want.
Casablanca
728 E. Brady St., (414) 271-6000
casablancaonbrady.com
When it comes to Middle Eastern restaurants, Casablanca is king. The five-time defending best Middle Eastern restaurant – according to OnMilwaukee's yearly best of dining polls – defends its title with a menu of delicious authentic food, served along side a hookah bar and belly dancers.
Chic Cafe
770 N. Jefferson St., (414) 882-7708
chiccafemilwaukee.com
Chic Cafe brings a taste of classy Southern comfort food to the middle of a Midwestern metropolis, cooking options like chicken and waffles, grits, po boys, gumbo, jambalaya and baskets of chicken, shrimp and catfish.
China Gourmet
117 E. Wells St., (414) 272-1688
china-gourmet.com
China Gourmet is a low-key spot with the opposite of a low-key menu, serving more than 100 authentic traditional Chinese dishes and buffet meals. And if you don't feel like leaving your house, China Gourmet delivers too.
Coquette Cafe
316 N. Milwaukee St., (414) 291-2655
coquettecafe.com
For those craving a taste of France in the middle of Milwaukee, Coquette Cafe might hit the spot perfectly, offering a menu filled with French favorites and specialties.
County Clare Irish Inn & Pub
1234 N. Astor St., (414) 272-5273
countyclare-inn.com
From the food to the atmosphere and the music, County Clare Irish Inn & Pub feels about as close as one can get to Ireland without having to leave the state. The defending best Irish pub in the city combines cozy ambiance with a menu of Irish classics, including Irish root soup, shepherd's pie and corned beef and cabbage.
Cubanitas
728 N. Milwaukee St., (414) 225-1760
getbianchini.com/cubanitas-restaurant.html
For a taste of Cuba in the American Midwest, one needs to look no further than Cubanitas, serving an authentic menu of Cuban sandwiches and dishes – as well as some tasty mojitos and other mixed drinks to wash them all down.
Cuisine
1015 N 6th St., (414) 297-6697
matc.edu/cuisine
To try a taste of the future, check out Cuisine, where student chefs from MATC come to serve what they've learned for your enjoyment. Its hours are limited, however; Cuisine only cooks lunch service Tuesdays through Thursdays during the semester.
Dino's
777 N. Jefferson St., (414) 221-1777
Dino's offers a bit of everything you might want from a night out on the town, serving as a cool night club, trendy cocktail lounge and delicious food thanks to its Greek-focused menu.
Dogg Haus
755 N. Water St., (414) 226-2664
thedogghaus.com
Soak up a good night on the town with the late-night eats at Dogg Haus and its crave-able menu of tasty sausages, fries and cheese curds.
Downtown Kitchen
777 E. Wisconsin Ave., (414) 287-0303
downtownkitchenmke.com
Located in the U.S. Bank Center, Downtown Kitchen makes for a nice lunchtime oasis in the middle of the hustle and bustle of a Downtown work day. The Bartolotta-operated restaurant serves a little of everything: soups and sandwiches, burgers from Northpoint Custard, pizza from Pizzeria Piccola, sushi and much more.
Elsa's
833 N. Jefferson St., (414) 765-0615
elsas.com/Home.html
Nosh on a tasty menu – featuring one of the best burgers in the city – and swig a martini or two at Elsa's on the Park.
Evolution
1023 N. Old World 3rd St., (414) 831-7746
evolutionmke.com
Formerly located in the Third Ward, Evolution – found right above The Brass Alley on Old World Third Street – serves all of the ping pong and tasty bar food (such as sandwiches and pizza) one loved about the old venue, just now complete with a swanky rooftop lounge.
Fire on Water
518 N. Water St., (414) 291-4411
fireonwaterstreet.com
As both a bar and a music venue, Fire on Water is what the kids nowadays would call lit. The dual-level lounge features over 50 beers, HD televisions, free pool and live music every weekend, plus a menu of tasty flatbread pizzas and other bar fare.
George Webb
812 N. Old World 3rd St., (414) 278-0225
georgewebb.com
A Milwaukee staple, George Webb may never win any culinary awards, but its 24/7 hours and wide menu of fast, cheap and satisfying diner eats will probably win over your heart – especially late at night when your stomach's rumbling and your wallet's light.
Giovanni's
1033 N. Old World 3rd St.
giovannismilwaukee.com
The owners of Tutto have transformed their Italian restaurant into the new Giovanni's, named in honor of the classic Brady Street restaurant that was owned by their dad, Giovanni. In fact, Giovanni is again at the helm, serving dishes that made him a local culinary legend here 40 years ago.
Harbor House
550 N. Harbor Dr., (414) 395-4900
harborhousemke.com
Bartolotta's Harbor House brings a diverse selection of seafood fare to Milwaukee's lakefront. The menu features an array of soups, sandwiches, fish dinners and surf and turf, as well as a raw bar and "non-swimmer" entrees, that have combined to make Harbor House regularly voted as one of the best seafood spots in the city.
The Harp
113 E. Juneau Ave., (414) 289-0700
theharpirishpub.com
Located on the Milwaukee River, The Harp's burgers, beer and benches make it the perfect after work location or Friday afternoon hideaway in the summer. There's nothing like a cool breeze, cool beverage and some tasty bar food at The Harp.
Ian's Pizza – Cream City
146 E. Juneau Ave., (414) 727-9200 Ext. 2
ianspizza.com
You could grab a classic, traditional slice of pizza at Ian's – maybe a pepperoni or sausage to wrap up a night on Water Street. But wouldn't you rather try one of Ian's signature oddball slices – including its fan favorite mac 'n' cheese pizza? Basically, you win either way (but seriously, get the mac 'n' cheese slice).
Indulge
708 N. Milwaukee St., (414) 390-9463
getbianchini.com/indulge-restaurant.html
With more than 300 wines – 60 available by the glass – and a menu of artisan cheeses, charcuterie, chocolates and more to compliment them, Indulge makes for a perfect place for a vino lover to ... well, the name says it all.
John Hawks Pub
100 E. Wisconsin Ave., (414) 272-3199
An English-style pub and grill right in the middle of Downtown Milwaukee, John Hawks offers a mix of British and American bar fare along with a huge beer list. And if the weather's right, you enjoy both a beer and a bite on its riverfront patio.
Karl Ratzch
320 E. Mason St., (414) 276-2720
karlratzsch.com
This Milwaukee institution reopened in April after undergoing a transformation under the watch of c.1880's chef Thomas Hauck. There may be a lot of new at Karl Ratzch's – both on the menu and on the walls – but the classic German fare is still the star, with entrees like smoked pork chop with pickled red cabbage and stewed apples, pork shank with spaetzle and sauerkraut, and sauerbraten with potato dumpling and gingersnap gravy all waiting to be devoured.
Karma Bar and Grill
600 E. Ogden Ave., (414) 220-4118
karmamilwaukee.com
With an upscale atmosphere, gourmet pub food, comfortable booths, Milwaukee's only Vegas style scoreboard and 17 HD televisions, Karma makes a great destination for any event. Just make sure you try the tots or sweet potato fries when you're watching a game, playing trivia or just enjoying a brew.
Kiku
202 W. Wisconsin Ave., (414) 270-1988
kikumilwaukee.com
You'd hope a place with a bright, bold interior like Kiku – decorated lime green and orange – would have the food to match. Thankfully, that's the case with this Downtown Japanese food hot spot, serving a large menu of delicious noodle dishes, rice plates, tempura dinners and sushi rolls.
Kil @ Wat
139 E. Kilbourn Ave., (414) 291-4793
kilawatcuisine.com
A chic treat for both visitors to Milwaukee and longtime locals, this sleek dining spot – located inside the InterContinental Milwaukee hotel – offers American cuisine classics with a little twist for brunch, lunch and dinner.
The King and I
830 N. Old World 3rd St., (414) 276-4181
kingandirestaurant.com
For those looking for an authentic taste of Thai food, The King and I delivers (quite literally, actually; the restaurant offers delivery, takeout and eat-in orders). Whether dining in or staying home, however, the noodle dishes and vibrantly flavored entrees provide a culinary trip for the taste buds.
The Knick
1030 E. Juneau Ave., (414) 272-0011
theknickrestaurant.com
Great food, a wonderful bar and super nice people make The Knick – located inside the Knickerbocker on the Lake Hotel – an excellent Downtown place to eat or drink after a theater show, a concert or a Bucks game. With fresh fish, excellent pastas and salads, and many other unique entrees, The Knick serves food that tastes as good as it looks. Bonus tip: Make sure to try the Stein-style wings!
Page 1 of 2 (view all on one page)
Next >>
Facebook Comments
Disclaimer: Please note that Facebook comments are posted through Facebook and cannot be approved, edited or declined by OnMilwaukee.com. The opinions expressed in Facebook comments do not necessarily reflect those of OnMilwaukee.com or its staff.