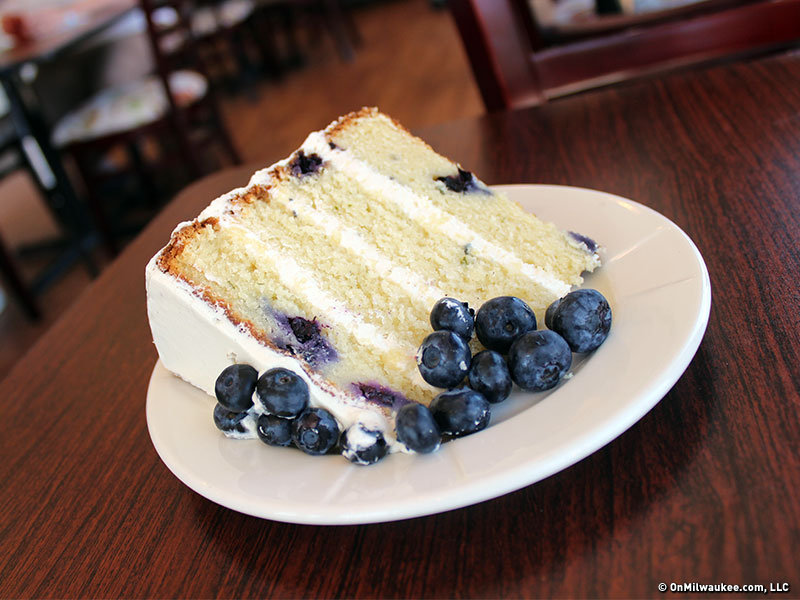 Eat cake! A peek at Molly's Cafe & Pastry Shop, which opens Saturday
This Saturday, July 22, happens to be pastry chef Molly Sullivan's birthday. It's also the day on which her lifelong dream of opening a neighborhood cafe officially comes true.
So, when you pay your first visit to Miss Molly's Cafe & Pastry Shop at 9201 W. Center St. ordering a piece of cake is absolutely the right thing to do.
But it's not the only sweet thing you'll find at Miss Molly's.
When you walk through the doors, you'll be greeted by a bright, friendly dining area. On our visit during the cafe's soft opening, there were folks of all ages enjoying lunch, sipping coffee and chattering with excitement in their new neighborhood gathering place.
The cafe is bright, thanks to floor-to-ceiling windows that allow the daylight to stream in on diners. Walls are painted in warm peachy tones. And bakers' tools hang from sea foam green pegboard (a la Julia Child) on the southern wall.
If you're in the mood for coffee or espresso, there's plenty of Anodyne to be found. There are also cups of hot (or iced) Rishi tea, Tapuat kombucha or Wisco Pop soda.
There are scores of beautifully displayed baked goods, including grab-and-go breakfast stratas, French macarons, citrus and olive oil bundt cake, or a slice of that blueberry lemon verbena cake that screams summer with every bite.
Speaking of summer, you're visiting near the lunch hour, you can indulge in a fresh tomato tarte tatin with its flaky buttery pastry crust, caramelized cherry tomatoes and topping of balsamic vinegar, basil and ricotta cheese.
You can grab a seat at one of the two- or four-top tables. Or relax on the the couch or one of the chairs near the fireplace.
When you're through, don't forget to bus your dishes. There's a cute little cart where you can drop them off, as well as a bin for composting (because don't you just love the idea of your waste going to a better place?).
Of course, if I were you, I'd also grab a few big, bakery-sized cookies on the way out. They come in flavors like chocolate chip sea salt, chocolate toffee and cherry chocolate oatmeal for $2 each.
Miss Molly's is open Tuesday through Saturday from 7 a.m. to 4 p.m. and Sundays from 7 a.m. to 2 p.m.
Facebook Comments
Disclaimer: Please note that Facebook comments are posted through Facebook and cannot be approved, edited or declined by OnMilwaukee.com. The opinions expressed in Facebook comments do not necessarily reflect those of OnMilwaukee.com or its staff.