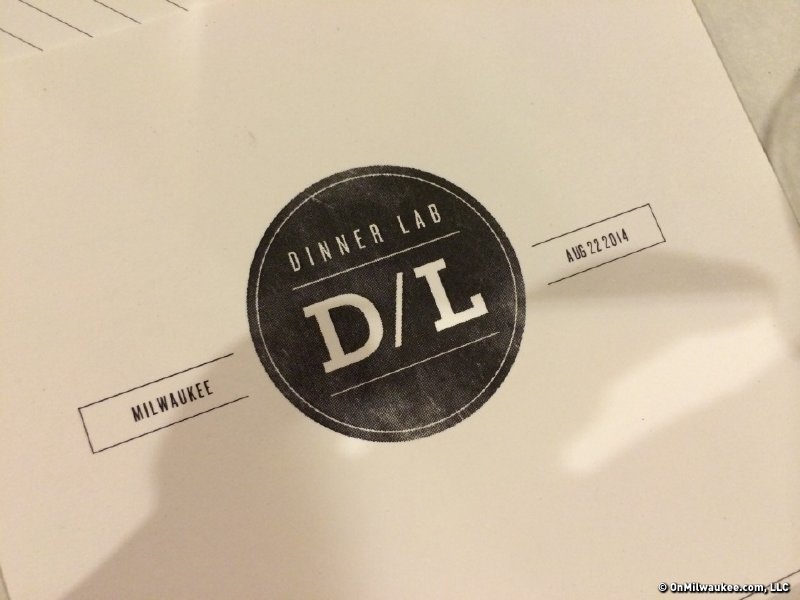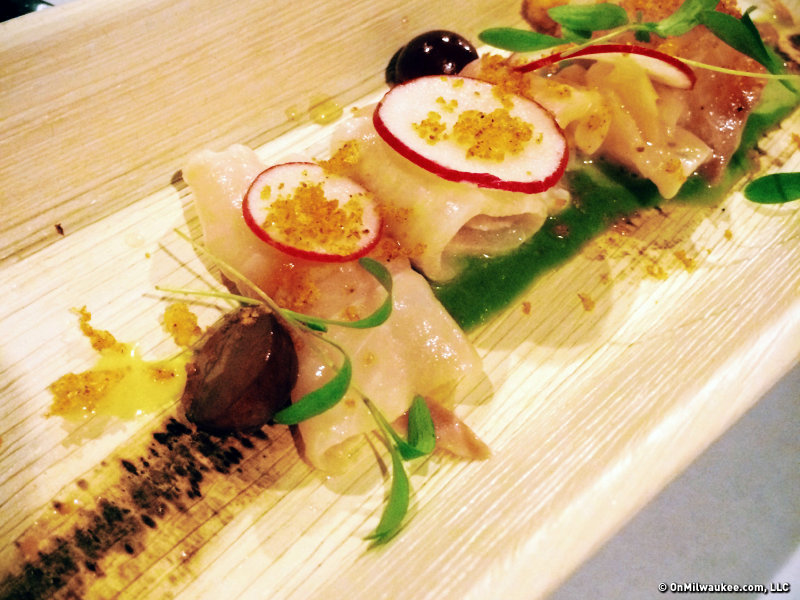 First Look: The unconventional world of Milwaukee Dinner Lab
It was about 20 minutes past seven when we pulled into the parking lot of the Lincoln Warehouse in Bay View. A line was already forming at the door as guests waited to gain entry to Milwaukee's first Dinner Lab.
It was hot and humid. There were women in short skirts and men in jackets. But, there were also guests in jeans and shorts. And each waited patiently on the steps until it was his or her turn to check in.
Once registered, guests moved into the building – walking in a line down the hallway and piling into a dusty freight elevator manned by a man in a black apron, who smiled as he pulled the massive doors shut and hoisted us steadily to our destination on the fifth floor.
The room was sparse. Six tables seating just under 90 guests held swing-topped bottles filled with water and place settings. A makeshift kitchen was set up at one end of the space, which sported strings of festive white party lights hanging from exposed pipes in the ceiling. Staff patrolled the room with cocktails, bottled beer and plastic cups filled with wine, which they offered to the guests stepping from the elevator.
Anticipation filled the room as diners contemplated what to expect next.
What followed was six courses of Mexican-inspired fare presented by Chicago native and Dinner Lab Chef de Cuisine, Daniel Espinoza.
"You get to taste what's inside my head and my heart," Espinosa told the crowd as they settled in for the first course, a smoked cucumber soup with crab, dehydrated potato and fresh slices of radish.
The experience – which felt a bit like a hipster-inspired surprise party – was fun. The food was solid and interesting. And the company was fascinating. Local celebrities sat alongside other curious guests, striking up conversations and comparing notes on the experience.
Since crowd feedback is a critical part of Dinner Lab's mission – ultimately to help up-and-coming chefs hone their skills and prepare them for opening restaurants of their own – each guest is asked to fill out an evaluation form.
The process prompted tableside discussion as diners compared notes on their meals and rated each course. Some courses – like the "Tiradito de Cobia," a unique take on ceviche – went over with flying colors. Others – like the apple mousse served for dessert – met with more mixed reviews.
"These are things I learned from my mom and grandma," Espinosa said as he spoke of the requesón, a fresh cheese he served alongside pickled beets and burnt onion vinaigrette for the salad course.
And we listened, enrapt, as he told us the story of the food. As we tasted the story of his food. And as we experienced the journey of a chef whose work was on display for a room filled with unfamiliar food lovers.
The evening lasted for just about three hours, ending only after guests were invited to take their chances swinging at a Spiderman piñata hung from the ceiling near the dining area… at which point we re-entered the freight elevator and made the journey back down to our cars, which awaited us in the dark parking lot.
Despite the humidity in the warehouse – which rendered attendeess sticky and thirsty – and the sometimes shoddy table service, I'll admit the experience left me in a place of intrigue.
I found myself wondering – if I bought tickets to the next event – who I'd meet, what I'd eat and where I'd eat it.
Most of all, it made me curious about which chef they'd choose to serve the next feast. And what story he'd tell.
Learn more about Dinner Lab at dinnerlab.com.
Facebook Comments
Disclaimer: Please note that Facebook comments are posted through Facebook and cannot be approved, edited or declined by OnMilwaukee.com. The opinions expressed in Facebook comments do not necessarily reflect those of OnMilwaukee.com or its staff.