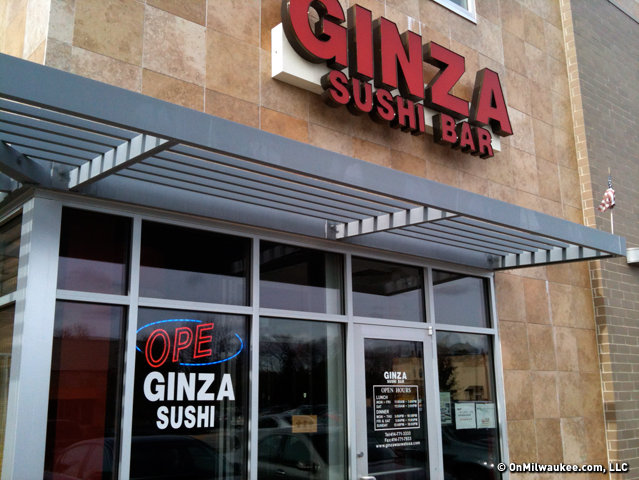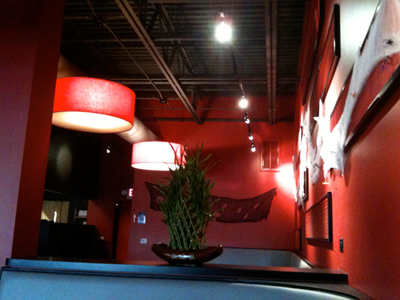 Ginza Sushi serves up a tasty Tosa lunch bargain
For the fifth straight year, October is Dining Month on OnMilwaukee.com, presented by Concordia University. All month, we're stuffed with restaurant reviews, delectable features, chef profiles and unique articles on everything food, as well as the winners of our "Best of Dining 2011."
In May 2010, I noticed that Ginza Sushi Restaurant, 2727A N. Mayfair Rd., was prepping its space to open in the strip mall that replaced the former Heinemann's on the corner of Mayfair Road and Center Street. Last week, I realized I waited too long to go back.
Dining at Maxfield's a few days before, I realized I'd never given Ginza a chance and so I hopped over for lunch last week and was rewarded.
Much like its neighbor further south on Mayfair Road – the Mexican eatery Habanero's – Ginza has transformed what could have been a generic interior into something welcoming and warm. Black cushioned banquettes line one wall and there's an open kitchen with a dining bar running along the length of it.
Sleek red lamps hang from the black industrial ceiling and the garnet walls glow in the low light.
Service was timely, attentive and friendly. But it was the food that made the visit really worthwhile.
The dinner menu is expansive with more than a dozen appetizers, a list of sushi appetizers, salads, soups (miso, clear, clam and seafood), 20 sushi rolls (including a Milwaukee roll with tempura shrimp, cucumber, avocado and caviar, and a Wauwatosa roll with tempura shrimp, avocado, spicy lobster and a special sauce), another two dozen hand rolls, a dozen hoso maki and more.
I love the names of some of the house-invented rolls. Silent Scream has tempura eel and cucumber inside and spicy tuna, avocado, fried onion and a special sauce on top.
Funky Monkey is eel and banana and you know I'm trying that one next time!
There are also teriyaki, tempura, don, negimaki and noodle dish options, too.
The lunch menu is similarly abundant, though don't miss the bargain that is the bento box special for $13.
You choose from a list of teriyaki beef, shrimp, chicken, shrimp, tofu, katsu, pork and ginger pork. Add to it a hearty scoop of white rice, a California roll, a salad and your choice of shumai or spring roll.
If you're like me, you'll choose shumai and savor ever second of that choice. These little shrimp dumplings are a revelation.
I also chose teriyaki shrimp and got about a half dozen medium shrimp in a rich, flavorful sauce. The meal started with a house green salad with a peanuty dressing.
Though $13 is a little more than I typically spend on lunch, the bento box is a tasty value and I'll splurge on it once in a while. You should check it out, too.
GInza is open for lunch weekdays from 11 a.m. until 3 and Saturdays from 11:30 to 3. Dinner is served 5-10 p.m. Monday-Thursday, 5-11 on Fridays and Saturdays and noon until 10 on Sundays.
Delivery and take-out are available, too. You can see the menu online.
Facebook Comments
Disclaimer: Please note that Facebook comments are posted through Facebook and cannot be approved, edited or declined by OnMilwaukee.com. The opinions expressed in Facebook comments do not necessarily reflect those of OnMilwaukee.com or its staff.