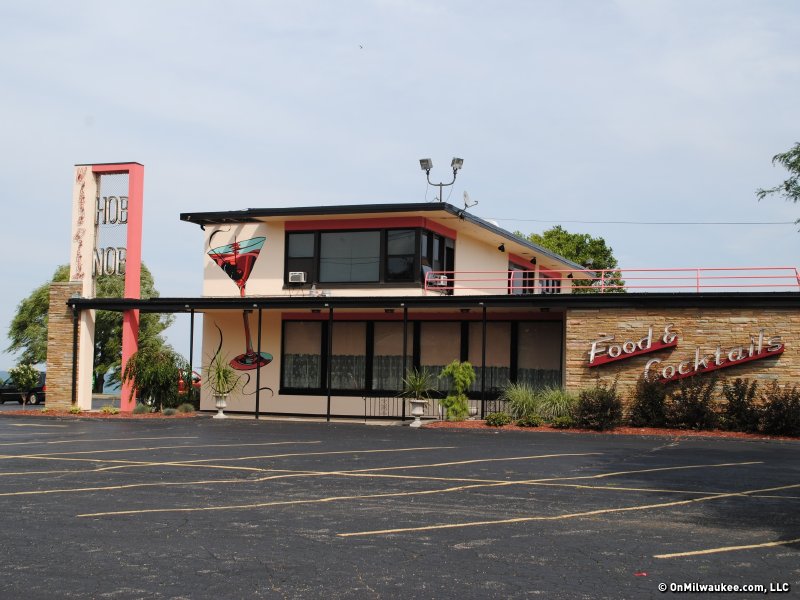 Racine's Hob Nob offers modern supper club experience
For the fifth straight year, October is Dining Month on OnMilwaukee.com, presented by Concordia University. All month, we're stuffed with restaurant reviews, delectable features, chef profiles and unique articles on everything food, as well as the winners of our "Best of Dining 2011."
The Hob Nob, 277 S. Sheridan Road in Racine, known for its prime rib, roast duck, Friday fish fry, outstanding location and old-school service, is a definitive Wisconsin restaurant. The Hob Nob is located atop a Lake Michigan bluff along Wisconsin Highway 32 on the way south to Kenosha.
The Hob Nob draws on the history of Wisconsin supper clubs, extends it, and somewhat expands upon our collective understanding of what to expect from one of these classics. The decor alone is more upscale, yet maintains a casual, family-oriented feel.
Dinner service begins at 5 p.m. most days (4:30 p.m. on Sundays) and cocktail service half an hour earlier. A changing and extensive wine selection is complemented with a full line of beers, plus sherries and cognacs, including Louis XIII (which sells for just $135 an ounce). At $9.95 each, their signature ice cream drinks are a sweeter and more affordable option.
Stand-by ice cream specialties like the brandy Alexander and pink squirrel are available along with newer drinks made with Godiva liqueurs. These drinks can be made blended or poured over ice cream, stacked six to eight inches high.
Going early for cocktails is a treat, for in addition to enjoying the glorious lake views, you can observe the staff busily making preparations for dinner. The camaraderie among staff members is palpable as they set a plate of butter on each table, fold linens and organize the seats.
The Hob Nob has many seafood appetizers including snail, shrimp and crab plates, which join the oysters Rockefeller, mussels mariniere, baked French onion soup and renowned garlic bread with gorgonzola.
Co-owner Anne Glowacki says most of the menu items are prepared in-house, including all the sauces and soups. She says they take a lot of pride in the daily preparation of the food, the dining set-ups and the bar.
The Hob Nob has always been a family-owned business. The Higgins family opened the original Hob Nob in downtown Racine in the 1930s. Higgins and his two sons started building the current Hob Nob in 1952, which took two years to complete.
Glowacki's husband, Michael Aletto, purchased the Hob Nob in February 1990. It was a smooth transition, as Aletto kept many of the Higgins' family recipes and included some from his family's restaurant in Illinois.

"Michael didn't want to do shock and awe," Glowacki says.
Glowacki says she "entered the scene" in 1993. Glowacki, who has a master's in marriage and family therapy, invested all of her efforts in the Hob Nob. She married Aletto in 1996.
Aletto and Glowacki spent many hours at their business, building up a level of quality and service that customers can always expect. The family now resides in Florida with their three children. They made the move, according to Glowacki, sooner rather than later.
"We moved to Florida with the intention of eventually retiring there. But we did it while the kids are in middle school, rather than after they left for college," she says. Glowacki says they hope the family can stay closer this way, once the kids do leave the home.
Aletto is a fourth generation restaurateur originally from Illinois. He has a degree in hotel and restaurant management from Washington State and spent over 10 years managing Four Seasons dining operations in the Pacific Northwest, with a few years at the Ritz before that.
Aletto moved back to the Midwest in order to be closer to family. "In his heart of hearts, he loves banquets, so working for the Four Seasons was fine. But when he had an opportunity to purchase the Hob Nob, he had to take the plunge," says Glowacki.
Page 1 of 2 (view all on one page)
Next >>
Facebook Comments
Disclaimer: Please note that Facebook comments are posted through Facebook and cannot be approved, edited or declined by OnMilwaukee.com. The opinions expressed in Facebook comments do not necessarily reflect those of OnMilwaukee.com or its staff.