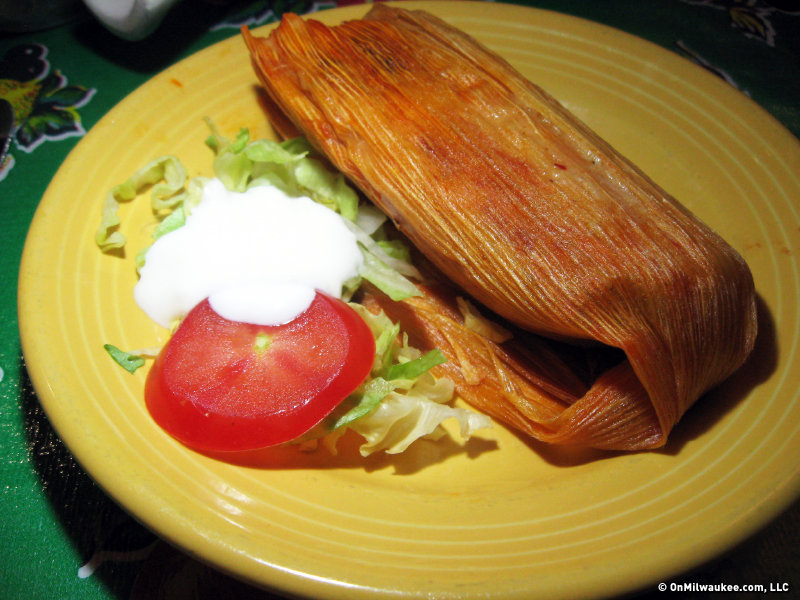 Travel north to Los Paisa
Bienvenidos a Mexican Dining Week on OnMilwaukee.com. This week, in honor of Cinco de Mayo, we're spicing things up with daily articles about Mexican restaurants, foods, drinks, sweets and more. Enjoy a week of sizzling stories that will leave you craving Milwaukee's Latin offerings. Olé!
Although Los Paisa has been open for a number of years, I made my first visit just a week ago. I blame this, in large part, to the Milwaukee mythology that suggests that all good Mexican food exists to the south of I-94.
Los Paisa is located in a villa-style brick building at 600 W. Brown Deer Road just off of I-43. Upon entering, guests will find a bar and open kitchen to the left, and a cozy dining area with nine tables to the right.
The restaurant is decorated with authentic Mexican art, including black-and-white family photos, paintings of Frida Kahlo and Day of the Dead décor. Tables are covered with brightly patterned oil cloth and a gas fireplace toward the back of the dining room gives the restaurant a warm glow.
We arrived at 7:15 p.m. on a Thursday evening. There was a brief wait, since all tables in the dining room were filled, but the hostess indicated that they were clearing out a table for us as she spoke. She led us to the back of the restaurant, where she seated us at a table near the fireplace. The booth seats at our table were cracked and in need of repair and the wooden chairs were a bit wobbly. But, the entire restaurant had a well-worn charm reminiscent of many of the more well-known South Side Mexican eateries.
As we were perusing the menu our server, Lupita, brought out complimentary tortilla strips served with two kinds of salsa and a bowl of refried beans. The first salsa was mild and fresh with diced tomato, onion and plenty of cilantro. The second was a thinner, darker salsa with more chile flavor, but not too much heat. The beans were rich and creamy, with just the right touch of salt.
When Lupita returned to take our drink order, we also requested a bowl of the hot salsa, which was an even deeper, richer red color with a rich chile flavor and a strong, lingering heat – definitely a must-try for true chile-heads.
Fortunately, our drink order arrived right alongside the hot salsa, so we were able to tame the heat and quench our thirst with some of the best house-made margaritas we've had in a while.
I'd read about the infamous Xtabentún, a Yucatán anise liqueur made from anise seed and fermented honey produced by honey bees from the nectar of xtabentún flowers, so I was eager to try the Mayan Peninsula Margarita ($6.25), which was described as containing anise liqueur with honey. My dining companion ordered the 1800 margarita with Patron and Grande Marnier ($8.50). In this case, the margarita was house-made with a shot of Patron delivered and added to the drink tableside.
Both drinks were top-notch. The Mayan Peninsula was refreshing and sweet with enough lime and tequila to balance subtle anise and honey notes, while the 1800 margarita delivered on both flavor and quality.
We sipped our margaritas and nibbled on chips and salsa for a few minutes before our server returned to take our order. Page 1 of 2 (view all on one page)
Next >>
Facebook Comments
Disclaimer: Please note that Facebook comments are posted through Facebook and cannot be approved, edited or declined by OnMilwaukee.com. The opinions expressed in Facebook comments do not necessarily reflect those of OnMilwaukee.com or its staff.