Melt Chocolates plans storefront at Lincoln Warehouse
The Lincoln Warehouse, 2018 S. 1st St. in Bay View, is building a name for itself as a destination for beer, cocktails and more thanks to tenants like Bittercube, Enlightened and Eagle Park Brewing Companies, Twisted Path Distillery, Dock18 Cocktail Lab and Top Note Tonics.
Beginning sometime in October, you can add chocolate to that list.
Melt Chocolates, a small artisan chocolate company headed up by chocolatier Bjorn Rogness, has established a commercial confectionery kitchen in the warehouse, and will be opening a small retail storefront just in time for the holidays.
The shop, which is likely to open in late October, is part of a planned expansion for the Lincoln Warehouse, which is expected to include the addition of a number of storefronts along the northern end of the building. The small retail space will offer a selection of high quality chocolate products including truffles, filled bars, single origin chocolate bars, crunches and barks and dragees (including chocolate covered blueberries, cocoa beans or hazelnuts).
They are also likely to carry specialty items like drinking chocolate, which could be offered in flavors including Aztec chocolate and chocolate peppermint.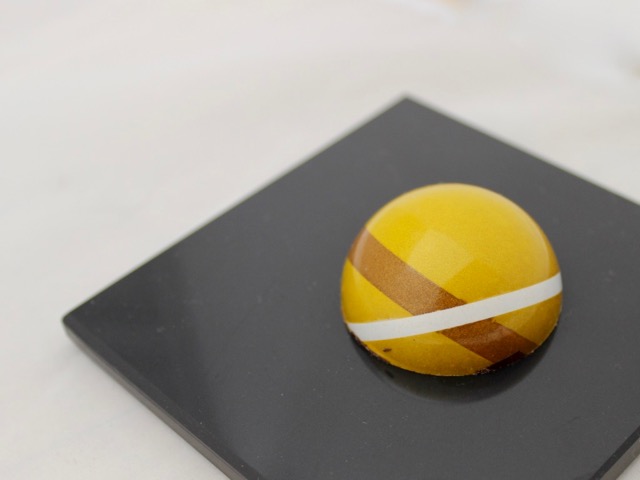 Years in the making
In many ways, Melt Chocolates is the story of an accidental chocolatier.
Rogness, a biomedical engineer by trade, says he would never have predicted making his career as a chocolatier. Despite a passion for the world of food and beverage, which played out through work in the hospitality industry including work with the Bartolotta Restaurants, Rogness says the cost of starting a chocolate company was always prohibitive.
However, things changed when Rogness found an ad on Craigslist in which an ex-chocolatier had listed over $10K of confectionery equipment, including a tempering machine, guitar cutter, chocolate warmers and documentation from his studies at the French Pastry School in Chicago, Illinois. Rogness watched the listing over time, scoring a deal on the equipment as it dropped in price.
What followed was years of education in chocolate and the techniques. Over the past five years, Rogness has trained with a number of master chocolatiers from both Europe and South America – enhancing his knowledge of molding techniques, airbrushing, flavor development and recipe creation, in addition to alternative approaches to thinking about the use and application of chocolate.
Rogness says his background in biomedical engineering, particularly chemistry, has been a boon in assisting his understanding of the science of chocolate.
"Chocolate is far more technical than people might think," he says. "The knowledge of chemical processes comes into play at almost every step of the chocolate making process. It's been integral to recipe development in terms of achieving optimal texture and flavor, as well as shelf life for the product."
And what began as a hobby, gradually became something more. Eventually he moved into a shared commercial kitchen space, and then an independent kitchen in New Berlin. As interest grew, the business began taking on wedding and restaurant clients and hosting pop-up shops during major chocolate holidays, including Christmas and Valentine's Day.
This past March, they took a leap and signed a lease on the Lincoln Warehouse space and began the build-out for a new climate controlled kitchen space and retail shop, investing in additional chocolate making equipment, including a state of the art chocolate case designed to preserve the freshness of filled items.
Leading up to Melt Chocolate's opening, the business will host a series of soft opening events beginning in late September. Follow Melt Chocolates Ltd. on Facebook for additional information.
Until then, you can get a taste of Melt's bananas foster truffle as part of the "Eat Me Drink Me" cocktail at Dock18 Cocktail Lab on the south end of the Lincoln Warehouse. Or stop over at Pleasant Kafe, 1600 N. Jackson St., and enjoy a truffle or two alongside your coffee.
Once open, Melt Chocolates will be open for limited retail hours on Friday evenings and Saturdays to start. In the coming weeks customers will also be able to place holiday orders online at meltchocolates.us.
Facebook Comments
Disclaimer: Please note that Facebook comments are posted through Facebook and cannot be approved, edited or declined by OnMilwaukee.com. The opinions expressed in Facebook comments do not necessarily reflect those of OnMilwaukee.com or its staff.