8 perfect picnic spots for any day of the week
We're on the cusp of summer. The sun is shining and it's time to make the most of our great (but fleeting) warm season. That means plenty of patio dining at restaurants. But, it also means communing with nature, enjoying outdoor concerts and spending quality time with family and friends.
So grab your picnic blanket and get ready, because we've got great suggestions for some of the best places to dine on gorgeous summer days. And, if you're lucky, you might even be able to catch some live music, thanks to one of the Milwaukee area's numerous free concert offerings.
Milwaukee County has a pretty impressive selection of parks from which to choose. But, I've selected a number of ideal spots for outdoor feasts – from Shorewood to South Milwaukee – each with a source for picnic fodder within a reasonable distance.
Bay View and South Side
If it's Tuesday night, you might just opt to grab some grub at Chill on the Hill over at Humboldt Park. If you prefer, pick up a Roast Box from Lazy Susan, 2378 S. Howell Ave., featuring half or full-pound boxes of meats with sides. Menus vary, but you can check in with Lazy Susan on Facebook for its weekly offering.
But, on any other night of the week, why not grab a couple of panini and a few items from the bakery at G. Groppi Food Market, 1441 E. Russell Ave., and head over to South Shore Park for a shady evening on the lakefront? If the weather is steamy, this park is a particularly good choice, as it's almost always a few degrees cooler than anywhere else in Milwaukee. If you prefer, you can also make a stop at the South Shore Terrace Beer Garden for a beer or two and some socializing.
Head even further south and Grant Park is one of a string of parks that dot the shoreline throughout the southern Milwaukee suburbs of St. Francis, Cudahy and South Milwaukee. It is the second largest park in Milwaukee County, and it's the home of the Seven Bridges Trail, a beautiful walk along the ravine featuring Lannon stone paths and foot bridges galore. Secure takeout from Tsing Tao, 5765 S. Packard Ave., and enjoy any number of the gorgeous picnic spots available in the park. Once you're done eating and sunbathing, take a walk on the trails, where you'll find yourself among enormous native beech trees, astride creeks and secluded areas, as well as along the shore of Lake Michigan.
Brewer's Hill/Riverwest
Feeling like a bit of music? On Tuesdays beginning in July, you can enjoy the free COA Skyline Music series at the Selig-Joseph-Folz Amphitheater in Kadish Park, 909 E. North Ave. betwixt the Riverwest and Brewer's Hill neighborhoods. The views of the Milwaukee skyline are breathtaking.
There's also nearby fare to carry out, including falafel, chicken and lamb wraps from Casablanca, a caprese panino or fresh salad from the Beerline Cafe, 2076 N. Commerce St. or even a poke bowl like the Mango Tango or Spicy Tuna from Freshfin Poke, 1806 E. North Ave. Balzac, 1716 N. Arlington Pl., offers portable cheese plates, including the Classique, Extraordinaire, and Vegan. Each one comes with bread and crackers. Perfect for a picnic.

(PHOTO: Balzac)
Downtown
If you're downtown, there are numerous places to stock your picnic basket, including the Milwaukee Public Market, 400 N. Water St., where you can purchase anything from cheese and sausage to sandwiches, salads or sushi. However, just minutes from downtown is one of my favorite spots: The Tandem, 1848 W. Fond du Lac Ave., You can't beat great fried chicken for a picnic, and this version comes in a paper bag so it stays hot and crispy. An entire bird with the chef's choice of sides is just $26 and comes in your choice of Memphis (spicy) or Georgia styles. Either is crispy and delicious, so there won't be any regrets.
Take your chicken and head down to Veteran's Park, where you can rent a kite to fly on a breezy day, rent bicycles to ride along the lake, or just sit and enjoy the marina view.
East Side
You'll need 48 hours notice, but The Pasta Tree, 1503 N. Farwell Ave., offers gourmet picnic baskets that are perfect for an evening out. Just $21 per person will get you your choice of an appetizer, entrée, dessert and beverage, which can be pre-ordered at pastatreemilwaukee.com. You'll need to put down a $65 deposit for the basket itself, but it's refundable when you bring it back. Even more convenient, The Pasta Tree offers basket delivery through the Meal Mobile to just about anywhere in the city. So, grab your basket and head southeast to Juneau Park and enjoy the city-side oasis of trees and plants on a ravine overlooking Lake Michigan. Or order ahead for Thursday evening, and you'll have everything you need for Jazz in the Park in Cathedral Square.
Of course, stopping at Glorioso's Italian Market, 1011 E. Brady St., for picnic supplies is a no brainer. It's one of the most perfect places to grab a basket full of goodies for a weekend day at the lakefront. There are sliced cheeses and meats at the deli. Smoked salmon dip and tapenade are great grab and go options for spreading on crackers, and made-to-order salads are also a hit. Add a bit of Belgioso burrata with a loaf of Sciortino's bread and you've got an Italian feast waiting to happen.

(PHOTO: Glorioso's)
Prefer to skip the shopping trip? Call in an order to SALA Modern Sicilian, 2613 E. Hampshire St., where you can build a ready-made meal with options like meat or cheese platters, caprese salad, olives, beef carpaccio and prosciutto-wrapped asparagus. Once you have your dinner, swing down the street to claim your spot at one of the city's finest parks.
Plant yourself just about anywhere in Lake Park for a tree-lined feast. The park was designed by Frederick Law Olmsted, famous for co-architecting New York's Central Park. As a result, it's well worth your time to spend a few hours exploring the foot trails and footbridges along the ravine path. Check out the North Point Lighthouse on the south side of the park. And don't miss the 30-foot waterfall just south of the Lake Park Bistro parking lot.
North Side/Shorewood
A picnic is a surefire way to beat your Monday blues. If you're on the near North Side of town, the deli at Outpost Natural Food Cooperative, 100 E. Capitol Dr., has plenty of delicious salads, sandwiches and spreads to choose from. I'd recommend the Tuscan kale salad if it's available, as well as a tub of Martha's Pimiento Cheese with crackers. Grab what you like and head over to the Estabrook Beer Garden about a mile or so east. Enjoy a few brews, dance to a polka, or simply enjoy the sound of the rushing Milwaukee River which lies adjacent to the beer garden.

(PHOTO: Outpost Natural Food Cooperative)
If you're looking to bring a little bit of a spark to your relationship, I recommend grabbing a deli sandwich (you can't go wrong with the corned beef) from Benji's Deli, 4156 N. Oakland Ave., and heading over to Atwater Park in Shorewood, located on the eastern end of Capitol Drive along the shore of Lake Michigan. Especially romantic in the evening, Atwater Park offers great views from both the bluff and the shore. The park also features an 8-foot sculpture by internationally renowned Spanish artist Jaume Plensa, possibly best known for the piece he designed for Millennium Park in Chicago, featuring two 50-foot glass towers with a shallow reflecting pool connecting them.
West Side
Rocket Baby Bakery, 6822 W. North Ave., is open until 6:30 p.m. on weeknights, so West Siders can easily grab a sandwich or two for al fresco dining. Of course, if Hawaiian fare sounds better, Ono Kine Grindz, 7215 W. North Ave., can sate your craving with their char siu chicken or kalua pork plates.
Once dinner is secured, head off to Washington Park for an night among the trees. Originally named West Park, this park spans nearly 130 acres and was once the home of the original Milwaukee zoo. The park, also designed by Olmsted, is home to a branch of the Urban Ecology Center. If you're a member, you can rent canoes to paddle around the lagoon during the summer months. Or you can simply explore the park's grassy expanses and winding paths. A bandshell features local bands on Wednesday evenings from 6:30 to 8:30 p.m. Check out our free music guide for a schedule.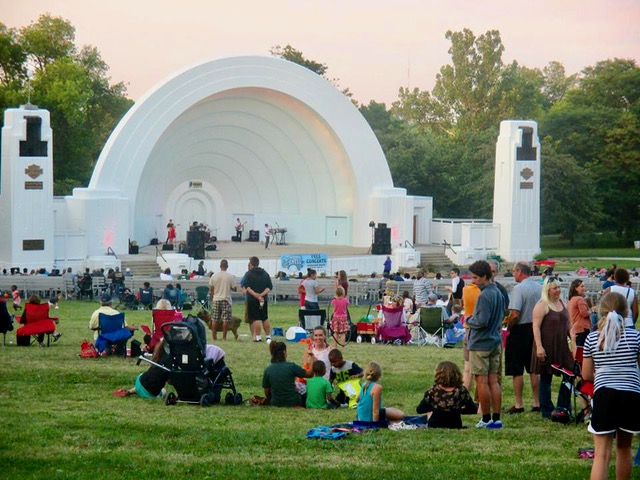 (PHOTO: Washington Park)
ceudtyrwuvfqedewxqeuaxsxwdxcsexr
Facebook Comments
Disclaimer: Please note that Facebook comments are posted through Facebook and cannot be approved, edited or declined by OnMilwaukee.com. The opinions expressed in Facebook comments do not necessarily reflect those of OnMilwaukee.com or its staff.