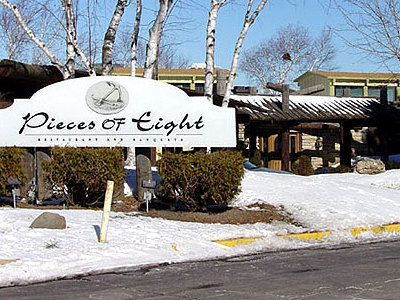 Plans for an improved Pieces of Eight
When Daniel Hensley moved to Milwaukee in December 2005 to "fix" the Pieces of Eight restaurant, he had never seen the place -- not even in pictures. What he did know of the fine dining seafood spot at 550 N. Harbor Dr. was that it was failing and reviews were bad. But in his business, nothing looks better.
Hensley already had six restaurant revamp success stories under his belt when the regional manager for Specialty Restaurants Corp. -- the group that owns Pieces of Eight, as well as about 25 other restaurants nationwide -- offered him the chance to help save Milwaukee's sole lakefront restaurant.
"I never saw the restaurant," says Hensley, who's now been the restaurant's general manger for just over a year. "I only saw the numbers -- they were really bad -- and I knew I could fix it. They offered me the job on a Saturday and I left the following Wednesday for Milwaukee."
According to Hensley, Pieces of Eight was in rough shape. The food was bad, the service was bad, everything was bad. Hensley showed up with the goal of making it Milwaukee's No. 1 restaurant in two years, and by the time 2006 rolled around, the restaurant had undergone a major staff overhaul, including a new executive chef -- Roy Luis from the Republic of Trinidad and Tobago -- who Hensley says is as dedicated to and passionate about the place as he is.
As executive chef, Luis hasn't reinvented the menu, but he's made it taste like what an evening out on Milwaukee's only upscale restaurant along the shore should taste like -- divine.
"The thing is, it's not cheap (to eat here)," says Hensley. "If you're going to ask people to part with the amount of money they're going to be parting with, you had better make it worth it to them."
Apparently, it has worked, as sales have risen 30 to 40 percent each month since Hensley's arrival. He says that Specialty Restaurants Corp. regional manager Hank Straty is looking to eventually make some menu changes later this year.
Cuisine and personnel changes were obviously top priority to ensure the restaurant's success, and now that those are taken care of, Hensley's tackling a few other projects. Last summer saw the unveiling of the new 220-seat outdoor patio complete with fire pits and he plans to build another dock by summer. If everything goes according to plan, Pieces of Eight will purchase and run the two Edelweiss Cruise Ships from the new dock.
"We're waiting for company approval to find out if we're going to get two of the Edelweiss boats," he says. "We'll probably find out next week."
The two cruise ships, Edelweiss and Edelweiss II, are currently for sale by the Waterfront Entertainment Group.
"We're building a dock from the end of the patio to the shore, and the two ships would potentially be docked along the lower patio as to not block any diner's view of the water or the Museum. The upper dock will be public access and people can come up, dock their boats and have dinner or drinks."
Hensley says he would use one ship for a happy hour cruise, a tour that takes a 60-person crew through the harbor and down the river and back. The second ship, which seats 100, would be used for parties, dinners and special events.
When asked about Discovery World's interest in purchasing the restaurant -- a move that would tear it down and replace the space with a park -- Hensley says that Pieces of Eight has 11 years left on its lease with the Harbor Commission and plans to utilize them.
Pieces of Eight's attorney Tom Gehl says that the Harbor Commission, which also owns and leases property to the Milwaukee Yacht Club, is permitted to set up leases as it sees fit, but that also comply with the Wisconsin Department of Natural Resources' vision of what is appropriate use of Milwaukee's lakefront. According to Gehl, the DNR isn't keen on restaurants lining the lake, which is why Pieces of Eight remains the only other dining option besides Alterra on Lake Michigan.
"Before I got here I had no idea this place was such a jewel," Hensley says. "I'm happy to be bringing Pieces of Eight back. My goal, in two years, was to be the number one restaurant in Milwaukee. Now I'm a year in and we're definitely not there yet, but we're getting there."
Facebook Comments
Disclaimer: Please note that Facebook comments are posted through Facebook and cannot be approved, edited or declined by OnMilwaukee.com. The opinions expressed in Facebook comments do not necessarily reflect those of OnMilwaukee.com or its staff.