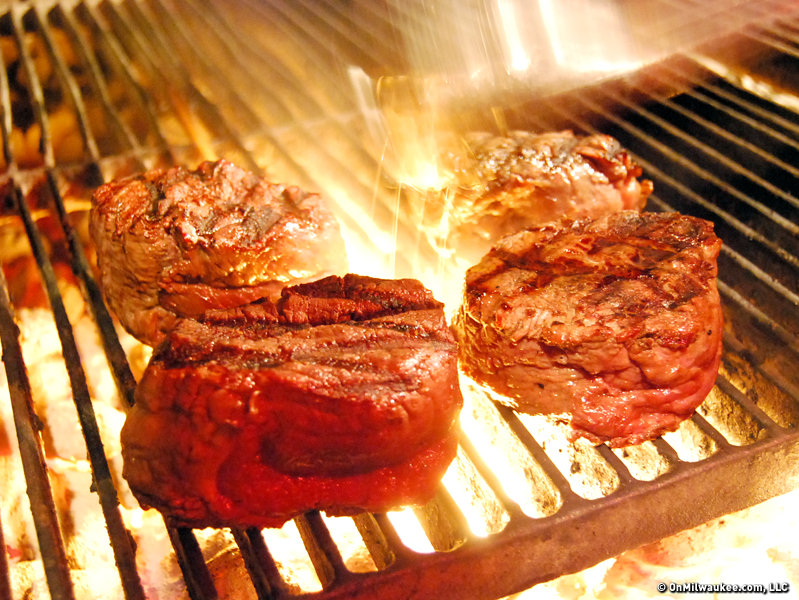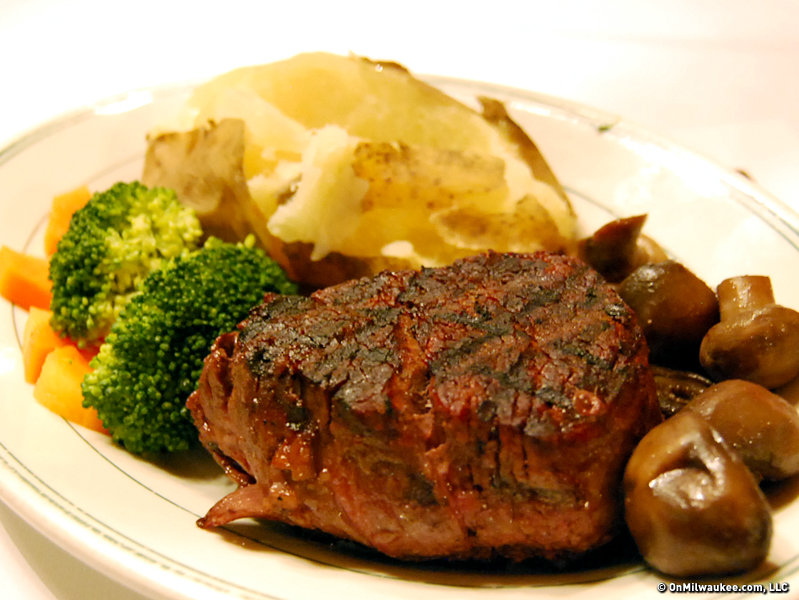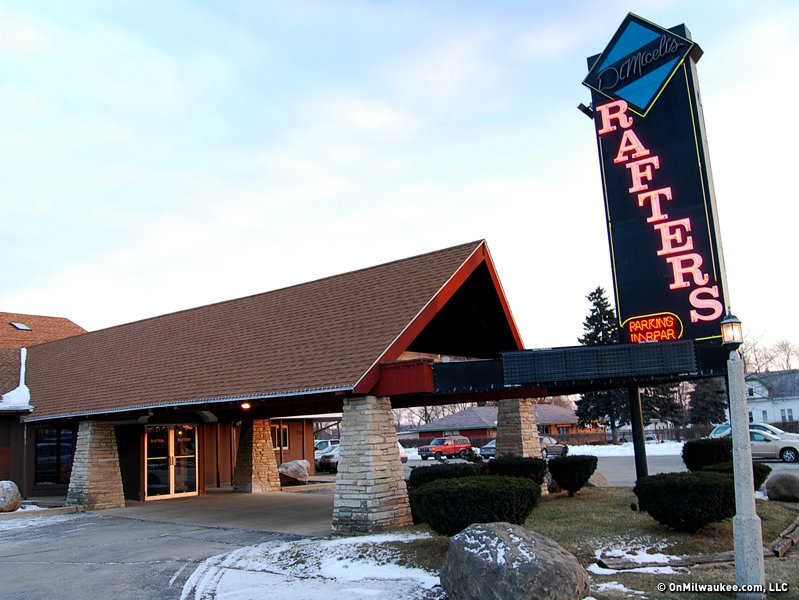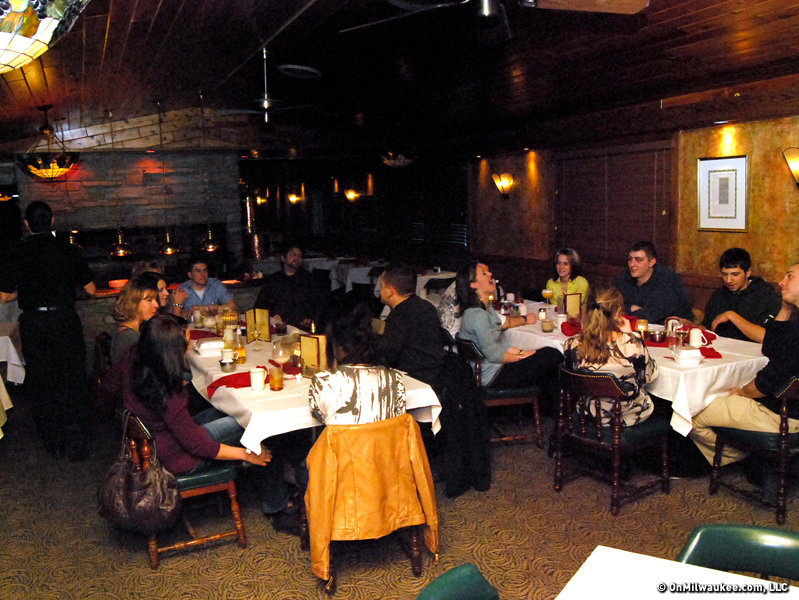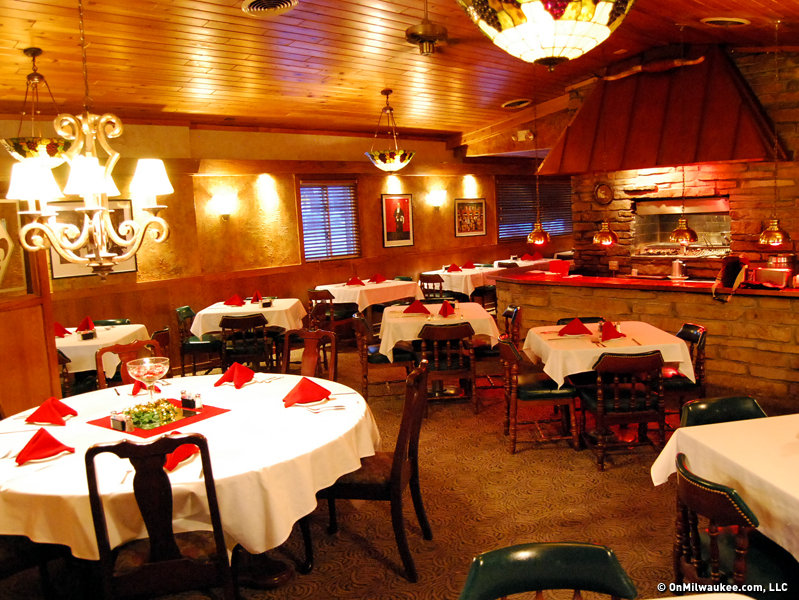 Scouting report: The Rafters
The South 27th Street strip tends to be known more for chain and family-style Greek restaurants than for steakhouses, but The Rafters, 7228 S. 27th St., in Oak Creek, breaks this standard by providing fresh steaks and chops in a long-standing, one of a kind, family-owned establishment.
Operated by the Dimiceli family, which has been in the industry since the 1930s, The Rafters offers a spacious, throwback-style steakhouse atmosphere, and what is, to my knowledge, the only open-pit charcoal style grill in the Milwaukee area.
That charcoal grill is the main attraction here, where the emphasis is on reasonably-priced, supper-club style dining, much of which can be prepared on the grill.
Whether sitting in the front or back area of the dining room, you can see your steaks and chops cooking within the stone grill, as the chef feeds red hot coals as needed to stoke the flame.
And, as the menu states, the simplicity of grilling over open charcoal eliminates the need for tenderizer or any additional seasonings to bring their meats to a tender delivery, and a lovely, slightly charred exterior
Other items are prepared in a back kitchen, and timed to arrive beneath the heat lamps just as the meat leaves the grill.
The Rafters is a den of dark colors and carpet, with a large, welcoming bar in the back room, and slight hints of the Dimicelis' past in photographs and a tiny metal sign hanging amongst the stone.
Fleurs de lis are etched in the glass separators, and the tables are mostly set up to accommodate families, many of which we saw dining -- with and without children -- on a recent visit.
The clientele, not surprisingly, seems to consist predominantly of regulars, many of whom have likely been coming here for years. And, for now at least, diners can still select smoking or non-smoking seating to enjoy their meals.
The menu at The Rafters is exactly what one would expect from a steakhouse. Shrimp cocktail ($12.99), calamari ($9.99) and onion shreds ($6.99) all make an appearance on the starters section of the menu, and the entrée list provides a variety of steaks, chops, seafood and pasta dishes. All entrées come with a tossed green salad and choice of potato (fries, hash browns or baked potato) or pasta or vegetable of the day.
Prices vary from $15.99 for a boneless chicken breast, to $29.99 for an 18-ounce porterhouse steak, and diners can also make any entrée a surf and turf for an additional cost. Thirty dollars adds lobster tail, $18 brings king crab legs, and for $13 and $8, respectively, you can choose shrimp or scallops.
Notably, The Rafters has taken special notice of those pinching pennies in the recession, and offers a full menu of "Recession Busters" which offers a tempting selection of dinners for only $12.99. You'll find pork tenderloin with glazed apples, a half-rack of ribs and steak Diane; undoubtedly a great value for under $13.
In that same vein, the special of the evening on a recent Wednesday was a dinner for two: a selection of two entrées with salad and potato, choice of dessert and a bottle of Ed Hardy wine for $64.95; an almost unbelievable price for a meal that is, essentially, all-inclusive.
While The Rafters may not have the trendiness or panache of a Downtown steakhouse, it's one of those establishments that definitely has its place if you're looking for an old fashioned, no frills meal, and value is important to you.
And there's something fascinating about that charcoal grill. As a focal point, it makes for a great conversation piece during dinner, and quite simply, is just something different from the general norm of dining out.
Facebook Comments
Disclaimer: Please note that Facebook comments are posted through Facebook and cannot be approved, edited or declined by OnMilwaukee.com. The opinions expressed in Facebook comments do not necessarily reflect those of OnMilwaukee.com or its staff.