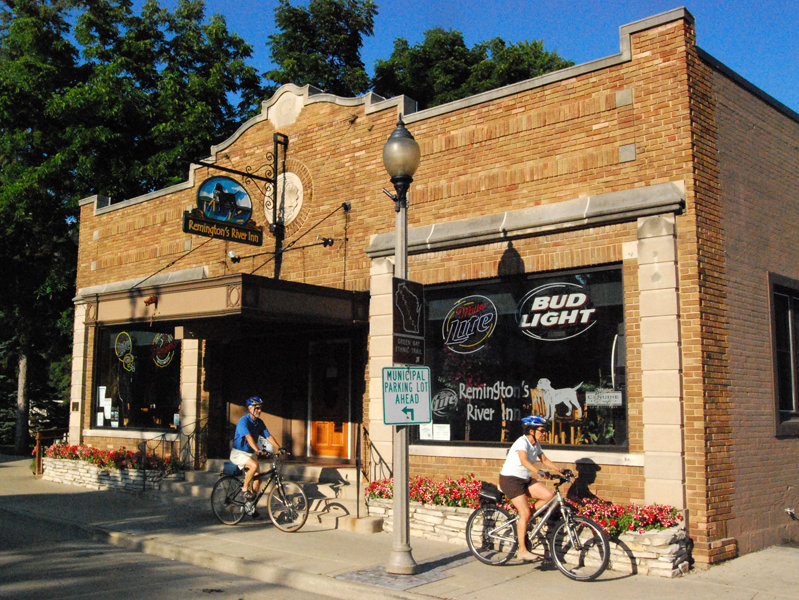 Thiensville's Remington's is light and comfortable
Thiensville's Main Street finds itself often bustling with patrons from Remington's River Inn, 130 S. Main St., Thiensville, a bar and restaurant themed like a grotto, and named for the owners' dog, whose picture appears on the menu.
Remington's features a mixture of moderately priced sandwiches and entrées with fries, soups and salads.
Two visits here were pleasant and casual with decent food and service, and the bar and dining room areas offer two distinctly different dining experiences. While televisions are throughout the space, the bar area feels more like a higher end sports bar while the dining room offers quiet, casual dining with everything from salads and sandwiches to steak and pork chop dinners.
Our server said that most of the remodeling, including the faux stone grotto, was done by the owners of this family business, Bob and Amy Ollman. Amy herself was hostessing on one of our recent visits.
Soups at Remington's lean towards great. French onion ($4) arrives hot, and bubbly and beautifully browned with melted gruyere cheese. Baked potato soup ($3) is sinfully rich and creamy, and a pepper steak soup of the day ($3) was also well-seasoned and delicious.
We had a service hiccup on one visit when our variety plate appetizer order ($12.75) went ignored, but when that same starter arrived on our second visit, we found it fun, and enough food for at least three diners.
Buffalo wings had a spicy tang and were served with pieces of fresh celery, while moose chips (which the menu teases, "not really!") were tasty little slices of breaded and deep fried thin zucchini chips dipped in marinara. These made for an out-of-the-ordinary treat. Mozzarella logs were wonton-wrapped and delightfully gooey within.
Remington's plays with its backwoods type décor in the menu, naming items monikers like bear paws (stuffed Portobello mushroom caps) and lodge chops (pork chops) among their moose chips and mozzarella logs, keeping the mood of the restaurant consistently light and comfortable.
Sandwiches here are solid, with a French dip ($8.50) coming in slightly dry but still good, and with a healthy serving of au jus in which to dip. A steak sandwich ($9.75) was slightly tough but had good flavor, but we found a six-point plate of bay back ribs ($15) to be extremely sticky and not as falling-off-the-bone-tender as we would have preferred.
All entrees are served with seasonal vegetables and choice of potato. And Remington's does have good, crisp, French fries and well-baked, foil-wrapped potatoes that worked well with all the items we tried.
My inclination is to stop back at Remington's for a quick beer and appetizer and catch the game, or potentially for one of its pastas or extensive salad offerings.
The prices here are moderate, and while I wouldn't necessarily drive to Thiensville for the food, I could see stopping in here happily the next time I'm in the vicinity.
bqazbzrbawecwrexabcfuvxrefucvexawu
Talkbacks
GILFMAN | Sept. 15, 2008 at 12:14 p.m. (report)
Wow, this may be the "silver lining" I've been looking for in Thiensville. It all "depends" on the crowd though.
Godzy | Sept. 15, 2008 at 12:01 p.m. (report)
As a new Mequon/ Thiensville resident.. can I just say I can not WAIT to hit up Remington's G.I.L.F community. I mean its almost not fair the way these G.I.F.S are dressing these days.
Facebook Comments
Disclaimer: Please note that Facebook comments are posted through Facebook and cannot be approved, edited or declined by OnMilwaukee.com. The opinions expressed in Facebook comments do not necessarily reflect those of OnMilwaukee.com or its staff.