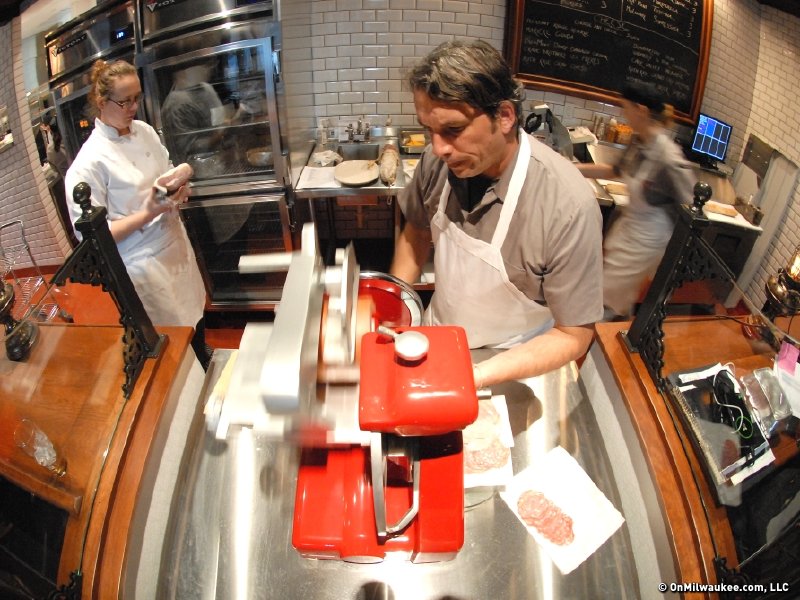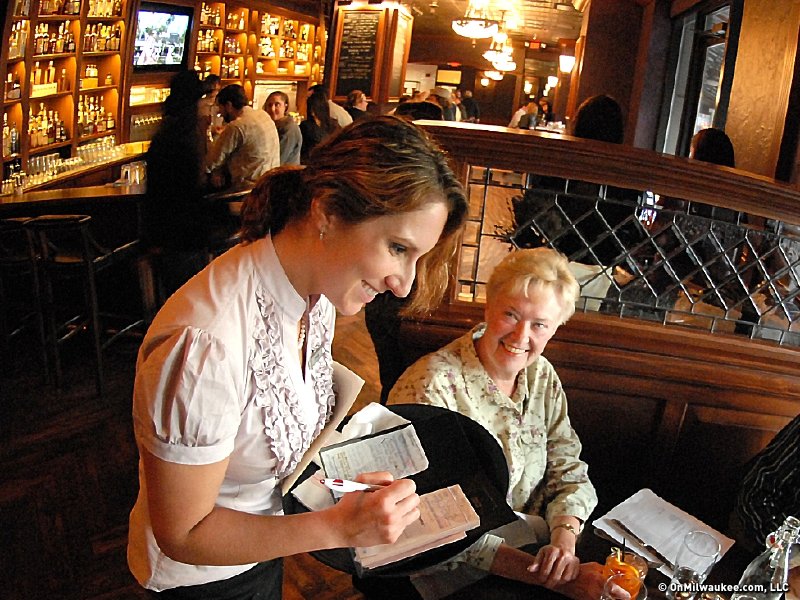 Bartolotta raises a Rumpus on Water Street
"Great beer deserves great food" is the slogan of the Rumpus Room, the new Bartolotta Restaurant Group venture that opens tonight in the Water Street space previously occupied by Eagan's.
The second half of that statement has described Bartolotta eateries since the first opened in 1993. But the restaurants brothers Joe and Paul Bartolotta own are known for their wine lists and cocktails. Beer has not been in the spotlight – until now.
The Rumpus Room is a traditional English gastropub with 25 beers on tap and 150 more domestic, craft and rare brews behind the bar. The range of choices runs from Pabst Blue Ribbon tall boy cans ($3.50) and a tasty Edmund Fitzgerald porter from Cleveland's Great Lakes Brewing ($5) to a deliciously rich Nogne O Imperial Brown Ale on tap from Norway ($12) and an $8 draught Hefe-weiss produced by Germany's Weihenstephan, the world's oldest working brewery. Weihenstephan received its license to brew beer in 1040.
If you want to drop some large bills on a beer, you can order a 750ml bottle of Sam Adams Utopias for $265. Its alcohol by volume is 27 percent.
Beer flights that feature four small glasses are divided into Wisconsin brews ($7), California products ($8) and suds from around the world ($12). The Rumpus Room also offers engine beers, which are drawn with a hand pump rather than the conventional tapping paraphernalia. They are typically less carbonated and less filling.
Folks who prefer grapes to hops will not be ignored at the new pub and restaurant. Fifty bottles of wine are priced under $50, and four different wine flights ($18) include a dessert offering that consists of Caposaldo Moscato D'Asti, Barton and Guestier Sauternes, Graham's 10 Tawny Port and Justin Vineyards late harvest Cabernet Sauvignon.
An emphasis on dessert wines is designed to draw customers into the Rumpus Room after performances at the nearby Marcus Center and Milwaukee Rep Baker Theater Complex. "Eagan's was empty after 7:30," Joe Bartolotta recently said, referring to that restaurant's heavy pre-show trade. He wants to avoid that pattern.
For those with a hankering for the hard stuff, the new venture stocks 90 different bourbons, 75 Scotches, 50 whiskies, 50 rums and 25 ryes.
The Rumpus Room is also barrel aging cocktails. That means the entire drink gets to swish around in a barrel for a while.
Two whisky flights – from Midwestern distillers for $12, and Canadian, Irish, Indian and Japanese producers for $14 – are offered.
But enough about the booze. This is a Bartolotta establishment and the beer, spirits and wine are not going to be accompanied by simple hot wings and tater tots. Andrew Ruiz, who has been the chef de cuisine at Bacchus, is moving over to run the Rumpus Room kitchen as executive chef.
Bar snacks include home-made spiced corn nuts ($2), house pickled veggies ($3) and oysters on the half shell ($2.50 each). Ten different cheeses and six cured meats are offered at $3 a piece, and a charcuterie section of the menu lists country pork pate ($5), pork rillettes ($5), duck rillettes with with cherry preserves ($7) and duck liver mousse ($6).
Pork belly confit with white beans and gremolata, chopped chicken liver with caramelized onions, hard boiled egg and challah, and grits with smoked ham, poached egg and pickled onions (all $8) are among the appetizers served. Several soups and salads are on the menu, and a selection of sandwiches includes a muffalatta ($9), Usinger's spiral Italian sausage with marinated peppers and mustard dressing ($8), and a pork belly, lettuce, tomato and aioli on sourdough toast ($9). Fries or small side salad accompany the sammies.
Page 1 of 2 (view all on one page)
Next >>
zzrbudxfeadvxwrvywyefq
zzrbudxfeadvxwrvywyefq
Facebook Comments
Disclaimer: Please note that Facebook comments are posted through Facebook and cannot be approved, edited or declined by OnMilwaukee.com. The opinions expressed in Facebook comments do not necessarily reflect those of OnMilwaukee.com or its staff.