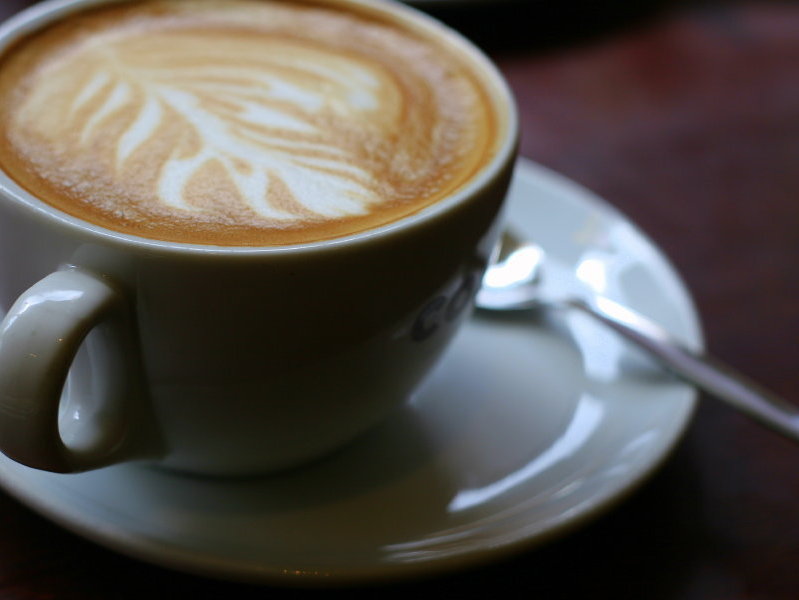 Wisconsin State Fair celebrates Seattle's Best?
Way back when, the State Fair was a down-home affair, featuring livestock competitions, farm product displays and competitions for handicrafts, baked goods, jams and jellies, etc.
In recent years, the concept of a state fair has been expanded to include the glitter and gleam of the carnival-esque midway, special local exhibitions, a wide variety of culinary creations (including food on a stick) and plenty of entertainment.
But, overall, the fair is a celebration of tradition – and an opportunity to sample what's local and best. It's a chance to wear Wisconsin State pride on one's sleeve and take part in reveling in the history, products and industries that make us who we are.
So, tell me: What is Washington coffee doing at the Wisconsin State Fair?
Seattle's Best has teamed up with "Sandwich King" Jeff Mauro to host the Red Cup Showdown – a cross-country search for the next great coffee drink. The grand prize winner will be awarded with $10,000 and the chance to have their coffee drink featured at Seattle's Best Coffee locations across North America.
And that's not all. Rumor has it that fairgoers will be able to pose for a free souvenir digital photo inside a life-sized red mug, take a spin at the prize wheel loaded with thousands of dollars' worth of prizes and receive a free sample of Seattle's Best Coffee coffee to brew at home.
I don't get it.
Certainly the Fair's organizers know that Seattle's Best is owned by Starbucks, which is headquartered in Seattle. And surely those same organizers also know that we have a host of great local coffee roasters right here in Milwaukee to get excited about – including Anodyne, Alterra, Stone Creek and Valentine.
So, why are we promoting coffee made almost 2,000 miles away and giving press to Food Network stars when we have plenty of delicious coffee, and talented chefs, right here in Wisconsin?
It's a fair question to ask. And I don't think I've gone off the deep end when I suggest that this issue goes beyond the lure of national brands and celebrity, and gets at the much larger issue of simply supporting our own. Keeping it local, so to speak.
Or has the state fair become just another money-making festival, celebrating pop culture and paying homage to the highest bidder? Why aren't we pulling back and bringing the focus back onto Wisconsin-made products? Why do we need Seattle's Best to make our fair cooler?
The fact is, we don't.
My point isn't to beat people up for loving Starbucks. Or discourage people from attending the Wisconsin State Fair.
Nay – in fact, I want to encourage people to go! Enjoy yourselves. Pet the horses. Coo at the rabbits. Take pictures of the funny-looking chickens. Eat cream puffs. Load up on high-calorie foods on a stick. Have a stellar time. Drink a glass of strawberry- or banana-flavored milk from the Herb Kohl milk stand.
Just don't drink the fancy free coffee.
zseyztvedwbzeccwyqef
Talkbacks
hardgeminiguy75 | Aug. 9, 2012 at 1:26 p.m. (report)
shame on our state fair--i refuse to drink starbucks coffee--always buy from local companies. as we all should. keep the propfits here and not in seattle.
imouse | Aug. 9, 2012 at 12:36 p.m. (report)
It is experiential marketing at it's finest. There is no doubt in my mind that the experiential marketing company hired by Seattle's Best paid the Wisconsin State Fair to be there.
Cuthbert | Aug. 9, 2012 at 10:21 a.m. (report)
The rumor mill seems to be making rather wild claims about this event. Unless the price of temporary tattoos has skyrocketed, the prize wheel wasn't loaded with thousands of dollars of prizes. The small, brew-at-home, packet was one of the possible prizes. These were not handed out to everyone. The coffee samples (iced only) were horrid concoctions with names like cotton candy and caramel/pretzel. The partially-filled, Lilliputian-size, cup contained more ice than coffee. (Limit one sample per person). If anything, the experience made me appreciate locally-owned coffee shops even more. Presumably, Seattles Best approached the Wisconsin State Fair in order to participate, rather than vice-versa. If local coffee producers wish to be included, they will need to do the same. Also, be aware that the Seattles Best truck has moved on. They were at the fair August 3 through 5.
Facebook Comments
Disclaimer: Please note that Facebook comments are posted through Facebook and cannot be approved, edited or declined by OnMilwaukee.com. The opinions expressed in Facebook comments do not necessarily reflect those of OnMilwaukee.com or its staff.