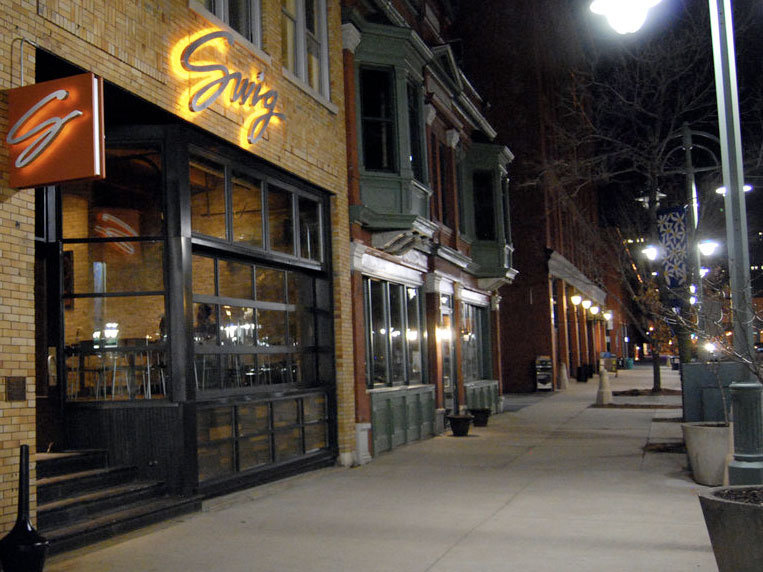 Spectacular food, service make Swig a standout
When Joe and Angie Sorge announced they were reinventing Third Ward restaurant Sauce as a new version of Swig, 217 N. Broadway, I wasn't terribly excited.
The Sorge's have had remarkable success as restaurateurs over the years, most recently with Water Buffalo, which succeeds in bringing a casual dining atmosphere to a whole new level, but I have never been overly impressed by their food, which tends to linger at average level with a few high points in between.
Not so with the new Swig, which ultimately knocked the socks off my dining companions and myself. On two separate recent visits, we experienced superb service, excellent food and an updated atmosphere that lends itself well both to romantic relaxation and good, solid fun.
Swig's new menu features sandwiches before 5 p.m.; burgers, chicken and panini all make a showing with fries, fruit or soup at less than $9 a selection. After 5 p.m., the menu morphs between the old Swig's small-plate dining concept and an entrée section with seasonal seafood offerings, pastas and meat selections, again, all moderately priced. Portions at Swig, pleasantly, are not huge, but hover at a perfect 3 to 4 oz. per entrée selection, and the side dishes seem well-paired.
We sampled small plates one evening and entrées another, both with impressive results and over-the-top, stellar service that made me an immediate fan. The servers here are in tune with the menu, take the time to explain food preparation and wine pairing suggestions, and go above and beyond to make the dining experience at Swig unforgettable and flawless.
Smoked salmon pâté ($9.50), hummus with pita ($8.50) and wonton-wrapped chicken curry ($8.50) were easy favorites from the small plate section, with the pâté rich, creamy and without the bite that sometimes comes with smoked salmon. The dish was plated with ripe Roma tomatoes, a hard-boiled egg and lightly salted fried pita points for a spectacular presentation and even better flavors.
Hummus, too, was velvety smooth with cucumber salsa and freshly sliced red onions. The wonton chicken rolls were tender and flavorful, although we didn't love the cucumber sauce which accompanied it, but we were ecstatic when our server brought some mango chutney as an alternative.
Entrées of Chilean sea bass ($18) over spinach in a yellow pepper coulis and chili shrimp ($18) both featured decidedly unique spins on standard fare. The sea bass was buttery and well-seasoned, and I savored every bite. Chili shrimp were thick with an interesting vanilla butter sauce, but were outshone by the accompanying sweet potato cake, which was sugary sweet in the most delicious way. The cake easily stole the dish.
In fact, the only real tweak I would suggest for Swig is revisiting some of the sauces, since we found a few overpowered the simple perfection of their product and cooking techniques, which were flawless for both chicken and seafood.
However, I am overtly pleased that they are taking the menu and sauces outside the box of typical casual dining. The risks in flavor combinations here make me long to try just about everything on the menu.
It has been a long time since I have visited a new restaurant and been able to say that everything is on-point -- from the updated location to the superbly trained staff, the adventurous menu and a solid wine list. Even the music selection at the new Swig is thoroughly enjoyable. I can honestly say I am excited for what my next Swig dining experience will bring.
fateyzaddfyvfrsfcwsyfxzafq
Talkbacks
jw_red | Jan. 14, 2009 at 3:34 p.m. (report)
I recently took a group of clients who were in town from New York to Swig for dinner. Everyone at the table agreed that it was one of the best dining experiences we've had in long time. I completely agree with Amy. Everything from the food to the service to the ambiance far exceeded any expectations we had for Milwaukee. Keep it up Swig!
mitchgat | June 25, 2008 at 1:44 p.m. (report)
I was recently there and was impressed. I like this version of Swig MUCH better than the previous. The service was the best I've had in sometime. I will be back!
swami says | June 18, 2008 at 9:24 a.m. (report)
I agree 100%!!! The decor is also FANTASTIC. Congrats on another well run operation!
fateyzaddfyvfrsfcwsyfxzafq
Facebook Comments
Disclaimer: Please note that Facebook comments are posted through Facebook and cannot be approved, edited or declined by OnMilwaukee.com. The opinions expressed in Facebook comments do not necessarily reflect those of OnMilwaukee.com or its staff.