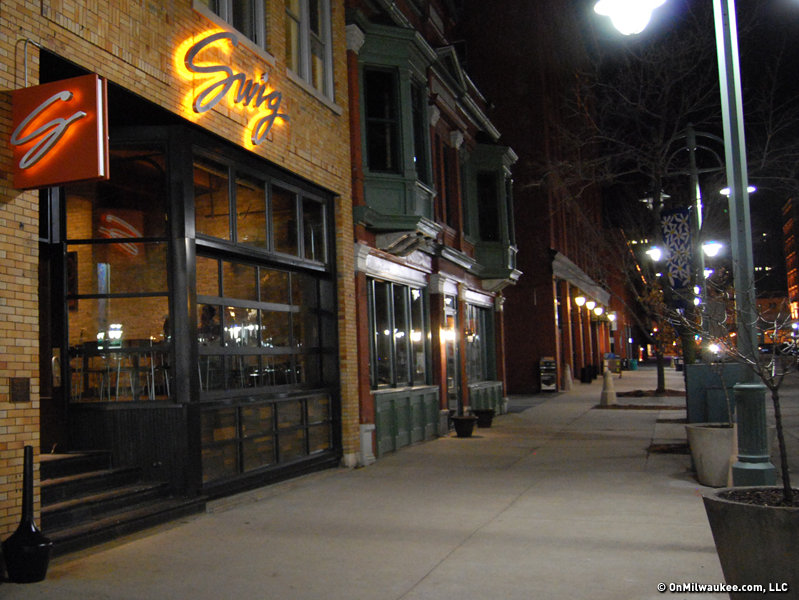 A re-defined Swig goes down smoothly in new Third Ward spot
As the city's cultural and entertainment landscape continues to develop and expand, it's interesting to watch the various neighborhoods take on their own distinct personalities. Each has a roll to play and each highlights a different trait of Milwaukee's overall character and it's not uncommon to associate a certain nightlife experience with its address.
Joe and Angie Sorge were about a month in to their original Swig location at 1225 N. Water St. when they realized that the party time prowess of Milwaukee's biggest bar district was not the right way to experience their martini lounge meets small plate dining concept.
"We actually knew the first night when we overheard a kid say, 'Look, I have a waterproof shirt on,' and he literally picked up his beer and poured it all over his shirt," says Sorge. "We knew it was going to be a challenge."
Over the next 30 months Swig struggled to find its niche amongst college students and its core customers, who were slightly older and looking for a place to eat and drink before heading to the theater. When Sauce closed after eight years at 217 N. Broadway and the opportunity to move into the Third Ward arrived, the Sorges knew it was going to be a friendly fit.
"Our original plan was to pick up Swig and move it, as-is, to the Third Ward," says Sorge. "But we soon came to find out that we had raised the standard for ourselves with Water Buffalo and that the neighborhood was expecting something bigger from us. We now consider the new Swig to be the grown-up version of what it was on Water Street."
A major contender to Swig's initial poor performance was its quick but natural evolution into a restaurant, rather than a bar hop stop like many of it neighbors. The Sorges' small plate dining concept -- new to Milwaukee when they opened in 2005 -- was not just artfully presented appetizers and bar food. It was real, quality entrees that were just ... smaller.
The Sorges were the first to offer small plate dining to Milwaukee, with the hope that people might enjoy tasting and sharing several menu items over the course of one meal.
"Now you see it everywhere, but it's gotten away from where it was," says Sorge. "You see people just labeling appetizers as small plate, and the biggest confusion still seems to be the difference between tapas and small plate. Tapas are Spanish, flat out. People have decided to interpret the word for their own use, and it's muddled the definition. We have some international flare to the menu, but we're not Spanish. We were very careful not to say American tapas, because you can't be."
Now in the Third Ward, the Sorges worked with chef Frank Ortlieb (who ran the first Swig kitchen and is also the head chef at Water Buffalo) to expand the menu beyond appetizers and small plates. A full entrée page features 11 specialty items, including pan-seared beef tenderloin with wild mushroom risotto ($18.50), Chilean sea bass ($18), spinach gnocchi with fennel and sun-dried tomatoes ($12.50) and shrimp ravioli ($12.50).
Another new menu page is dedicated to lunch, served daily until 5 p.m. Ortlieb added 11 sandwiches -- from clubs, to panini to pitas -- as well as expanded the salad section for Third Ward lunchers. The Sorges hope to have their new brunch, including a freshly-squeezed juice and mimosa bar, up and running May 1.
The signature small plates -- the wonton-wrapped chicken curry, the tempura snap peas, the baked brie -- are still highlights amongst an updated menu. The new hummus plate ($8.50) is beautifully presented with piles of sprouts, red onion, tomato and cucumber next to blocks of feta cheese. The dip itself it spiced up with delightful hints of cumin and cayenne.
"You can come to this restaurant as a small plate fan from the old Swig or as a Third Ward diner looking for a traditional experience and order the appetizer, the salad, the entrée," says Sorge. "We've more than doubled our menu."
Swig's Broadway locale simply makes sense. With warm, earthy décor from design partners Flux and a completely smoke-free bar and dining room, the redefined restaurant has started anew as a chic complement to the booming neighborhood.
Facebook Comments
Disclaimer: Please note that Facebook comments are posted through Facebook and cannot be approved, edited or declined by OnMilwaukee.com. The opinions expressed in Facebook comments do not necessarily reflect those of OnMilwaukee.com or its staff.