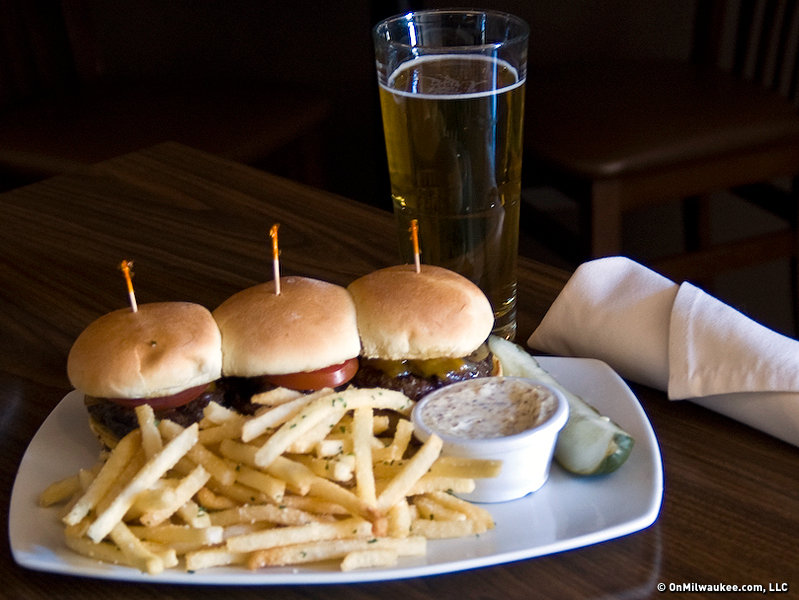 Tutto strikes balance between sports bar and upscale Italian dining
When Milwaukee's famed Italian restaurant, Giovanni's, closed its doors in 2006 and was torn down and replaced by a DigiCopy, many long-term customers and former employees lamented its passing. The restaurant, operated by the Safina family, was a Milwaukee icon, and carried its own legacy of stories, memories and recipes that have continued to live on in its physical absence.
When the Safina family opened Tutto, 1033 N. Old World 3rd St., in October 2007, some of the recipes and familiar faces of Giovanni's reemerged in a more contemporary environment with a much lower price point, while still maintaining high quality food and service.
This combination is a rare find compared to the entourage of newer restaurants popping up these days, and it makes this location -- an interesting mix of sports bar meets upscale-casual Italian dining -- a welcome addition to the Milwaukee dining scape.
Tutto, which means "everything" in Italian, makes a great stab at being all things to all people, which they do with surprising success. On one visit, my dining companions were so enjoying the food, wine and service they didn't even notice our in-booth television. On another visit with a different dining companion, we were able to keep tabs on the basketball game while eating a juicy, flavorful burger and parmesan fries.
The menu at Tutto welcomes both small plate dining with cocktails and martinis or a relaxed evening entrée with a bottle of wine. Melanzana fritte (sic) -- eggplant fries $8 -- are offered either as a small plate option or as a side with sandwiches and are delightfully substantive, without the limpness or grease you sometimes find in fried eggplant strips. Caesar salad ($8) is a solid rendition, and baked French onion soup (cup $3, bowl $5) is also classic and good with browned and melted gruyere and a parmesan crouton.
Burgers here proved well worth their $10 and $11 price tags, since one burger with fries is easily enough for two people to share. A Giacomo ($11) paired pico de gallo, avocado, sautéed mushrooms and onions and chipotle mayo with a skillfully cooked 10-oz. burger that could stand with the best of them. Phatty pattie ($11) took the same 10-oz. delight and topped it with bacon, caramelized onions and swiss formaggio. From their extensive sandwich menu, Jojo Blackwell ($11) offered a blackened chicken breast with heightened heat from a roasted poblano chile and caramelized onion topping quelled with melted mozzarella cheese.
Pastas at Tutto were excellent. Fettuccine alfredo with shrimp ($14) cast perfectly cooked fettuccine noodles in a light, creamy Alfredo that carried the flavors of fresh parmesan cheese and shrimp. Veal Parmesan ($19), too, was a winner. The veal cutlets were thinly sliced, lightly breaded and baked over thick spaghetti topped with just enough mozzarella cheese to make the dish comforting and delicious in a basic red sauce.
Prices at Tutto are reasonable, and while the space is trendy, it still feels warm and inviting. And service here is definitely above par. Both visits yielded good, professional service with well-timed delivery and prompt attention to every detail.
A weekday lunch had us in and out the door in under an hour, which will be very attractive for Downtown diners, and ambience here beckons for after work cocktails and appetizers, or something a little more than bar food before heading to the Bradley Center. Tutto fills a much-needed missing niche on Old World 3rd Street, and the owners' experience and expertise in the restaurant industry shows well in this new location, to the patrons' benefit.
Facebook Comments
Disclaimer: Please note that Facebook comments are posted through Facebook and cannot be approved, edited or declined by OnMilwaukee.com. The opinions expressed in Facebook comments do not necessarily reflect those of OnMilwaukee.com or its staff.