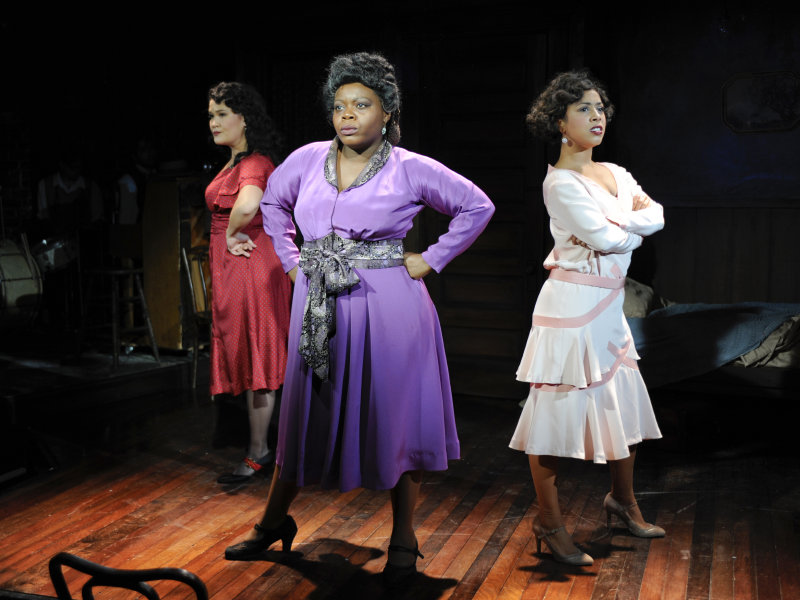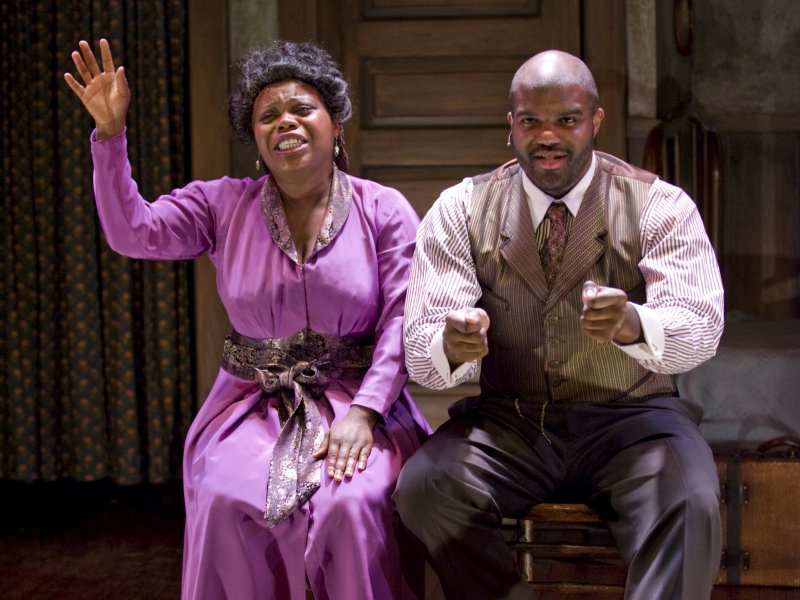 "Blues in the Night" sizzles at The Rep
Sexy! Sexy! Sexy!
Pulse pounding, sweat raising, foot tapping, hand clapping, smiling, beguiling, blood boiling, breath catching SEXY!
That's "Blues in the Night," which opened at the Milwaukee Rep's Stackner Cabaret over the weekend.
In the not-so-distant past this show might have been closed down by a force of nightstick-wielding cops.
But no more, and thank the Lord we've lost some of our prudish heritage.
This play, which pays eloquent tribute to all that is bad and all that is good about love, money and more love, is as seductive as the slow flutter of an eyelid aimed right at your heart.
There is a little story here. It's set in a boarding house in Chicago of the 1930s. Three women show up, each alone, and what they have on their minds is men, money, men and more men. Some men did them wrong and they want them gone. Some men have their hootchie kootchie working and they can stay. Other men cheated and others were no-count dogs who can take the nearest road out of town.
It's probably fitting that the great Bessie Smith sang the song that gets this whole thing going, "Blue Blues."
Zonya Love, one of the three ladies, steps on stage with a battered suitcase and a look that could wither. She looks the audience in the eye as she rolls her hips and sings:
"When your man is gone, your rent is all due,
he's not coming back, you know he's all thru
You weep and cry, feel like you could die
If you was a bird you'd take wings and fly."
Right then you know this is not going to be any ordinary evening of theater. This is not going to be one of those revues that give you song after song with nobody telling a story.
The blues are all about the story.
Musically the blues are easy. Take three chords, E, A and B7, and you've pretty much got it down. But with these three ladies and their one lonely man, this music takes on a life of its own.
It stares you in the eye, grabs you by the throat, and shakes and shakes until you throw up your hands and shout, "All right. I give up."
Love, Halle Morse and Lili Thomas are the three women who drive this show. They take the songs of Benny Goodman, Duke Ellington, Ida Cox, Harold Arlen, Johnny Mercer and Smith – the "Empress of the Blues" – and wring every last drop of great out of them. Certified divas, all of them.
Carl Clemons-Hopkins is the lone man in this menagerie and he is just sleazy and smarmy enough with enough mojo to keep all three women wanting more while wondering what they see in him.
This play was conceived and written by Sheldon Epps, who has been artistic director of the renowned Pasadena Playhouse for a decade or more.
This is so much more than just a play, though. Dan Kazemi provides the musical direction for this event and he carries things to a level almost never seen in Milwaukee. He's put a piano, some horns, a drum and a standup bass together with four great actors and singers and mixed it up into a cocktail that makes your hair stand on end.
Watching this play is like taking a shot of Wild Turkey without any water back. It's that moving and affecting.
And it's about a musical genre that is truly American. We cause the blues, we sing the blues and we write the blues. The blues, they is ours.
As Bessie Smith sang in "Wasted Life Blues," which Love gives a rich and regretful tease ...
"I've traveled and wandered almost everywhere
To git a little joy from life
Still I've gained nothin' but wars and despairs
Still strugglin' in this world of strife
Oh, me! Oh, me! Wonder what will become of poor me?"
If you have any sense, what will become of poor you will be that you rush to The Rep to see this amazing performance.
"Blues in the Night" runs until Dec. 23, and tickets are available at the box office and online.
sxzaebqbqbeyvaasdcacubudsyzfs
Facebook Comments
Disclaimer: Please note that Facebook comments are posted through Facebook and cannot be approved, edited or declined by OnMilwaukee.com. The opinions expressed in Facebook comments do not necessarily reflect those of OnMilwaukee.com or its staff.