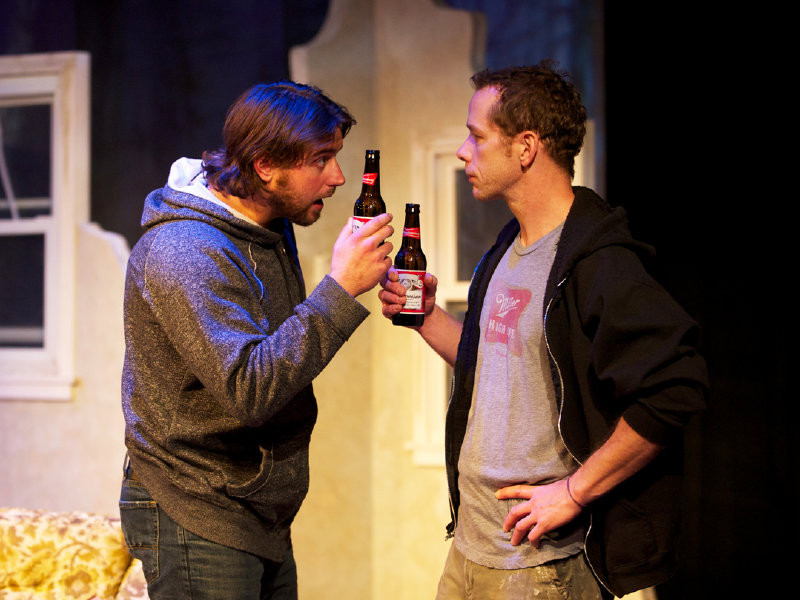 "Broken and Entered" breaks into the Milwaukee Chamber Theatre
An audience has the right to expect certain things from a play, chief among them the ability to tell what the play's about.
It doesn't seem like too much to ask – to walk out of the theater and turn to your friend and say, "that play was about ..."
When you can't do that, then something is missing. And that is about the only thing wrong with "Broken and Entered" by Madison playwright Kurt McGinnis Brown. The play opened over the weekend at Milwaukee Chamber Theatre.
There is so much to like about this play. It's wonderful that Chamber is giving a shot to a local playwright, a far too rare happenstance in Milwaukee. The play also has a very interesting and unique story.
Two brothers, Wall and Vern, move back to their family home in a neighborhood that has seen better days. Their father deserted their mother. Then their mother died. The brothers have no money and decide to become burglars, stealing stuff they need from nearby homes.
Then Wally falls in love with a really hot, wealthy black woman named Jamila and she ends up offering to buy the family house from the brothers.
Bringing these odd characters to life are a trio of actors who are among the very best that Milwaukee has to offer.
Jonathan Leslie Wainwright and Andrew Edwin Voss play Vern and Wally, respectively. Marti Gobel, who thankfully only has two names, brings her sexy skill onstage as Jamila, showing us how hot she can be, how truthful she can be and how dangerous she can be to fall in love with.
Voss has a presence onstage that is hard to match. He simply glows with honest emotion and unabashed desire. He's got most of the funny lines in this play and shows he has the kind of timing it usually takes actors decades to master.
Wainwright is the tightly wound brother, smarter, more devious, more deeply hurt by his father and sadder at their hopeless circumstances. Wainwright has a face that can send a message with a simple look. You would not be surprised to see him explode at any moment.
And Gobel casts a spell around these brothers like a Hecate with great legs and a smile that could seduce a monk during vespers. It's hard to imagine another actor being able to carry such a heavy load on such a sylph-like frame. She is a brilliant vision in any role she plays.
Fortunately, these actors – under the steady hand of director Susan Fete – lift this play into an incredibly enjoyable evening of theater.
But the nagging issue of what this play is about remains.
It may be about race. It may be about childhood demons. It may be about sibling rivalries. It may be about sibling support. It may even be about the haves and the have-nots. Or it may be about all of those things or none of them.
What it may really be about is how we should all just pay attention to our own little world and let the rest of the world and people take care of themselves.
Wally might have said it best when he tried, wistfully, to explain to his brother how he could be in love with a black woman.
"Love has nothing to do with the other person," he says.
That could well be what the play is about. Not you. Not them. Just me.
Facebook Comments
Disclaimer: Please note that Facebook comments are posted through Facebook and cannot be approved, edited or declined by OnMilwaukee.com. The opinions expressed in Facebook comments do not necessarily reflect those of OnMilwaukee.com or its staff.