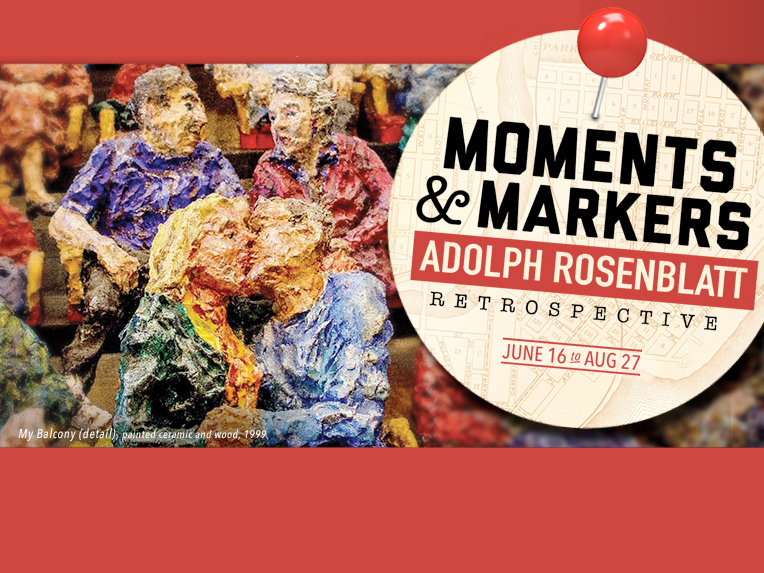 Events highlight the neighborhood that inspired Rosenblatt's art
Beginning on Friday, June 16, the Jewish Museum Milwaukee, 1360 N. Prospect Ave., kicks off "Moments & Markers: An Adolph Rosenblatt Retrospective," which runs through Aug. 27.
The show highlights the compelling, hyperlocal work of the late Adolph Rosenblatt, including paintings, works on paper, bronze cast work and his instantly recognizable ceramic figures – often set in tableaux – and large-scale installations.
The late, longtime Milwaukee art critic James Auer called Rosenblatt's work, "an expressionist salute to humankind at its most lovable and vulnerable ... his hand-painted figures and environments fairly explode with vitality and good-humored affection."
And much of the work was born out of Rosenblatt's daily life on Milwaukee's East Side, so it's appropriate that the Jewish Museum Milwaukee has included a tour of the area as part of its programming for the show.
On Sunday, June 18, beginning at 10:30 a.m. you can join me as I host a group of folks on a walk around Farwell and North, where Rosenblatt's beloved Oriental Pharmacy once stood.
We'll start out in The Oriental Theater, getting a full-on tour from staff there, before heading down to visit Landmark Lanes, which is celebrating its 90th anniversary this year.
Next, I'll walk you over to Black Cat Alley, where curator Stacey Williams-Ng will discuss the works in the alley and the genesis of Black Cat Alley itself.
Then, we'll head over to Maryland Avenue Montessori School and I'll give you a walk through the history of the site, which has been home to a school since the 1860s, and where the current building – the oldest part of which dates to 1887 – is getting a brand-new addition.
Finally, we'll wrap up with a visit to Von Trier, where staffers will discuss the history of the tavern.
Complete details and ticket information are here.
Among the other programming to accompany "Monets & Markers" are:
An Opening Preview
Thursday, June 15, 7 p.m.
There will be diner-themed treats, brandy Old Fashioneds, a silent auction of works by locat artists, a presentation by art historian and writer Debra Brehmer and more.
2017 Summer Soulstice on East North Avenue
Saturday, June 24, noon
Find JMM's booth at the 2017 Summer Soulstice Festival on East North Avenue to get some quick-dry clay sculptures or portrait drawings created by local artists Joe Boblick and Eriks Johnson.
A History of Milwaukee Neighborhoods with John Gurda
Wednesday, July 12, 7 p.m.
While neighborhoods change, traces of early Milwaukee settlements persist in the local landscape. Join historian and author John Gurda for a walk down memory lane through the streets of Milwaukee.
It Runs in the Family: Art and the Rosenblatts
Wednesday, Aug. 2, 7 p.m.
Adolph Rosenblatt, husband, father, artist and educator, inspired his entire family to pursue individual artistic visions. Join us for a diverse and stimulating panel discussion detailing the abundant artistic endeavors of the Rosenblatt family.
Facebook Comments
Disclaimer: Please note that Facebook comments are posted through Facebook and cannot be approved, edited or declined by OnMilwaukee.com. The opinions expressed in Facebook comments do not necessarily reflect those of OnMilwaukee.com or its staff.