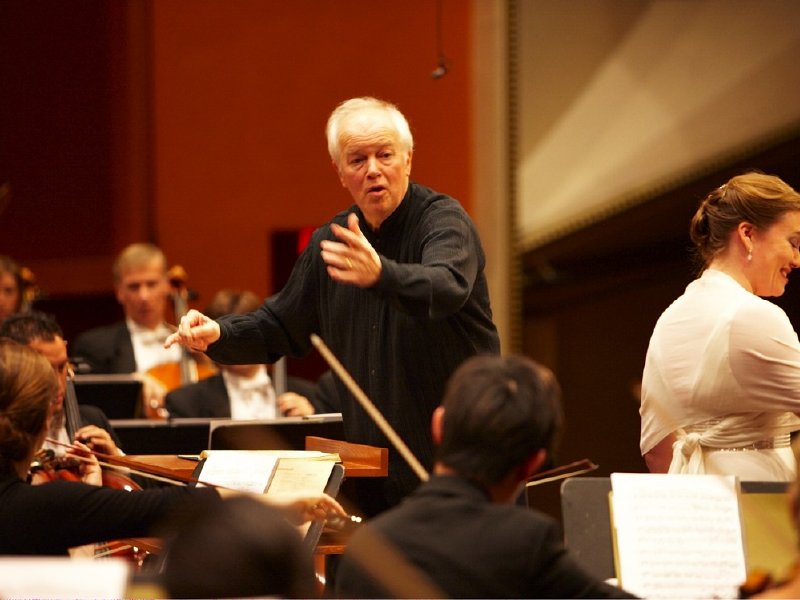 Milwaukee Talks: MSO Maestro Edo de Waart
Music has been a part of Edo de Waart's life since he was born, the son of a member of the Netherlands Opera chorus.
Sixty years ago, he began oboe lessons and started off on a journey that has taken him around the globe.
Now, after conducting stints in Holland, New York, Minnesota, San Francisco, Australia and even Hong Kong, the current Middelton resident is settling in as the sixth music director in Milwaukee Symphony Orchestra history.
After about six weeks on the job, de Waart is still getting his bearings but he likes what he sees so far of both the city and community.
He took time to sit down with OnMilwaukee.com to discuss his career and what he hopes to accomplish with the MSO.
Enjoy this latest installment of Milwaukee Talks, with Milwaukee Symphony Orchestra Music Director, Edo de Waart.
OnMilwaukee.com: Let's start with the basics, tell me about your background and how you got here.
Edo de Waart: It's a long story by now; I've lived a long time. I was born in Amsterdam. My father was a singer in the chorus of the Netherlands opera. I started piano lessons at eight and the oboe at 11. I finished high school when I was 17 and the got government and city grants to go to the conservatory in Amsterdam for the oboe. In my second year there, I took conducting lessons. I got a job first at what is now called the Netherlands Philharmonic, I was, and I think 20. I did that for three years and then I got a job as associate principal of the Royal Concertgebouw Orchestra in Amsterdam. The manager of that orchestra alerted me to a conducting competition to be held in New York -- the Dmitri Mitropoulos Competition. I became one of the winners.
OMC: And that's how you ended up working in New York with Leonard Bernstein.
EdW: Part of the prize was money and part was a job somewhere. I was picked by Bernstein with two other people to be his assistants. That was a special year. I was 24 when I got there. I already had a contract for the same position in Amsterdam. I went to New York for a year and then went back to the Netherlands for two more years then I became staff conductor of the Rotterdam Philharmonic. A few years later I was the music director.
I went to San Francisco in 1977 and was there eight years. In '86, I took an eight-year hiatus and then went to Minnesota and was music director for nine years and subsequently to that, I also held the position with the Sydney Symphony.
In '89, I became music director for the Netherlands Radio Philharmonic. That was my longest tenure-15 years. It was probably my most happy and successful tenure until now. I did 10 years in Sydney and in '04, I started with the Hong Kong Philharmonic and in '09, I came to Milwaukee.
OMC: You've had the opportunity to travel the world, what was so attractive about the Milwaukee position?
EdW: It's a very good orchestra. It's a bit of a secret, I don't know if that's on purpose. It's a little bit in the shadow of Chicago, Detroit and Minnesota. Bigger cities or longer histories. It had a good reputation. I've never conducted here but it had a very good reputation in the profession. Everybody who's been here says it's a very good orchestra. It has the great charm of wanting to work. It was an orchestra that would like to go up a notch or two. That's a nice thing to work with so you don't feel that your ambitions are bigger than the people you work with.
So far, I've proven to myself it was a smart decision.
OMC: You actually live in Madison, don't you?
EdW: That was the other attraction. It's in Wisconsin; I live in Middleton with my wife (Rebecca). I didn't have to fly too much. I've lived here for 2 ½ years. Rebecca was born in Milwaukee and grew up in Middleton.
Page 1 of 2 (view all on one page)
Next >>
Talkbacks
ozricale | Nov. 13, 2009 at 11:41 a.m. (report)
I've seen Edo conduct the MSO a few times now. He is quite differnet from Andreas Delfs. I was stunned how good the orchestra sounded on the Mahler 5th! We are very lucky to have him.
LegallyBlonde | Nov. 11, 2009 at 10:37 a.m. (report)
I saw him conduct last week and the show was phenomenal. Milwaukee is very lucky to have Mr. de Waart!
Facebook Comments
Disclaimer: Please note that Facebook comments are posted through Facebook and cannot be approved, edited or declined by OnMilwaukee.com. The opinions expressed in Facebook comments do not necessarily reflect those of OnMilwaukee.com or its staff.