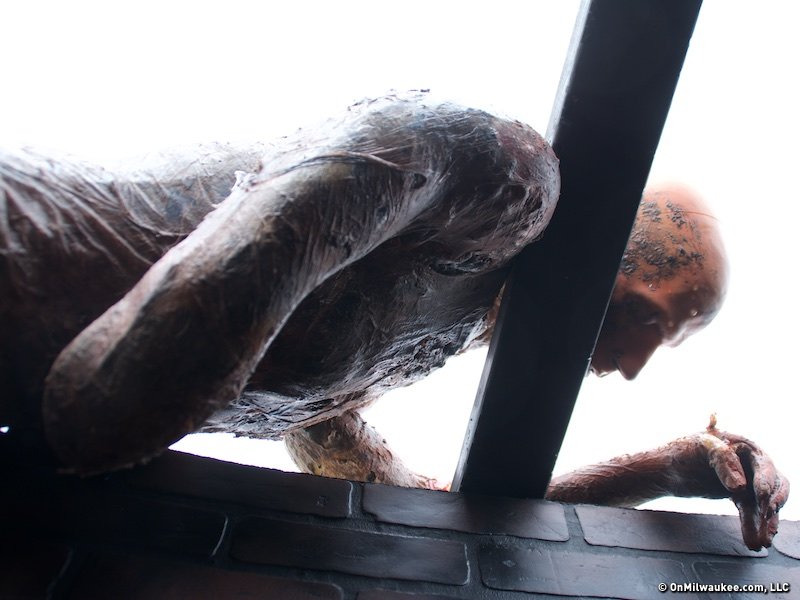 The Hill Has Eyes frightens, freaks out and electrocutes horror fans
If experiencing a 60-minute state of "sheer terror" sounds enticing, The Hill Has Eyes should make your short list of pre-Halloween adventures.
Located at the Rock Sports Complex in Franklin, The Hill Has Eyes offers 45 acres of haunted scenes and actions that range from creepy to horrifying.
Guests walk through five outdoor attractions, which tell a story based on a true tale. Fifty years ago, the massive lot that is now The Rock Sports Complex was a quarry and later a landfill that, in the pit, had a single mobile home with a person living inside it.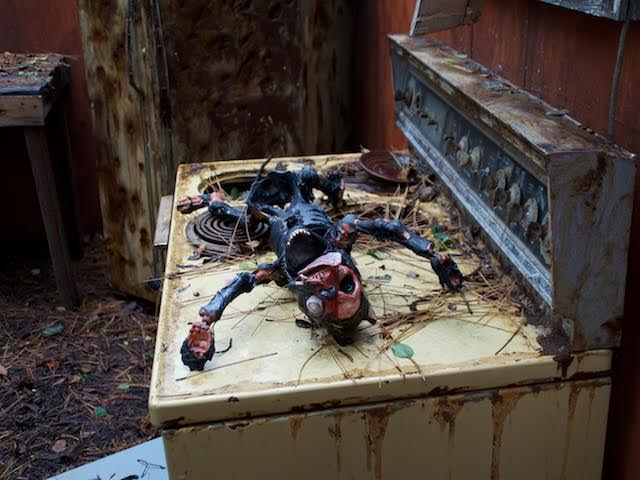 "We built the entire 'Hill Has Eyes' story from that piece of local history," says Joe Zimmerman, director of haunt operations for The Hill Has Eyes. Zimmerman's brother, Mike, opened The Rock Sports Complex in 2013.
The premise of the story is that the abandoned landfill seeped sewage and infected and mutated the "hillbillies" who live in the trailer park at the bottom of the hill. A side effect of the infection is that they crave human flesh and blood, so the government makes an agreement with the hill folk: once a year, they will get thousands of unsuspecting people to walk through the area for a "harvest" during which time they are allowed to feed on the victims. In exchange, the "hillbillies" will not leave their trailer park and eat anyone else for the rest of the year.
The experience is divided into five attractions. "Containment" hoods guests so they are unable to see, only hear and feel, what's ahead. In the second attraction,"Failed Escape," guests trek through Junkyard Ray's haunted trailer park. "Hunger Hallow" features the "butchering, killing and cannibalism" portion of the evening, and the final attraction, "Carnivore," is described as the "Devil's Carnival" – a mutated circus in the afterlife.
The staff strives annually to offer something new. This year, "Containment," was vastly expanded.
"Every year we talk to customers to find out what they liked and didn't like and make changes and upgrades accordingly," says Zimmerman.
The Hill Has Eyes hires 95 actors who range from horror enthusiasts to high school students to professional actors. They all have a specific role, purpose and script. Seasoned actors are allowed to ad lib, but newer employees must stick to their lines.
"We have a lot of returning staff that is the HHE Family," says Drew Retherford, the social media content developer for The Rock who also works in various capacities for Hill Has Eyes. "A lot of them are horror fans, but it's more than that."
Zimmerman says he was surprised at first when parents thanked him for giving their son or daughter something they were passionate about for the first time in their life.
"A lot of our family never found their 'thing' until this," says Zimmerman. "We've found a core group who come back year after year and they're amazing."
Construction of Hill Has Eyes begins every year in April and lasts until the day it opens. The structures and sets are designed by staff and many of the props have come from Craig's List.
"We pick up whatever we can, wherever we can," says Retherford.
When it's not Halloween season, the hill – which was formerly known as Crystal Ridge – serves as a ski hill and mountain bike course.
There is no age requirement for Hill Has Eyes, but parents should use discretion. The hour-long course requires extensive walking on uneven surfaces, dark, claustrophobic passages, loud noises, gory scenes, unexpected human and robotic interactions and more.
"Twelve is probably the magic number," says Zimmerman. "But it really depends on the kid."
Retherford says people react very differently to the fright. "We have 'turtles,' those who put their hoods up and hunch over so they don't have to see anything," he says. "We have runners who think it's a good idea to sprint away from the group into the darkness – this is not recommended – and we have a lot of screamers."
"We're trying to create an emotional roller coaster, lots of ups and downs, with some humor mixed in," says Zimmerman. "It's important to us that people walk through, not by, the experience. Full immersion."
Hill Has Eyes opens Friday, Sept. 30 and runs every Thursday through Sunday evenings through Sunday, Oct. 30. The price varies, depending on the day of the week (weekends are more expensive) and increases as the dates draw closer to Halloween.
Many nights sell out, so it's recommended that tickets are purchased online. They are also available at The Rock.
Every Sunday there is a theme with promotions, discounts and giveaways. This Sunday, Oct. 2 fire fighters, police officers and the military receive a discount. Sunday, Oct. 9 is "Bibs and Beards" night; Sunday, Oct. 16 will feature R.A. Mihailoff who played "Leatherman" in "Texas Chainsaw Massacre 3." Sunday, Oct. 23 is "Fear Factor" night and the final night, October 30, is "Lights Out," which offers a darker, spookier walk.
There's a large, heated tent with live music and a bar on the grounds for before and after the haunted trek and everyone must sign a waiver. Why is that?
"There's a lot of uneven ground," says Zimmerman. "And we electrocute people."
Facebook Comments
Disclaimer: Please note that Facebook comments are posted through Facebook and cannot be approved, edited or declined by OnMilwaukee.com. The opinions expressed in Facebook comments do not necessarily reflect those of OnMilwaukee.com or its staff.