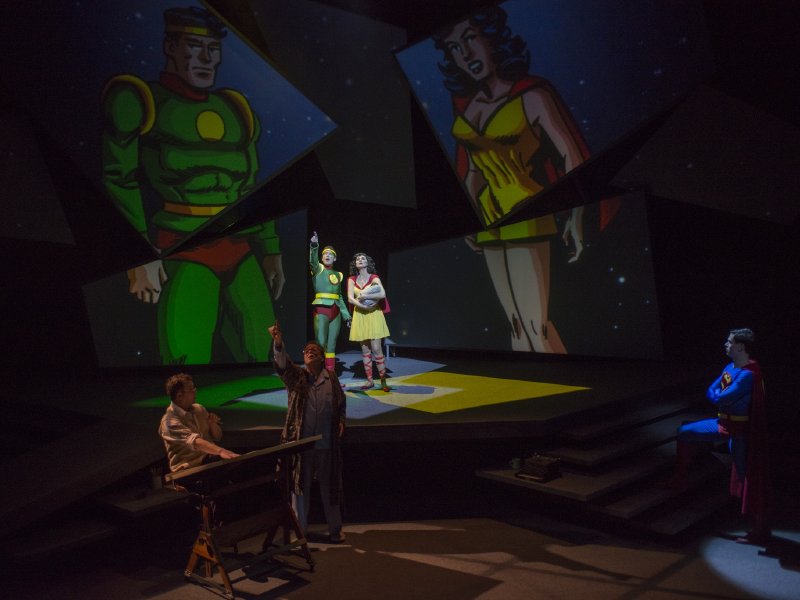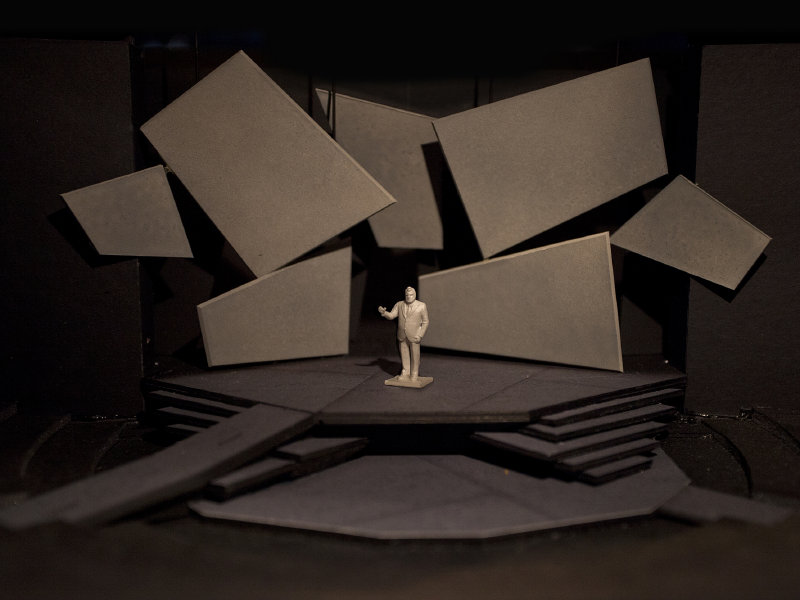 From superglue to Superman: Making "The History of Invulnerability"
Rep associate artist and scenic designer Todd Edward Ivins touches a little bit of glue onto his fingers and gently dabs at a small model of a stage. According to Ivins, the model did not make the cross-country trek from New York to Milwaukee in kind condition, joking that the postal service used the delicate diorama for kickball.
The miniature black stage is covered in blue painters tape, keeping the model in usable condition. The small thin pieces of grey wood representing projection screens are held in place by only thin, toothpick-like pieces of wood, and judging by Ivins' careful glue-aided poking and prodding, they're working hard to keep Ivins's concept alive and in one piece.
That conversation, however, was several weeks ago. The model has now graduated into a full stage, lit with lights and bright, colorful, comic book influenced projections. Superglue will no longer be necessary. Now, the stage merely waits for its actors, an audience and a story to unfold.
That story is writer David Bar Katz's "The History of Invulnerability" – previewing tonight, opening April 12 and running through May 4 at the Milwaukee Rep – which tells the origin story of humble Metropolis reporter Clark Kent, known by his long-gone family as Kal-El – the last son of Krypton – and known by the citizens of Metropolis as Superman. "The History of Invulnerability," however, is less interested in the Man of Steel than it is about the man behind him: Jerry Siegel, the comic book writer who created Superman back in the 1930s and '40s.
The play, much like Siegel's life, is a meshing of fantasy and reality, telling of his hero's origins and the tragedy – namely World War II – that helped form him as a protector of truth, justice and the American way, a hero the real world seemed to desperately need.
It's a large and sprawling story, fitting for one of pop culture's biggest heroes. The question is how to tell such a massive story with so many elements, characters, costumes, leaps in time and space and sets.
"The real truth of it is that if you tried to physically change from here to there with a physical thing on stage, expense aside, you would need to be clever about and it would cost you time," Ivins said. "It's the time that really is the factor. You don't want to have a moment go by in the show where the audience is waiting … and waiting … and waiting because something had to change."
Part of the answer is projections, something Bar Katz wrote into "The History of Invulnerability." With the projections, the show is able to keep up its breakneck speed, moving from place to place to character to character without needing to take those dangerously long periods of time for people to move a set, change lights or get into a new costume. But then there's the question of how to work those projections into a coherent set and a coherent staging. That's where Ivins comes in.
Ivins originally got into set design back when he was in college at the University of Miami (Ohio). Back then, his plan was to become a make up artist, inspired by the likes of Dick Smith – the Academy Award-winning artist behind the effects in movies like "The Exorcist," "Scanners" and "The Godfather." As he took more of the school's common core of theater classes, however, Ivins began to embrace set and scenic design.
He eventually followed that path to New York, where he worked for nearly 20 years. There, he met and worked with Mark Clements, and when Clements took a job as artistic director of the Milwaukee Rep, Ivins followed. That now brings us to their latest collaboration, "The History of Invulnerability."
"There really wasn't a vision at first," Ivins said. "The entire creative team read the show a couple of times, and we all got into a room, but there wasn't really a preconceived idea of 'this is the show.' We all wanted to talk about the show, hear what each other had to say about it and come together."
After discussing, however, Ivins and the team came to a common conclusion: For a story about Jerry Siegel, a man who created one of the comic book world's most beloved figures – as well as many others – deserved a show in a similar fashion. Just perhaps not as simplistically traditional as his classic comics.
"Back then, it was really panel-panel-panel-panel, and everything happened in a box," Ivins said. "All of us felt that doing that for this show was sort of … it wasn't right for the show. There's a lot of fact in the show, but it's more emotional fact. The entire thing is through his eyes and through his mind. It's a memory play and a fantasy play, even though it's factual with a lot of things."
The resulting stage provides Clements and "The History of Invulnerability" with, in Ivins' words, a very plastic universe, one that provides a lot of opportunity and potential for character movement and dynamic visuals. It also provides a look into Siegel's mind while also paying tribute to his comic book art.
"If you can imagine either a picture that's been shattered with a sledgehammer, or you can think of it as a bunch of comic book panels that have fallen off the page and captured in midair," Ivins said. "We're looking at essentially Jerry Siegel's shattered memory."
At face value, the stage looks like a very grey place. Instead of starting colorful and as a result having to attempt to go above that or find a way to subdue it, the fairly muted staging gives the show the ability to turn colorful or drab, big or small whenever it wants to with the help of the seven featured, hanging projection screens.
The simplicity of the basic set design, however, hides the complexity of the many technical aspects and projections needed to make the show come alive. Such a technical-reliant show can provide many challenges, both to the creative teams and potentially for the audience.
"What's very common with projection shows is that the projections tend to take over the show in a way that's kind of distracting," Ivins noted. "What we're aiming to do is strike a good balance, to not get in the way and not just overpower. It's going to end up being rather playful and strongly integrated into the show."
The hope is that everything – the performances, the set, the projections, the script and so forth – will come together into something, well, super.
"We'll use every trick in the book we can to tell the story," Ivins said. "In the end, that's what it's about. We're trying to tell this story in the best way we can."
Facebook Comments
Disclaimer: Please note that Facebook comments are posted through Facebook and cannot be approved, edited or declined by OnMilwaukee.com. The opinions expressed in Facebook comments do not necessarily reflect those of OnMilwaukee.com or its staff.