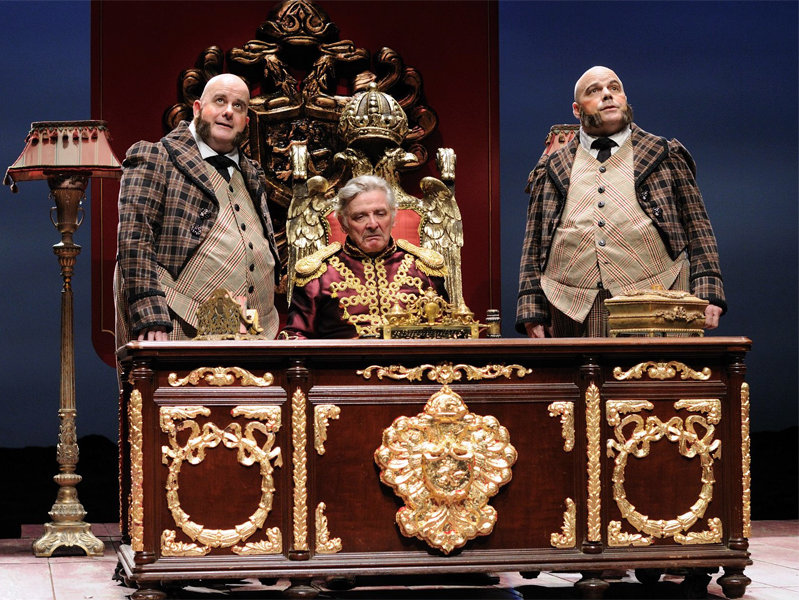 "Inspecting" the Rep's season opener ... and more.
We may take a small bit of comfort in knowing that our current crop of politicians and government bureaucrats did not invent the idiotic comment and boneheaded behavior. History books would be slim volumes if the monumental gaffe and catastrophic blunder were a modern political phenomenon.
In Western culture, satire has traditionally been a balm and sometimes a weapon for the public that must endure official venality and stupidity. Poke fun at it. Give it a slicing jab.
That is what Nikolai Gogol was up to when he wrote "The Government Inspector" in 1836, and the universality of the topic has made the comedy an evergreen ever since. Gogol was of Polish and Ukrainian heritage, and his target was the 19th century power structure in Russia.
Prolific regional playwright Jeffrey Hatcher authored a new adaptation of "The Government Inspector" for Minneapolis' Guthrie Theater last year, and he tweaked the script for the Milwaukee Repertory Theater production that opened the company's 2009-10 Quadracci Powerhouse Theater season last week. The Hatcher version is a huge improvement on other adaptations in use, but it doesn't go far enough.
Substantially more needs to be trimmed from the play's second act nonsense. Hatcher's sharp, clever and occasionally naughty dialogue lifts "Inspector" to the level of contemporary humor, but excessive and repetitive farcical silliness undermines the 21st century comic sensibility. Although the production's running time is a standard 2 hours and 35 minutes, it seems longer.
Mistaken identity is the device on which "The Government Inspector" turns. The bumbling and corrupt officials of a small town government make an incorrect assumption when attempting to bribe their way into the good graces of an examiner sent from Moscow. Believing the inspector will be operating undercover, the local yokels heap their attention and money on the wrong fellow, who is only too happy to accept their largesse.
We are obviously not expecting deep character development here, but the types who populate the story must feel fresh and original. Peter Silbert provides that as the mayor, as does Kathleen Romond, playing his sullen teenage daughter with a Goth flair.
However, Gerard Neugent's portrayal of the central character, the cheerful recipient of the misdirected bribery, is recycled comic acting we have seen many times before from him. Neugent is a very funny man onstage, but over reliance on a familiar shtick is leading to diminishing comic returns.
"The Government Inspector" continues through Oct. 4.
In good "Company"
There are many things to like, even love, about Off the Wall Theatre's staging of "Company." We can begin with Marilyn White's acidic performance of "The Ladies Who Lunch," the Stephen Sondheim anthem to cynicism that has become Elaine Stritch's trademark song. Stritch etches glass when she sings it, and White comes darn close.
Newcomer Lisa Golda, playing Jenny, is a huge find for Off the Wall producer-director Dale Gutzman. The owner of a big operatically-trained voice, Golda is bursting with poise, polish and energy.
Kristin Pagenkopf infuses dumb stewardess April with such comic sweetness, she stands a stereotype on its ear. Sharon Rise and Robert Hirschi are a hoot as the martial arts-sparring married couple Sarah and Harry.
There are definite flaws in this production. Although the show sounds fine in chorus numbers, too many soloists struggle to reach the minimal standards of singing Sondheim. Some of the acting, especially in smaller roles, is mannered.
But Gutzman and his cast compensate for that by enthusiastically capturing the astringent tone of this exploration of monogamy. Bachelor Bobby's 35th birthday is the occasion, and his wedded friends are the models for settling down and making a commitment. Or are they?
Sondheim and librettist George Furth reflected with great insight and poignancy the bittersweet elements of marriage in this classic musical, and that comes through loud and clear in the Off the Wall production. Ben George is a credible Bobby, portraying him with the right amount of puzzled ambivalence.
"Company" continues through Sept. 20.
Tharp flies with Sinatra
Choreographer and director Twyla Tharp birthed a big Broadway hit when she turned a group of Billy Joel tunes into the dance driven musical "Movin' Out." Now she hopes to do the same with the Frank Sinatra songbook in an unusual new show that will feature original recorded masters of Sinatra's voice backed by a live onstage big band.
"Come Fly With Me" gets its world premiere next week at the Alliance Theatre in Atlanta. The music combines newly discovered renditions of Sinatra's voice with signature arrangements and some new charts created for the musical.
The show has a story line of four couples falling in and out of love, and like "Movin' Out," it will be propelled by dance. Variety has reported that "Come Fly With Me" will go on national tour next summer. If it isn't a flop, look for the musical to eventually get to Broadway.
bqwfvyqyvcvuwqbyvwabesaewzxaurwqbx
Facebook Comments
Disclaimer: Please note that Facebook comments are posted through Facebook and cannot be approved, edited or declined by OnMilwaukee.com. The opinions expressed in Facebook comments do not necessarily reflect those of OnMilwaukee.com or its staff.