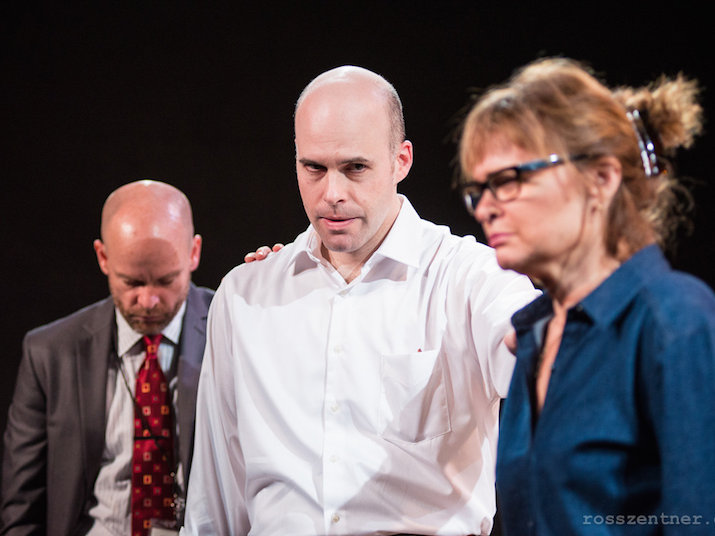 Heartbreak and hope fill a painful void in Renaissance's "Luna Gale"
There may be nothing so painful and heartbreaking as watching the soul of a woman tortured by demons that she can't or won't face.
That's what you get in the biting and powerful production of "Luna Gale" that opened at Renaissance Theaterworks over the weekend.
As befitting a theater company dedicated to providing opportunities to women and examining issues, we get not one tortured woman, but four of them guided by the firm and delicate hand of director Mary MacDonald Kerr.
There are three men in this play, but it is the women who pull so hard at the strings of your heart and who show both the vulnerabilities and strengths of a woman facing the devils that plague her soul.
The four women are Karlie (April Paul), Lourdes (Solana Ramirez-Garcia), Cindy (Laura Gray) and Caroline (Tami Workentin), and the entanglement of their lives over a fifth female, the unseen baby Luna Gale who is at the heart of this whole thing, are epic.
Karlie is married to Peter (Marques Causey) and they are a couple of slacker meth heads who have brought their baby to the hospital after a prolonged bout of diarrhea and dehydration. It's clear that these two are out of their league as parents, and Caroline, a social worker, breaks the news that she is taking Luna from them, at least for now.
Luna is placed with Karlie's mother, Cindy, who is a nursing assistant who works in a hospital and is more than happy to have the child in her care.
The relationship between Cindy and Karlie is not just strained; it is shredded like a ship's rope unwinding its braid. Karlie has been a wild child while Cindy has become enraptured with a fundamentalist version of Christianity and fallen under the spell of her pastor (Matt Daniels).
It doesn't take long for us to see the incredible burden and dedication of Caroline who struggles on a daily basis with a caseload too heavy and a commitment too profound. She is caught in the trap between her bureaucratic boss (David Sapiro), the tug of war between three generations of women and her deep concern over Lourdes, a woman who has graduated out of the foster system and is on her way to a successful and meaningful life in college.
I don't want to give away any of the surprising twists in this story, but the revelation of fiendish spirits roiling through each of these four women are devastatingly moving.
This play by Rebecca Gilman is an actor's play, and Kerr, who is also a magnetic presence on stage, lets her actors roam far and wide finding the essential centers of each character.
Paul is a raging maniac on the surface with a subtle undercurrent of pain and sorrow that she hides as a secret to be guarded with all the skills at her disposal. She is in the midst of a wretched life, trying to hang onto her child and to keep the baby from the clutches of her mother. Paul is tortured by her past which she keeps buried deep within her.
Ramirez-Garcia creates a character who has an obvious sense of joy over her release from the system, although she has hints of a loss of discipline that could well lead to disaster. Temptation is strong within her.
It is left to Gray and Workentin, two of the finest actors in this city, to craft characters who are filled with unanswered questions and who fight for the beliefs that keep them from facing uncomfortable truths.
Gray is a bundle of uncertainty and nerves as she tries to convince the world, Workentin and herself that Luna belongs in her care. The way Gray moves about a stage you can see the tremors moving from head to toe as she retreats into her Christianity to avoid the need to stare down the painfully hidden memories from her life.
For Workentin, this is another in a triumphant career, a portrayal that molds a fully developed character, full of biting humor, almost oppressive skepticism and a longing to relieve herself of the constant and overwhelming burdens of her job. This job is more of a holy calling than it is somewhere to go every day for a paycheck.
Caroline is a woman who has taken refuge in helping others who are in need of refuge. It is a calling that provides satisfaction and understanding.
Watching Workentin work as she lifts all those around her, is one of the true pleasures of the Milwaukee theater scene.
On the day this play opened, millions of women worldwide marched to say that they weren't going to take any crap from our new president. It was a powerful cry that was not a request, but a forceful statement that this is a force not to be trifled with.
That is the force that Renaissance brings to the table time after time, and rarely has it been as powerful as it is in "Luna Gale."
"Luna Gale" runs through Feb. 12 and information on showtimes and tickets is available here.
Production credits: Director, Mary Macdonald Kerr; Stage Manager, Brandy Kline; Assistant Stage Manager, Izetta Rees; Scenic Design, Lisa Schlenker; Props Design, Madelyn Yee; Lighting Design, David Gipson; Sound Design, Paul Hurley; Costume design, Amy Horst; Technical Director, Anthony Lyons.
Facebook Comments
Disclaimer: Please note that Facebook comments are posted through Facebook and cannot be approved, edited or declined by OnMilwaukee.com. The opinions expressed in Facebook comments do not necessarily reflect those of OnMilwaukee.com or its staff.