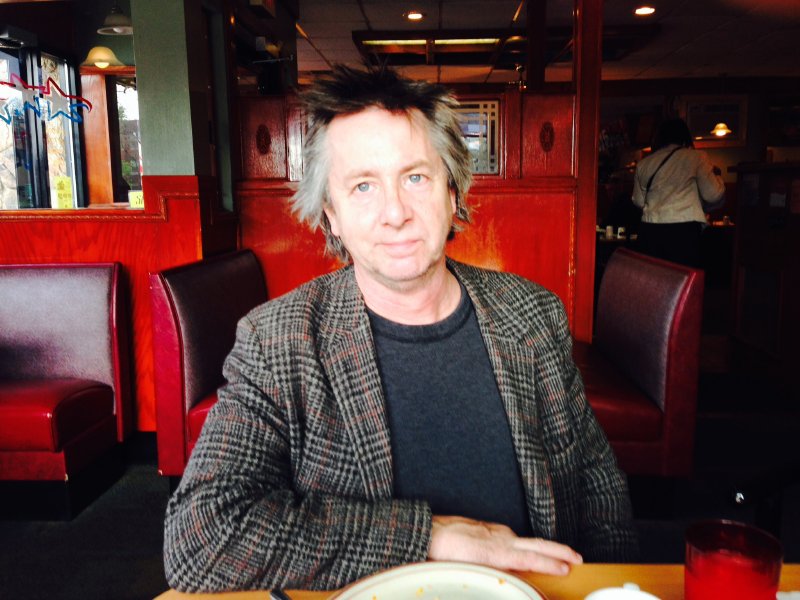 Johnson's next act features creating a new Milwaukee theater company
Give him a script, a hammer and some nails or a guitar, and Bo Johnson boldly marches ahead, doing what it takes to get the job done.
A veteran of Milwaukee's theater scene, Johnson is about to embark on a job he's done before but is more daunting than building a set, directing a play or playing a gig.
Johnson is the guiding spirit behind the new theater company Umbrella Group Milwaukee, starting up this summer.
Many may recognize Johnson as Santa Claus in the fantastic puppet show "Who Killed Santa," which is one of the funniest and most irreverent holiday shows to ever hit a stage. Johnson was one of the show's original producers, alongside Dan Katula and Neil Haven, when it first premiered at Carte Blanche Studios in 2008.
"We have done it for five years, and it's very successful," Johnson said. "And I was thinking that I needed to put some kind of business structure around it, so it wasn't just an annual production we put out there. We needed to be able to apply for grants and get donations."
"So, as I was thinking about that, these four young actors came to me and said they wanted to do 'God of Carnage,' and they wanted it to be the first play in a new company they wanted to form," Johnson continued. "I have always been a guy who goes where the universe pushes him. And this seemed like a universe decision."
The four actors who came forward and are now part of the company with Johnson are Libby Amato, Anna Figlesthaler, Matt Wickey and Jason Will. All of them have impressive resumes – Amato especially – with wonderful bodies of work with many companies in Milwaukee. Now, they feel it's time to add a work with a company of their own to the list.
"There is room in Milwaukee for more theater companies," said Johnson, who was involved in forming the companies that eventually turned into Next Act Theatre and In Tandem Theatre, both serious and successful growing companies in Milwaukee. "We have lots of good theater here. And if it's good theater, there is always room."
Johnson has a colorful and varied history in Milwaukee. He spent 10 years in the beginning of ComedySportz, both as a performer and as a workshop instructor. He also formed a group of comedy improv actors called the Dead Alewives, which drew laughs throughout the area.
He has acted, directed and designed sets and lighting for many shows. His talents are both varied and serious. Everyone you talk to has great respect for his work. He also leads the band Random Maxx, which includes Jake Gobel – husband of actor Marti Gobel, proving that she's not the only one with talent in that family.
Still, it's onto the next project for the restless theater veteran, and Umbrella Milwaukee has some serious ambitions for a company that has yet to produce a single show yet.
"There are a couple of things that we can be," Johnson said. "First, of course, we are going to produce our own shows. Then I'd like us to become a home for all those one-time shows that get produced in Milwaukee. One of the problems those shows have is they can't apply for grants or donations because they don't have non-profit status. We can be the business structure for those productions."
Reza's "God of Carnage," the company's debut, will run at the In Tandem's theater space, located on 10th Street just east of Marquette's main campus. The show, about two pairs of parents attempting to civilly discuss a fight between their kids at school that slowly dissolves into chaos, has been a hit on stage, performed by the likes of Ralph Fiennes, Jeff Daniels and the late James Gandolfini. It was also adapted into a 2011 movie by Roman Polanski, starring Jodie Foster, Christoph Waltz, John C. Reilly and Kate Winslet.
But before all of that, they will stage a fundraising event that sounds like lots of fun and is a sign of the respect that Johnson commands.
It's called the "Gods of Karaoke" fundraiser, and it will be held Sunday, June 1, at the Milwaukee Beer Bistro on Humboldt. Some of Milwaukee's best and brightest actors will take turns at the microphone. Highlights include Jonathan Wainwright and Laura Gordon doing Johnny Cash and June Carter Cash, and David Cecsarini, the head of Next Act, doing his reportedly spectacular Elvis impersonation.
Information about the fundraiser and the theater company is available here.
Talkbacks
Jimbutchart | May 28, 2014 at 7:51 a.m. (report)
Dave, Bo didn't write "Who Killed Santa", Neil Haven did. Jim Butchart
Facebook Comments
Disclaimer: Please note that Facebook comments are posted through Facebook and cannot be approved, edited or declined by OnMilwaukee.com. The opinions expressed in Facebook comments do not necessarily reflect those of OnMilwaukee.com or its staff.