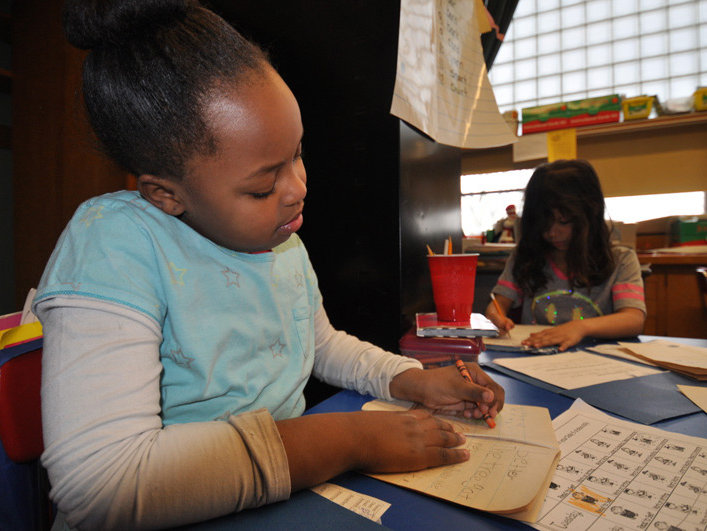 Merged program at 81st Street School takes steps forward
When it comes to schools, communities often know best. Maybe not always, but often. And it looks like in the case of 81st Street School – in the Cooper Park neighborhood on the city's West Side – that's the case.
Though MPS administration needed a bit of convincing, the school's program was merged with the successful early childhood program at 68th Street School two years ago.
As part of that merger, a design team – led by retired MPS regional executive Grace Thomsen – was assembled, bringing parents, teachers, facilitators and neighborhood representatives (disclosure: I was on the team in the latter capacity). The team met weekly to examine data, conduct school community research, hear experts and discuss the future programming of the school.
The result was a school that would build upon the high-quality early education program and a committed existing staff by making 81st Street School one of the earliest adopters in MPS of the personalized learning model that takes an approach customized to capitalize on students' strengths, needs and learning styles. The school would also get a STEM (science, technology, engineering and math) and Spanish language focus.
A 2011 U.S. Department of Education presentation says, "Personalized learning is paced to student needs, tailored to learning preferences and customized to the specific interests of different learners." It often draws heavily on classroom technology.
This year, personalized learning was introduced in the first grade classrooms at 81st Street School and the early results are positive and reassuring: test scores for the first graders have risen above the district average.
"I think things are going very well at 81st Street School this year," says Rhea Robinson, the parent of second grade and K4 students at the school, who served as a parent representative on the design team.
"The atmosphere at the school has definitely changed. Coming from 81st Street before the merger, I can see some real positive changes. The younger classrooms are multicultural. There is a PSO that organizes school functions and events like Donuts for Dads. It is not the same 81st Street School."
The administration is not the same, either. After a string of short-term leaders, Dr. Ronald Cox, an educator with nearly 20 years' experience as a teacher, assistant principal and administrator in Georgia and Department of Defense Schools, moved to Milwaukee to serve as principal.
Cox walked into a struggling school, which might as well have had a revolving door to the principal's office. It was also a building in which two school communities – students, teachers and parents from 81st Street and 68th Street Schools – were learning to live and work together after something of a rocky start.
Though a few parents and staff members I've talked to, including some not quoted here, expressed some concern about leadership, their skepticism must be seen in light of the unsettled culture at the school in recent years. Cox walked into a very disrupted situation.
"I found a lot of people concerned about the direction of the school and hoping that there would be adequate resources and structures and opportunities to move those programs that were the focus, the academic focus, from the merger forward," he told me on a recent visit to the school.
"I think there was still a concern for some of the programs we thought the school had identified that they wanted in school. I think, for the most part, people were positive and wanted me to get involved with them."
Cox said he met one-on-one with staff members last summer and he found a team that was willing to do what it takes to get Eighty-First Street School on track.
"Everybody was willing to volunteer their time and come in and just talk about what went well last year, what optional things that we could do to make things better for them this year, what are some of the goals they had in mind," he said. "I felt the need to be pretty positive."
"There may have been a little bit of skepticism. (But) I didn't get that tone, or that feeling, that vibe from everyone."
Though it's too soon and the data still too sparse to trumpet the success of the school's personalized learning approach, the numbers are encouraging. But, you don't need numbers to see the promise. Just walk into Lyn Mucha's first-grade classroom.
The kids are engaged in a variety of activities. Some are working alone, but most are in pairs or small groups. Mucha and her teaching partner Andrea Armstrong (Anna Klusmeyer is also part of the team) work the room, helping guide kids in their work. After a few months of getting the kids to approach classroom work differently, she told me later, the classroom is humming.
"They're pretty independent," she said. "It's a lot different than it was at the beginning of the year. It took a lot to become independent. But they're just doing beautifully now. They ask for learning pieces throughout the whole day. They're so goal-minded. Half the time they don't realize that they're meeting their goals. They think they're just playing games. The kids really find their own self-direction."
Mucha and her colleagues have spent a lot of time studying the personalized learning programs at Goodrich Elementary School, Hi-Mount Community School and Ronald Reagan College Preparatory High School in the district, but also at schools in other area districts, thanks to participation in CESA-1's Personalized Learning Network.
CESA-1 has helped the teachers learn first-hand from their colleagues in other schools – through coaching and by other means – that there is no rigid way to implement personalized learning.
"The staff are enjoying that opportunity," said Cox. "They take pride in what they are doing. They are really eager to make sure that we have it done right. There is probably not a right or wrong way. They are just concerned about trying to make sure that we get the students what they need. Thus the visits to some of the sites that we've been to, to get some models, and now they're understanding that there are variations of the strategy that's implemented in different places."
Page 1 of 2 (view all on one page)
Next >>
Facebook Comments
Disclaimer: Please note that Facebook comments are posted through Facebook and cannot be approved, edited or declined by OnMilwaukee.com. The opinions expressed in Facebook comments do not necessarily reflect those of OnMilwaukee.com or its staff.