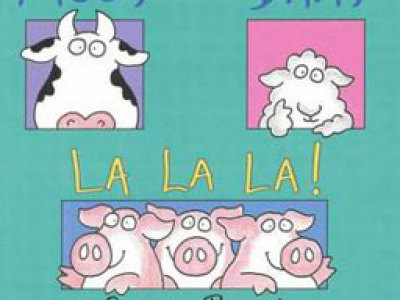 Boynton brings animal menagerie to Milwaukee
Sandra Boynton has sold thousands of greetings cards, books, aprons, baby clothes, baby toys, balloons, baseball caps, bed sheets, buttons, boxer shorts, calendars, crib sets, date books, fabric, gift wrap, invitations, magnets, mugs, note pads, plush, popcorn tins, posters, Post-its, puppets, puzzles, rubber stamps, shopping lists, ski hats, socks, sleepwear, stickers, sweaters, t-shirts, ties, towels, wallpaper and ziggurats.

"Well, OK, no ziggurats," says Boynton.

For many of us, Boynton's cartoon characters are as recognizable as that mouse in the big yellow shoes, and her work remains popular and relevant with a second-generation of fans reading her books and listening to her CDs. These days, Boynton's main focus is on music, and she's produced three children's albums including the uber-popular "Philadelphia Chickens" which features Meryl Streep, Laura Linney, Eric Stoltz and the Bacon Brothers.

Boynton will sign copies of her books -- a number of which are on sale for just $5, along with cute Boynton character plush toys -- as part of the Kohl's Cares for Kids program which benefits children's health and education opportunities nationwide. The event takes place Saturday, Jan. 27 from noon to 2 p.m. at the Kohl's Department Store at Bayshore Town Center.

OMC recently tracked down the quirky, warm and witty Boynton and asked her a few questions.

OnMilwaukee.com: Your cartoons are almost exclusively animals. What inspired your love for animals?
Sandra Boynton: Actually, my animals are more people. It's really just that I can't draw people, so I draw people I know as animals. Family members are immortalized as various cartoon animals.

OMC: Are any of your animals self-portraits?
SB: The cat is often me, and depending on how much chocolate I've eaten, the hippo is sometimes me, too.

OMC: Do you ever get sick of drawing the same characters?
SB: Not at all. I feel I am still learning to draw. I don't feel like I'm a natural artist. I'm more of a professional kindergartner. I get to draw and make up songs.

OMC: So many artists struggle to make money on their art. How did you get where you are today?
SB: It's a combination of hard work and dumb luck. A lot of good fortune, and I'm very persistent.

OMC: Did you have any celebrity endorsements along the way that helped launch your career?
SB: Not really. I designed greeting cards to help pay my way through college (Boynton studied drama at Yale), so I started my career through the back door and it continued to evolve. There really wasn't a "flash of lightning" along the way, just a steady evolution.

OMC: You work with a lot of celebrities today. What has that been like?

SB: I am astonished by the number of actors and musicians who are familiar with my work and have been willing to be a part of my projects.

OMC: Who are some of the people that you've been the most excited to work with?
SB: There's a long list of people, but Blues Traveler, Kevin Kline, and Broadway star Patty LuPone was a favorite of mine for a long time.

OMC: You have a background in drama. Do you still do anything in that arena anymore?
SB: I directed my son in a play in NYC. I would have stayed in drama, but it wasn't compatible with raising small children.

OMC: How many children do you have and how old are they?
SB: I have four children, and they are 17, 22, 25 and 27.

OMC: What are you working on now?

SB: I am working on my fourth children's album, tentatively called "Blue Moo: Radio hits from way back never." It covers music from the swing era through early rock. For the past five years, I have mostly been interested in music. Music production is a whole new field for me and I love it.

OMC: So why isn't there a Sandra Boynton television cartoon on Noggin?
SB: I've been asked to do television many times, but I'm one of those people who doesn't have television, and I raised my kids without it. Television really isn't that interesting to me.

OMC: Why do you think your work managed to pass the test of time and remain popular?
SB: (Laughing) I have no idea. Maybe it's because I've always been out of touch.
Facebook Comments
Disclaimer: Please note that Facebook comments are posted through Facebook and cannot be approved, edited or declined by OnMilwaukee.com. The opinions expressed in Facebook comments do not necessarily reflect those of OnMilwaukee.com or its staff.