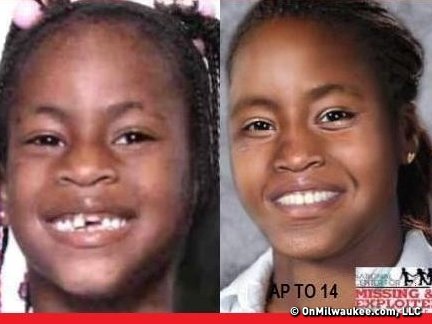 City still remembers Alexis Patterson
When a precious seven year old girl named Alexis Patterson disappeared after being dropped off at school 11 years ago today, it signalled the beginning of a mystery and a cause for many Milwaukeeans who were touched by a family's sudden tragedy.
Alexis, a gap-toothed beauty who attended Hi-Mount Community School, was last seen May 3, 2002 after her stepfather LaRon Bougeois told authorities he walked the child to school and left after watching her cross the street.
When Alexis failed to come home and was reported missing by school officials, it set off a city-wide search by police, Milwaukee County Sheriff deputies and private citizens drawn by media coverage of the missing child.
As is common in many missing child cases, the parents were immediately suspects; Bourgeois was extensively questioned along with the girl's mother, Ayanna Patterson, who was a regular on TV and other media during the search for her daughter.
At the time of Alexis' disappearance, there were rampant rumors – most unsubstantiated – about involvement in drugs, prostitution and other unseemly crimes that could have been connected to the child's situation.
As a columnist for the daily newspaper at the time, I interviewed Patterson's mother and stepfather along with private citizens who didn't even know the family who expressed their hope that Alexis would eventually be found unharmed. Over the years, I've been told Milwaukee Police detectives have followed up on various leads, even as far as making trips out of town to talk to possible suspects, only to end up with nothing.
Years ago, after another anniversary of Alexis' going missing I wrote about the suspicions surrounding her stepfather. Bourgeois called me and I met with him at a North Side home.
He didn't invite me inside; we sat in a car parked outside and talked. Once again, he denied any involvement in Alexis' death, calling her a beloved child that he considered close enough to be his own.
He admitted to some troubles with the law but denied some claims that he was a pimp who managed prostitutes on the north side. He also disputed police information that linked him to a possible lead about Alexis out of Baton Rouge.
He told me he has people in Baton Rouge but strongly denied it had anything to do with the disappearance of his step-daughter.
The rampant speculation about Alexis has died down after 11 years even as some in the community still hold annual remembrances about that fleeting time when the entire city was united in a search for a missing child from the inner city.
Some people who were around at the time still have "Missing" posters of Alexis somewhere at home or at work, I'm told.
Her family will hold a public gathering today at 6 p.m. at Haven of Rest Baptist Church, 4031 W. North Ave., in honor of Alexis Patterson. The Milwaukee County Sheriff's office has a standing offer of a $10,000 reward for any credible information about Alexis that results in a resolution of the case.
As the city remembers the missing gap-tooth girl who would be 18 years old by now, we should also recognize she's not alone in the category of thousands of missing children in America each year.
As we remember Alexis we remember all of them.
Talkbacks
blurondo | May 4, 2013 at 6:09 p.m. (report)
As is always said in cases like this, "someone knows something". That someone needs to speak up.
Facebook Comments
Disclaimer: Please note that Facebook comments are posted through Facebook and cannot be approved, edited or declined by OnMilwaukee.com. The opinions expressed in Facebook comments do not necessarily reflect those of OnMilwaukee.com or its staff.