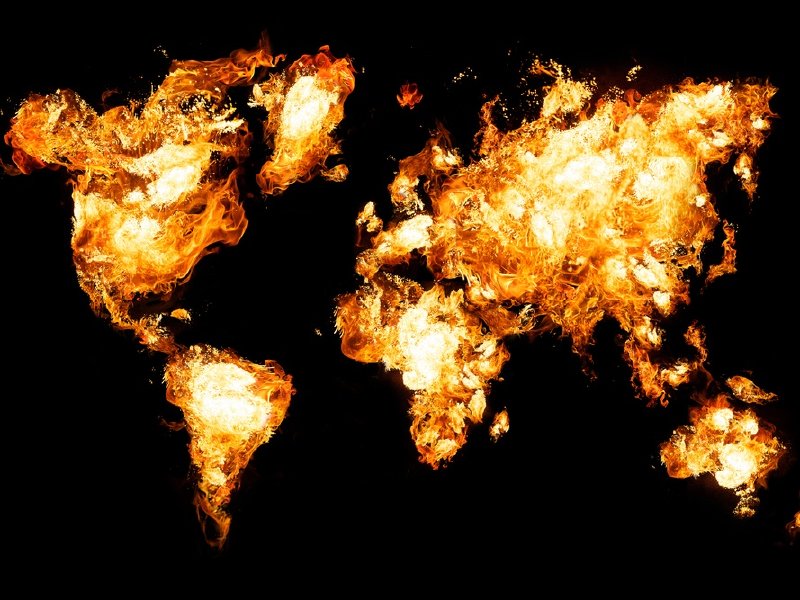 Milwaukeeans weigh in on the likelihood of the world's end
December 21, 2012 marks the end of the 5,125-year Mesoamerican Long Count calendar (often referred to as the "Mayan calendar") and, for some, this suggests the world is going to end.
How exactly it's going to end depends on who you ask. There are theories that the earth will collide with a rogue planet sometimes referred to as Planet X or that there's a massive solar storm a-brewing, preparing to annihilate civilization. According to social media coming out of China, there will be three days of darkness followed by an apocalypse.
Or maybe Michael Stipe was right, and it will start with an earthquake.
In any case, NASA is doing its best to spread the good word of science and assure the diehards that none of this is going to happen. Scientists dismissed the possibility of the world's end next week and numerous Mayanist scholars reported that all of this catastrophe talk is a gross misrepresentation of Mayan culture and history.
And yet, there are still people reported all over the world building "doomsday shelters" and stocking up on supplies. Some folks, like Milwaukee's Shelly Levy, have less far-fetched beliefs about the world's end, but are still taking minor precautions just in case.
"I admit it. I bought extra water and canned goods. My husband thinks I'm nuts, but I have seen some crazy stuff and you just never know," says Shelly Levy.
There's also a New Age interpretation of this date that suggests it's not an ending, rather a time for spiritual transformation and the beginning of a new era due to the "balancing of the cosmos" or a "galactic alignment."
Stephie Conn, who owns an interior design / painting business called ConnArtist Design, believes this period of time is an opportunity for growth and change.
"This shift is exciting to me. I've felt it big time since the energy of 11/11/11. We can either grab on, awaken, understand we are all one, welcome in the new energies that have been coming in for quite a while now, love each other, detach from all the materialism and superficiality and everything that is not serving our higher self or we can stay stuck in the old ways," Conn says.
Conn read information predicting polar shifts and the potential for massive flooding, so her original plan was to spend the days on and around Dec. 21 from the top of a mountain, but she changed her mind.
"I've decided to stay on the ground because if something catastrophic like that happened, we're all in it together," says Conn. "12/21/12 may be a sudden 'bam' change or it could be a gradual thing that happens over days, weeks or months. We'll find out soon. It's definitely not going to be like 2000 when we thought about the possibility of everything crashing."
Some have interpreted Mayan writings to predict that the day will bring an eight-minute universal spiritual awakening.
"Personally, I hope that the Mayan Indian chiefs are right and that an eight-minute introspectiveness can somehow be prolonged to a few days so we can see some real change in human consciousness and thus the world," says Milwaukee musician Alex Watson.
It seems that most people, however, are non-believers and think that Dec. 21, 2012 will come and go with little more significance than the start of the winter season.
"It's Y2K all over again," says Mike Wallace, referring to the much-hyped fear in late 1999 that computers would not be able to recognize the year 2000.
Wallace, however, is finding humor in the suggestion of an Armageddon and is throwing a "Buh-bye, World" party to lighten up the season in the spirit of Festivus or an Ugly Sweater Party.
It's also a chance to clean out the attic he's been threatening to fix up for five years. He and his wife, Becky, hope to unload hundreds of items on their friends and family members.
"We are ironically approaching the end-of-the-world thing, but I've turned into a borderline hoarder and if I can actually get some of the sh*t out of my attic, that would be totally earth shattering for me," says Wallace.
Facebook Comments
Disclaimer: Please note that Facebook comments are posted through Facebook and cannot be approved, edited or declined by OnMilwaukee.com. The opinions expressed in Facebook comments do not necessarily reflect those of OnMilwaukee.com or its staff.