Indoor cycle class provides inspirational ass kicking
In another lifetime, I was a certified Spinning Instructor at the Downtown YMCA. At the time, Spinning was a fitness sensation – started by a South African guy, nicknamed "Johnny G" – that was done on a stationary bike.
Spinning was considered a hardcore workout that combined basic cycling movements, motivational coaching, breathing awareness and heart rate training. Some instructors used visualization techniques that prompted the cyclists to envision themselves riding off trail in Utah or through Central Park in New York, but personally I never did that. I liked teaching Spinning mostly because it was an intense workout and, as the instructor, I got to control the music.
I taught Spinning from 1994 or '95 until 2003, when I was five months pregnant with my son, Levi. Around the same time, the name Spinning was dropped for the non-trademarked "indoor cycling." This was due to Johnny G suffering health problems and discontinuing his international venture.
Last week, for the first time in 14 years, I took an indoor cycling class at Spire, 102 N. Water St. I had been threatening to take one for a while, but I finally signed up online. And as soon as I did, I was terrified.
I allowed myself to get sucked into destructive thinking for a few minutes and imagined myself the oldest and most out-of-shape person in the room. Then I panicked about what I was going to wear. I usually work out in my basement (I mean, in my "lower level fitness facility") and wear whatever I have on hand: a sports bra sent to me for free five years ago; my partner's leprechaun boxer shorts; whatever.
Turns out, I really had nothing to worry about. Sure, the class – which took place at 5:45 p.m. on a Tuesday night and lasted 45 minutes – featured a fair share of "beautiful people" in fancy workout outfits, but there were others similar to myself in age and attire.
Furthermore, it didn't matter because about five minutes into the class, I remembered one of the core aspects of the Spinning program, and now indoor cycling (called, simply, "Cycle" at Spire) is that you exercise at your own pace and intensity. The instructor, Michele, made it very clear that what she was demonstrating could be easily modified to anyone's fitness level – and she told us exactly how to do that. She also helped me set up my bike for the right height and easily explained the meaning behind the numbers on the screen affixed to the bike.
The Spire cycle room has 35 bikes, a great sound system, air conditioning and fluctuating lighting which was, thankfully, never too bright. I managed to keep pedaling throughout the 45-minute class, but by the end I was literally soaked with sweat and on an endorphin high of Grateful Dead Show proportions.
I'll be back.
Spire opened in October of 2014 and offers three programs: Cycle, TRX (training with exercise bands) and Crew (rowing). They are adding cardio kickboxing, TRX with yoga and "TRX Rip Trainer." The new schedule starts on Sept. 5.
Single classes, discounted class packs and unlimited memberships are available from early morning to later in the evening to accommodate schedules.
"Our classes have a super energetic, cool vibe," says co-owner Hubie Krawczyk. "And we are from Milwaukee and a local business – not a franchise. We really believe Milwaukee is something special and we're really happy to contribute to the culture and community."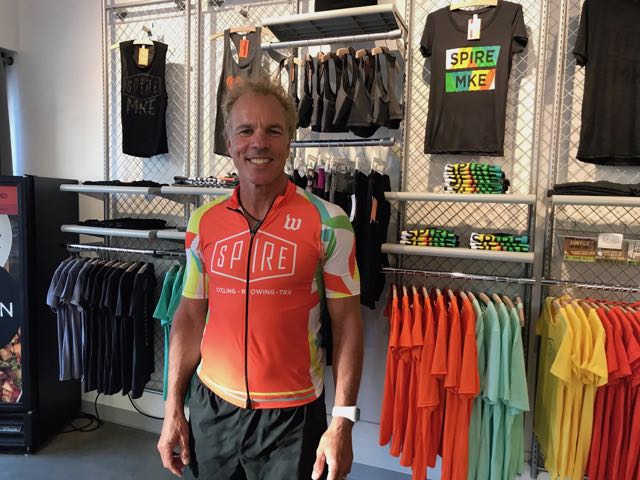 If you decide to try a Cycle class at Spire, here are some tips from the American Council of Exercise:
Don't show up to your first class in loose-fitting or flimsy shorts. You'll be sitting on the bike for quite a while, so padded bike shorts or a padded bike seat will make your ride more comfortable.
Drink lots of water to stay hydrated.
If new to the class, ask the instructor to show you how to adjust the bike to your height.
Don't grip the handlebar too tightly. That will only increase the tension in your neck and shoulders.
Above all, listen to your body and adjust the tension and speed accordingly. Take a break when necessary.
fcevxbawdebeedtfaezwcaxqsbfyrfzr
Facebook Comments
Disclaimer: Please note that Facebook comments are posted through Facebook and cannot be approved, edited or declined by OnMilwaukee.com. The opinions expressed in Facebook comments do not necessarily reflect those of OnMilwaukee.com or its staff.