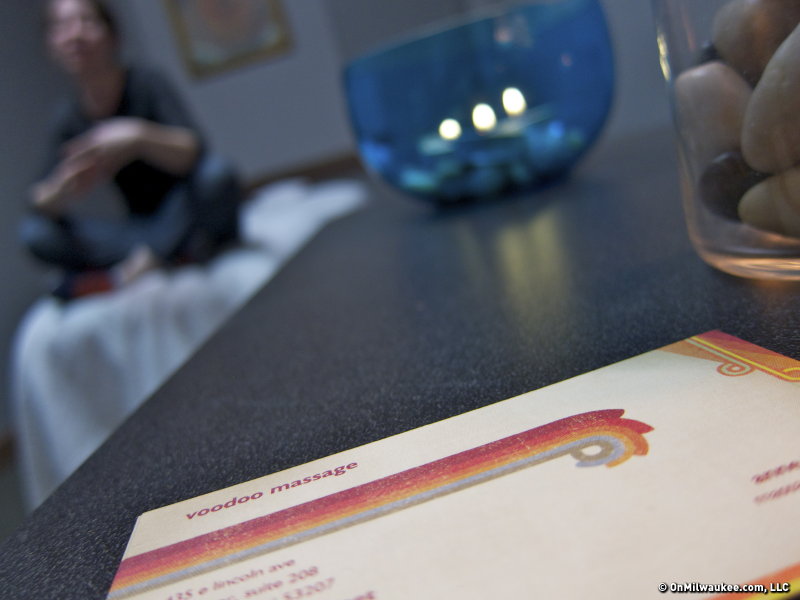 Voodoo Massage puts focus on healing first
Massage therapist Anne Lewison certainly knows how to give the kind of relaxing massage you'd expect at an upscale spa. In fact, she's been there, done that, starting her career a decade ago in that kind of environment.
But while Lewison appreciates (and still practices) that type of massage, she prefers to put an emphasis on the therapy side of massage therapy at her new practice in Bay View. In fact, she's currently studying to be a physical therapist in addition to being a massage therapist.
She says her favorite types of massages are the ones that make people feel better.
"Relaxation massages are great," says Lewison. "Stress is one of the biggest contributors to not feeling well, but I like to be in the situation where if someone comes to me, I can help them and track their progress. That's the payoff."
The South Milwaukee native stumbled into the industry after getting a massage a decade ago at Lakeside School of Massage. "The second I walked in, I was fascinated," says Lewison. "I spent most of my massage asking the therapist questions."
"I fell in love it with massage. I couldn't imagine doing anything else," she says.
Over the last 10 years, Lewison worked at both Actea Works and Spa La Grande, but she has spent the majority of her career working with medical professionals at Chiropractic Heath and Wellness. That's where she honed the therapy side of skills.
"I loved how medical focused Lakeside was, and I had gotten a lot of medical training that I wasn't using. I really wanted to focus on rehab, and I got that at my last job."
But, like so many massage therapists, Lewison eventually got the itch to be her own boss, and she opened her own business this winter.
She calls calls it Voodoo Massage (it's a reference to her stroke of good luck – her "voodoo magic" – when good things happen), and Lewison says she's elated to be on her own – although she's really not. She shares the space at 435 E. Lincoln Ave., with other wellness practitioners, a co-op that allows the businesses to combine resources and refer clients to each other.
"It's amazing to have that support system and to work alongside people who are confident enough in their own skills to own their own business," she says. "It's a really well-oiled machine."
And, because her business is so new, clients (even new ones) won't have to wait months to get in. Lewison uses an online booking tool, so you can see exactly when she has time available. In time, her client load might evolve to the point where availability is few and far between, but for now, her workload is manageable.
In other words, if this type of massage intrigues you, get in while the getting is good.
Also, Lewison has made a point to keep her costs down. She charges $60 for an hour massage or $35 for a 30-minute appointment – "pretty much a dollar a minute" – and those rates are quite bit less than some alternatives in Milwaukee. She gets a little uncomfortable talking about it, too, because Lewison says her main goal is to make massage accessible.
In other words, massages for the masses?
"I'm used to working with blue-collar, working class people, and my prices kind of run with that," she says. "I want to make sure everyone gets taken care of."
Talkbacks
HeritageSpringer | March 13, 2012 at 3:34 p.m. (report)
This sounds very cool, but the hours are very limited. If you have a 9 - 5 job there is no way to schedule a massage. I am surprised that there are not any Saturday hours.
sdvan | March 13, 2012 at 2:33 p.m. (report)
Anne is by far the best massage therapist I have ever experienced. She knows the body, knows proper technique, and is extremely professional. Bravo to Anne for starting Voodoo, I highly recommend her services!
Facebook Comments
Disclaimer: Please note that Facebook comments are posted through Facebook and cannot be approved, edited or declined by OnMilwaukee.com. The opinions expressed in Facebook comments do not necessarily reflect those of OnMilwaukee.com or its staff.