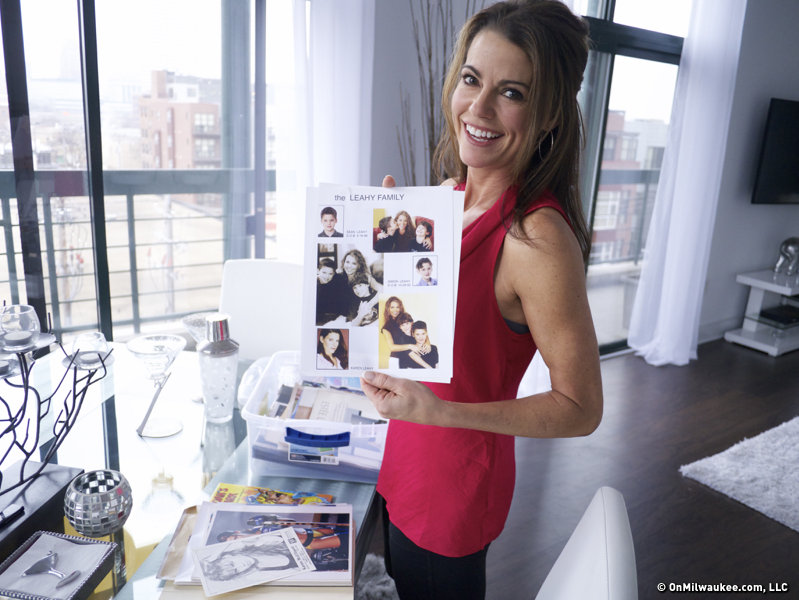 Brains and beauty: Accountant moonlights as Milwaukee model
Karen Leahy, a successful CPA and Milwaukee native, doesn't really talk about her other career – something she's been doing straight through since the '80s.
"I'd rather be known for brains than beauty," says Leahy, who is also a successful part-time model. "If somebody sees something, I usually fess up, but I don't really talk about it."
Even though she keeps it a bit of a secret, Leahy, a divorced mother of two, loves her part-time job. Talking to her, it's easy to see why.
"I should have been a boy," she says, nuzzling her dog in her chic Downtown condo. "I like cars, sports and sex."
Which is why you'll see Leahy doing a lot of fitness modeling, even as she matures in the industry and portrays a different type of character.
"My first big gig was a cheerleading uniform magazine and I've never been a cheerleader in my life. I've always been the jock. I played basketball, track, fast pitch softball. I found hockey in my later years, but there's not a sport I wouldn't try or play."
For Leahy, who's started modeling in college to pay school bills, the work has ranged from Harley to Miller, from Kohler to Kohl's – and yes, she's been nude in front of the camera, but she's never done nude modeling.
"Actually I've been naked in a few showers," she says. "I'm OK with it. I really am very comfortable with myself and my body. I don't have any kind of complex. I would make fun of it and with it and make sure everybody's comfortable."
That isn't changing in her 40s. Leahy, whose recent clients also include The Wisconsin Dells, the Wisconsin Department of Tourism and NARI, takes a lighthearted approach to modeling, because her real job is much less lighthearted. Especially during tax time (full disclosure: Leahy is also OnMilwaukee.com's CPA through her firm, Tax Force LLC). She rarely even tells men she dates about her side gig in front of the camera.
"Modeling and acting gets me away from my day-to-day job," she says. "I like to be very creative in what I do, which is not what being an accountant usually is all about."
In fact, she's even picked up accounting work while on set.
"I have a lot of self employed people on set and I have a lot of great tax advice," she says, noting that during tax season – basically now – she scales back her modeling work.
And through the years, Leahy's modeling profile has changed, too. From the ads on motorcycles, to family shoots with her kids, to industrial work, she likes it all, and takes each life phase with a grain of salt. On her resumé, for example, Leahy says she likes working with "fake husbands."
"I love fake husbands," she says with a coy smile. "Thank God I'm not doing Viagra commercials yet. I'm not to that point yet, but that might be the next decade."
But maybe the best work for Leahy came when she first broke into the industry.
Recalls Leahy, "Miller and Harley were huge for the Milwaukee models. Those were great jobs: pretty, sporty yet sexy, and really fun. Those were my favorite jobs."
Leahy's advice to other women who want to get into modeling? Keep it professional, work with an agency, and have a fall-back job. "I wouldn't want to be sitting next to the phone all the time, waiting for my next gig."
And don't take rejection personally.
"On TV, everybody has a different look," says Leahy. "There's not much you can do about it, it's if you have a look that somebody's looking for. A lot of times, it's out of your control."
Because, Leahy says, you shouldn't model if you don't find the joy in it:
She says, "I really enjoy the people, as well. I don't really consider it work, because it's usually that much fun."
So now, as Leahy's modeling career enters a new phase, she's allowing herself to talk about it. If only just a little bit.
And she wants you to know that Milwaukee is a good place to be a model.
"The sad thing is back in the day Kohl's and Shopko, they hired mostly local girls. Now, it's not like that anymore," she says. "It would be nice to get more of the local work, instead of bringing people in from Chicago and New York.
"I wish I could put the same message out to the advertisers that Milwaukee has a lot to offer in that regard."
Talkbacks
buck | Feb. 18, 2015 at 12:42 p.m. (report)
She likes sex, how fascinating. Such a unique interest. Does she also like money? Tell us more.
buck | Feb. 18, 2015 at 12:12 p.m. (report)
As Flight Of The Conchords say: Oh, so beautiful Well, you could be a part-time model Well, you'd probably still have to keep your normal job Part-time model.
Facebook Comments
Disclaimer: Please note that Facebook comments are posted through Facebook and cannot be approved, edited or declined by OnMilwaukee.com. The opinions expressed in Facebook comments do not necessarily reflect those of OnMilwaukee.com or its staff.