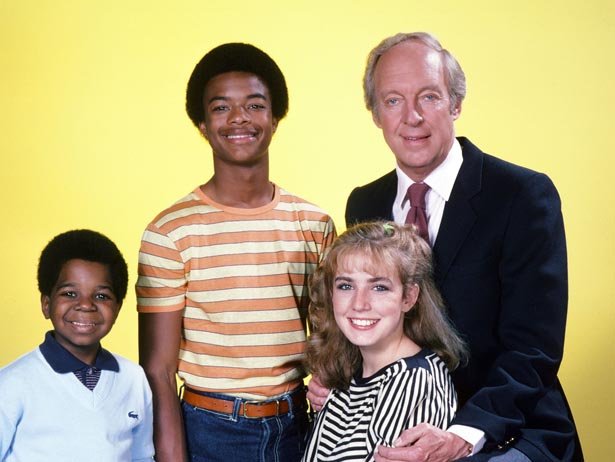 Actor's passing evokes thoughts on where "Diff'rent Strokes" stands
With the passing of Conrad Bain, we lost another piece of our collective television past. The venerable stage actor was launched into America's living rooms when his character Philip Drummond adopted the two sons of his late housekeeper on NBC's "Diff'rent Strokes."
Rich and poor, black and white, "Just Say No" … the sitcom that ran for eight seasons and years of syndication dealt with many situations that weren't common on TV at the time.
The ironic part of the story here is that the young actors who were apart of the show – Gary Coleman, Dana Plato and Todd Bridges – dealt with tragic domestic and financial situations in their real lives. Plato died of a drug overdose in 1999, Bridges and Coleman both dealt with run-ins on the wrong side of the law. Coleman died of a brain hemorrhage in 2010.
Bain, when interviewed later about his fellow cast mates, said he felt helpless and wished the times in their adulthood wasn't so tragic.
The question I pose, is would the subject matter and humor of the show fly on today's TV? Sure, we have well-written dramas that tackle race relations, drug use and abuse like "Diff'rent Strokes" did. We also have smartly-written sitcoms that cover heavy issues themselves. "Modern Family" is often looked to as the gold standard in family sitcoms still on the air, but would it have the first lady on pitching an anti-drug campaign?
Or have we advanced so far, that one-liners like "What you talkin' 'bout, Willis?" wouldn't get canned laughter on laugh tracks played in today's programs?
Does "Diff'rent Strokes" stand as important in race relations as "All in the Family" did? Or even "Django Unchained" has on the big screen? How does it stand against Spike Lee's "Do The Right Thing" or "Malcolm X"? Does a sitcom that Bain worked in even deserve to be in the same conversation?
That's a lot to take in from the passing of an 89-year-old actor of a light-hearted situation comedy show from the 1970s and '80s. But either way you look at it, we all learned that the world doesn't move to the beating of just one drum through this cultural touchstone in our recent history.
Godspeed.
INTERACTIVE: Disney's latest video game venture, called Disney Infinity, debuted this week, showing the conglomerate's ability to use marketing if its various worlds as its greatest asset.
"Skylanders" (if you don't know it, ask a 10-year-old) is a game that uses collectable action figures that correspond to on-screen game play. That means, in order to do something in the game, you have to go out and purchase a figurine that unlocks access to one of the various puzzles or plot points in the game.
Disney, is building on the success of that model, and in a move of marketing mastery, merging the worlds of Pixar's "The Incredibles" and "Monsters Inc." with the quarky Jack Sparrow of the "Pirates of the Caribbean" franchise. They will unlock a number of different characters and their interactive worlds as parts of the video game evolve and grow.
With a vault as deep as Disney's, not to mention the newly acquired Marvel and Star Wars universes, they have more than a handful of stories to tap into.
I wouldn't be surprised to see commercials run on ABC, ESPN and other Disney-owned networks relatively soon.
Facebook Comments
Disclaimer: Please note that Facebook comments are posted through Facebook and cannot be approved, edited or declined by OnMilwaukee.com. The opinions expressed in Facebook comments do not necessarily reflect those of OnMilwaukee.com or its staff.