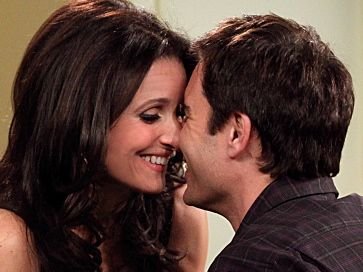 OnMedia: The ax falls seven times at CBS
What's not coming back next fall on CBS is just as interesting as the new shows on the network's fall schedule revealed today.
The toll is seven shows: dramas "Cold Case," "Ghost Whisperer," "Numbers" and "Miami Medical;" and comedies "Accidentally on Purpose," "Gary Unmarried" and "New Adventures of Old Christine."
After completing five full seasons, we can all acknowledge that Julia Louis-Dreyfus broke the post-"Seinfeld" curse.
The new schedule has three new dramas, a Tom Selleck cop show called "Blue Bloods, a comedy drama about Las Vegas lawyers called "Defenders," and a remake of "Hawaii Five-O." The two new sitcoms are "Mike & Molly," a Chuck Lorre comedy about a hefty Chicago working class couple; and "$#*! My Dad Says."
The last one was inspired by a Twitter feed and features William Shatner as the dad. Frankly, other than the source, it sounds like a pretty conventional sitcom.
Here's CBS' fall schedule, with the new shows in all-capital letters (except, of course, "CSI:NY").
Monday: 7 p.m., "How I Met Your Mother;" 7:3o p.m. "Rules of Engagement;" 8 p.m., "Two and a Half Men; 9 p.m., "MIKE & MOLLY;" 9 p.m., "HAWAII FIVE-O."
Tuesday: 7 p.m., "NCIS;" 8 p.m., "NCIS: Los Angeles;" 9 p.m., "The Good Wife."
Wednesday: 7 p.m., "Survivor;" 8 p.m., "Criminal Minds;" 9 p.m., "THE DEFENDERS."
Thursday: 7 p.m., "The Big Bang Theory;" 7:30 p.m., "$#*! MY DAD SAYS;" 8 p.m., "CSI: Crime Scene Investigation;" 9 p.m., "The Mentalist."
Friday: 7 p.m., "Medium;" 8 p.m., "CSI: NY;" 9 p.m., "BLUE BLOODS."
Saturday: 7 p.m., "Crimetime Saturday;" 8 p.m., "Crimetime Saturday;" 9 p.m.,"48 Hours Mystery."
Sunday: 7 p.m., "60 Minutes;" 7 p.m., "The Amazing Race;" 8 p.m., "Undercover Boss;" 9 p.m., "CSI: Miami."
On TV: These fall lineups are obviously not set in concrete. Shows will get the ax early and slots will open up. And the talk from ABC is that "V" may not be a mid-season show after all, and could launch its second season as early as November.
The CW Network's schedule will be released Thursday, but the network has already picked up "One Tree Hill" and "Life Unexpected."
She's been out of work with the cancellation of "Ugly Betty," but Vanessa Williams has found steady work next season as a new regular on ABC's "Desperate Housewives."
Nellie Andreeva reports at Deadline.com that TNT is cutting the "Southland" budget by a third, meaning pay cuts -- or less frequent appearances -- by cast members who stay on. Some will lose their jobs altogether.
Mediaite reports CNN has granted anchor Campbell Brown's request to let her out of her contract, but she'll keep doing the 7 p.m. hour until a replacement is found. There's no CNN confirmation for the report.
Channel 12 is stocking a phone bank with credit counselors, financial planners and lawyers to help viewers deal with financial questions from 5 to 7 a.m. Thursday during the morning newscast.
A Detroit police raid that left a 7-year-old girl dead was apparently filmed as part of the A&E "reality" show, "The First 48."
One I'm waiting for: I've only seen trailers so far, but based on this short preview -- and the fact that it includes Will Arnett and Keri Russell -- Fox's "Running Wilde" looks like something to check out next fall.
Talkbacks
blugold95 | May 19, 2010 at 2:04 p.m. (report)
Bummed that Big Bang Theory got moved - love it and it fit in my schedule perfectly on Mondays....better get a DVR.
devidia | May 19, 2010 at 12:24 p.m. (report)
I'll pass on the Shatner show, thanks. Sounds pretty stupid. Some of us prefer restricting our Shatner memories to the bridge of the Enterprise.
CoolerKing | May 19, 2010 at 11:34 a.m. (report)
Unfortunate about "Cold Case". I liked the show's concept of flashing back to the original crime and then flashing forward to the modern day investigation. I think scheduling "CSI: Miami" in that time slot will kill off that show as well.
Facebook Comments
Disclaimer: Please note that Facebook comments are posted through Facebook and cannot be approved, edited or declined by OnMilwaukee.com. The opinions expressed in Facebook comments do not necessarily reflect those of OnMilwaukee.com or its staff.